So I was thinking about what I would have loved to get as a gift as a kid…..and this art box is definitely something I would have been overjoyed about.  Actually, I'm STILL overjoyed when I get art supplies! I have no self control when it comes to browsing the arts and crafts store…..sometimes I get lost in there for hours (as well as the hardware store). So here's how I assembled these kits and where I purchased everything from. You can always buy the "ready made" art kits at the store….but the custom filled art box will always be 1000% more fun! Oh, and the awesome artwork? Stephanie Corfee created it….just for you…..because she's awesome like that!
Here's the front view of one example: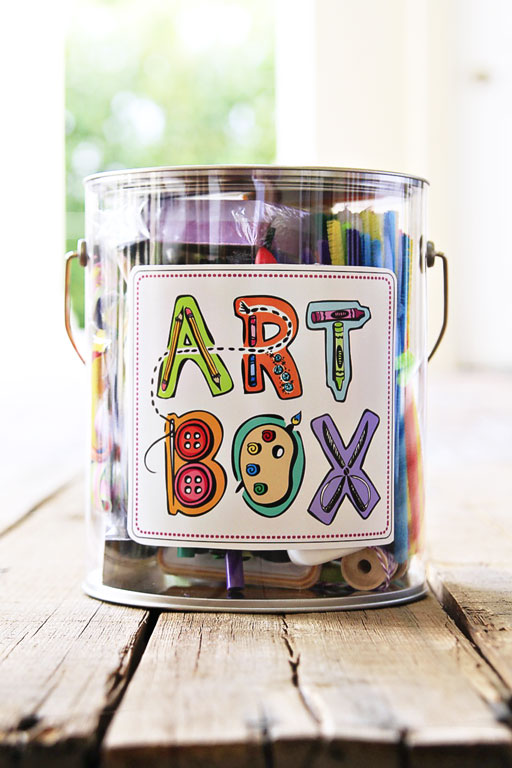 Filled to the brim with art supplies, craft supplies and things to get creative with: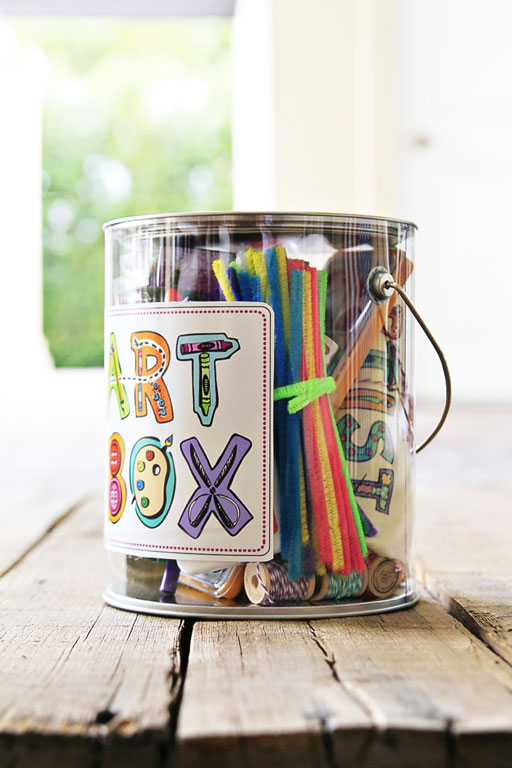 I did a huge sweep of the 99 cent store and stocked up…..the office supply and art supply section is amazing: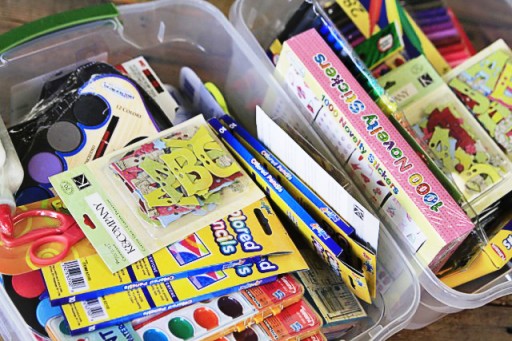 A few other things I put in some of the boxes:
Wondering what to do with all those fabric scraps and ribbon scraps?  Make little bags of them.  Boo loves gluing fabric and ribbon to paper and pretending she's a fashion designer: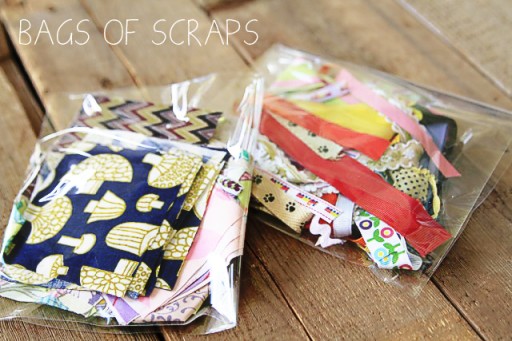 Think outside the box and cut up some supplies to make them go farther.  Most kids don't need 20″ long pipecleaners….10″ will do: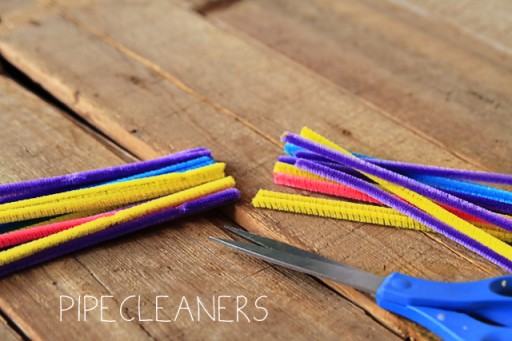 The 99 cent store usually has big sticker packs…..buy it and take it apart….putting one of each into each art box: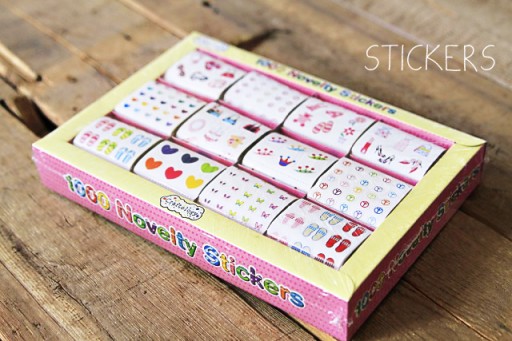 These are my favorites!  Buy little wood spools from the craft store and fill them with baker's twine. Mini spools: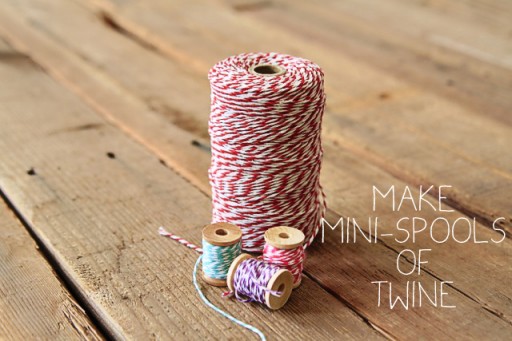 The 99 cent store always has fun scrapbooking supplies.  I loved these letters that could also be used as stencils.  And mini-spirographs???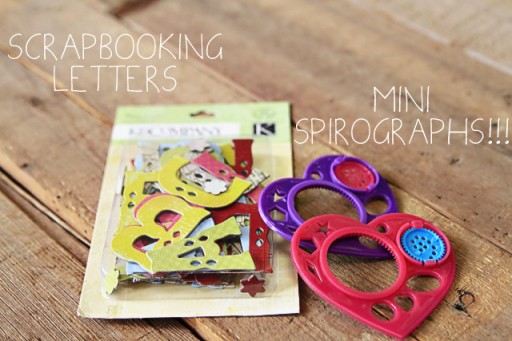 Keep scraps of fun papers and cut down larger paper and construction paper into smaller pieces 6″ to 8″: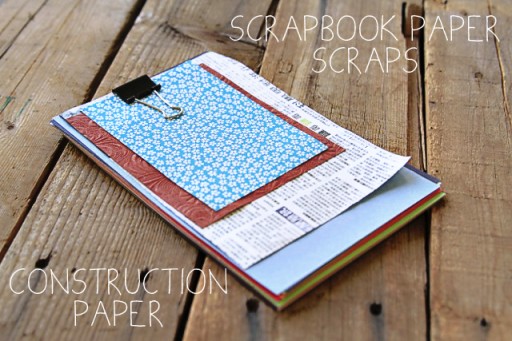 I stocked up on these awesome little pocket doodle books at Barnes and Noble: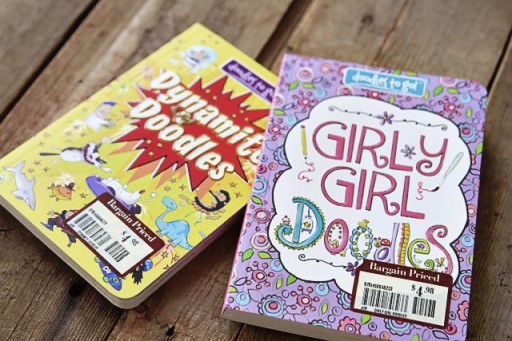 I threw in a couple wood peg people and wood cutouts: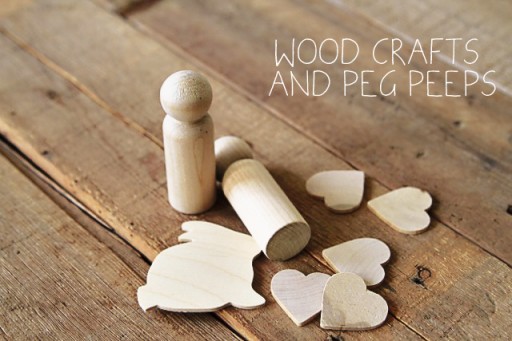 For the older kids….small sketch books from Michael's….these are only about $5: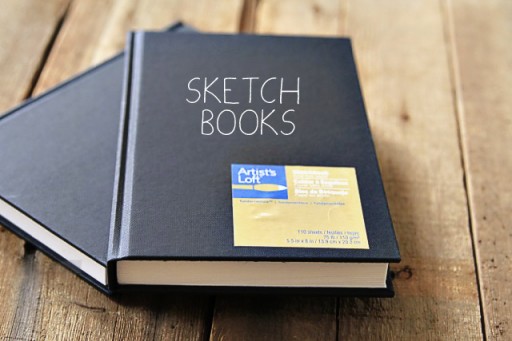 While at Michael's I bought this 5 pack of aprons: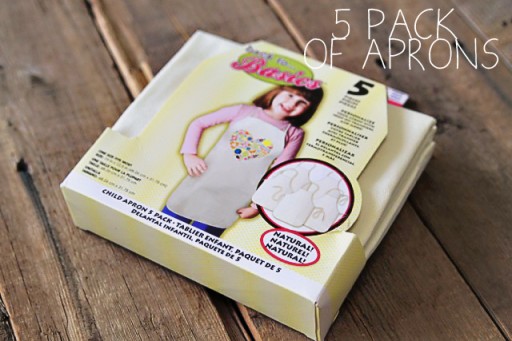 I printed out Stephanie's image onto t-shirt transfer paper and ironed it on: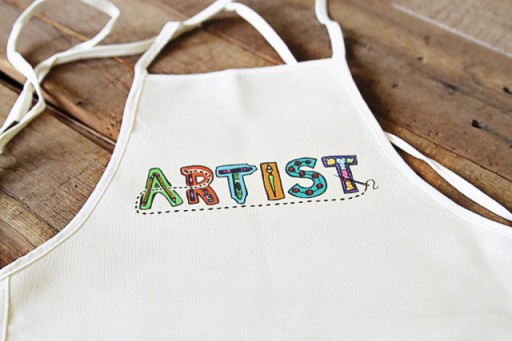 So cute rolled up!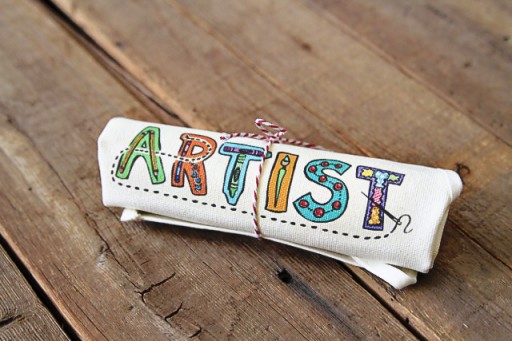 I bought the empty gallon paint can at Michael's in the gift bag section: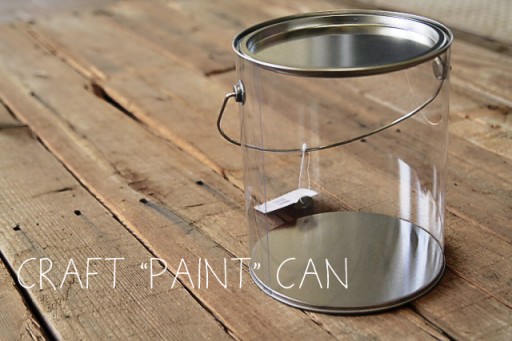 I printed Stephanie's other graphic onto matte photo paper, sprayed the back with adhesive, and added it to the outside of the can: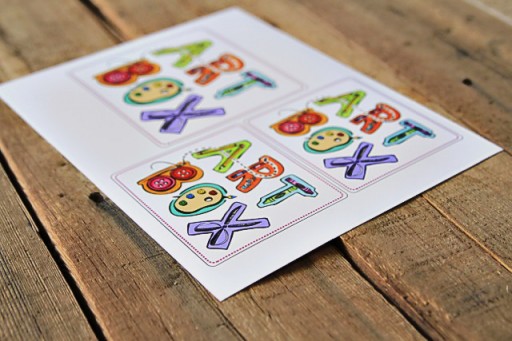 Fill it up!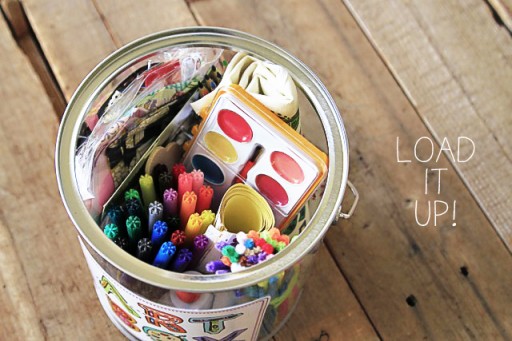 There are other options though….I bought this fun metal box from Home Goods a while back and spray painted it aqua: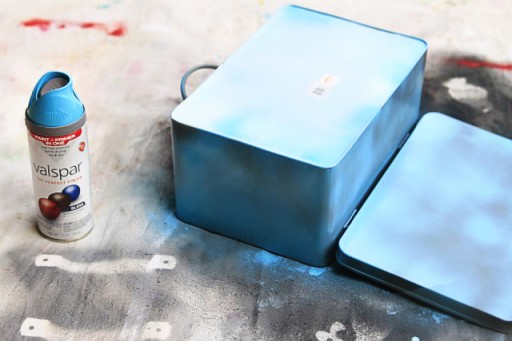 This box fits a lot more art supplies!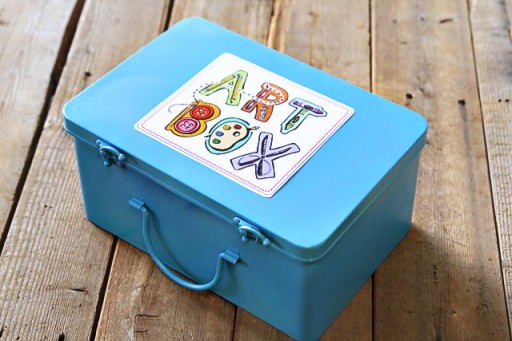 And then I wanted to make a BUNCH of them.  This would be a great way to do Christmas gifts for a large group…..or party favors for an art party…..or for underprivileged children for the holidays……or even for traveling: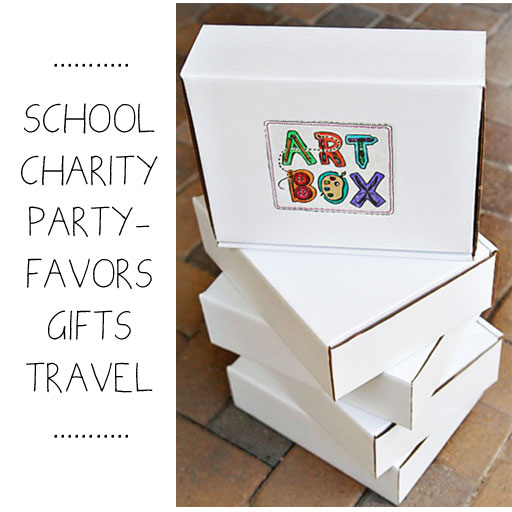 You can buy the white mailing boxes at most office supply stores. These came from Staples: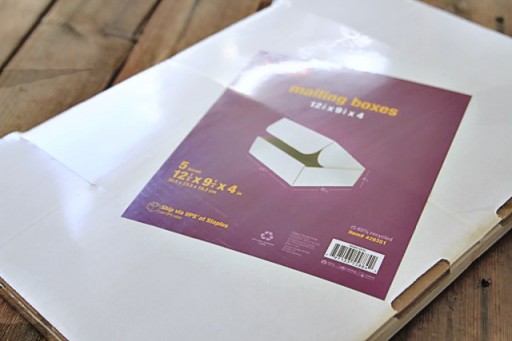 A attached the label to this one using spray adhesive: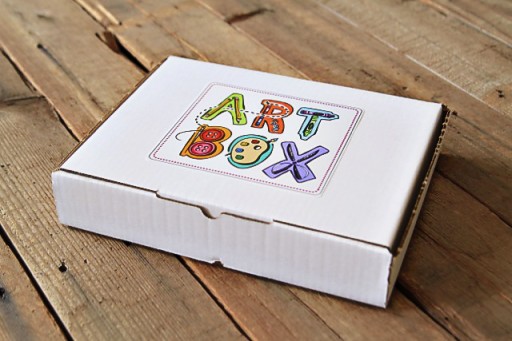 BUT….you could also try t-shirt transfer paper to make it look like a custom box!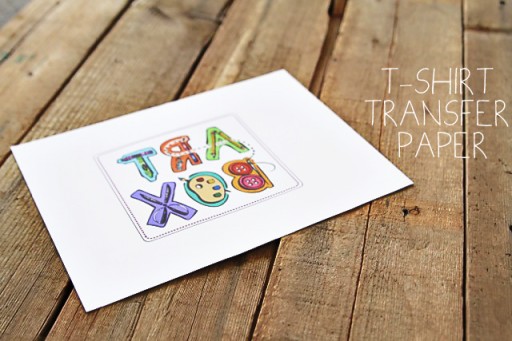 I just ironed it on to the box….but you have to be VERY careful not to overheat it OR shift the paper or it will smear: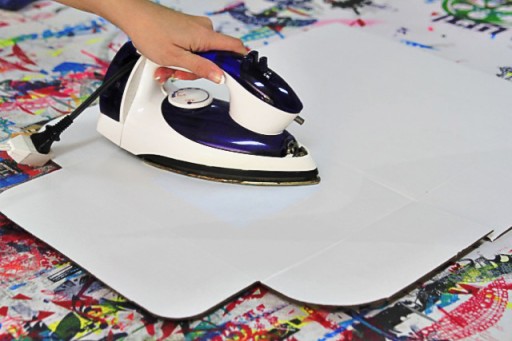 Looks like it's part of the box!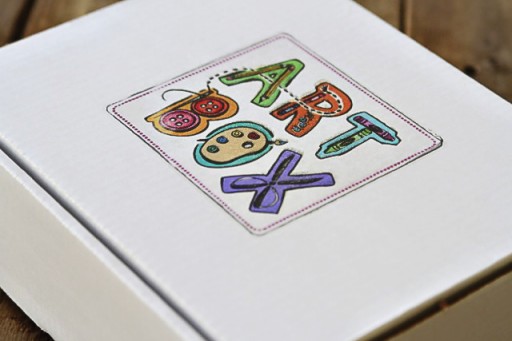 The mailing boxes hold a TON of stuff…..but the total cost for supplies in the box was under $20: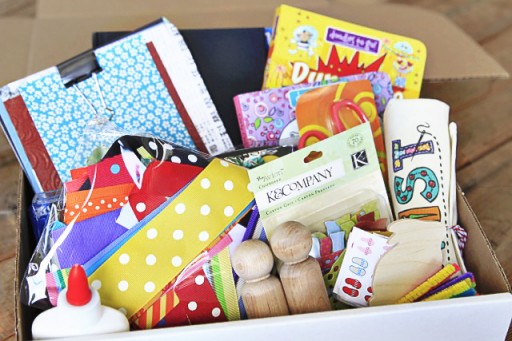 Everything a kid would ever want to be creative!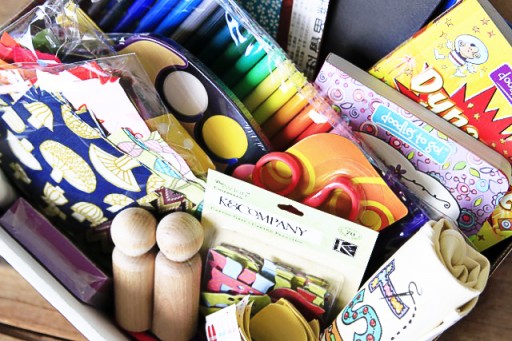 Give the gift of art and creativity for Christmas this year!  Here's the free download from Stephanie Corfee: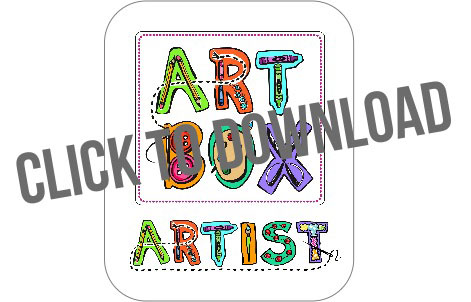 Do me a favor and go and say hi to Stephanie today and thank her for creating all this awesome artwork!!!  She rocks!!!!

Need a party idea for kids? How about an arts and crafts or painting party? Click the image below to see the posts and ideas!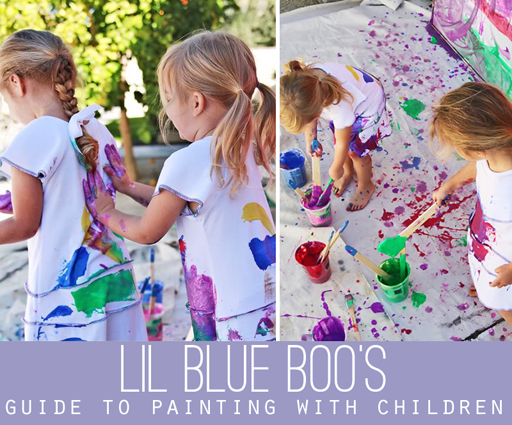 Find Lil Blue Boo's Guide to Painting with Children here.