I can't believe Christmas has already come and gone! It flew by!
We spent a few days at my in-laws house here in town starting last Sunday so everyone would be together at the same time: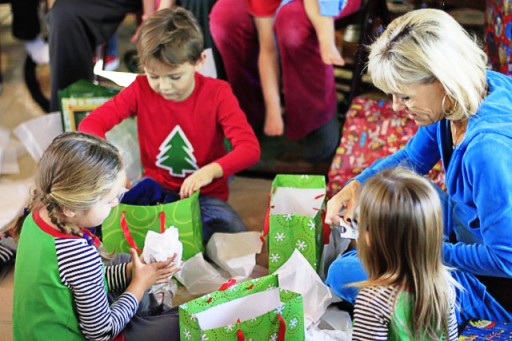 I wonder what Boo is whispering to my niece "Coco" in this photo: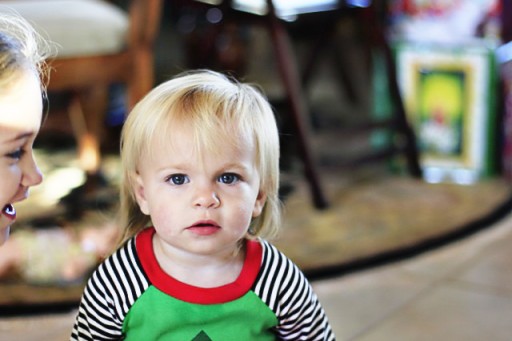 Love this photo of my nephew Jordan:
The adults played the annual Christmas stocking game where you have to guess who bought your stocking stuffers: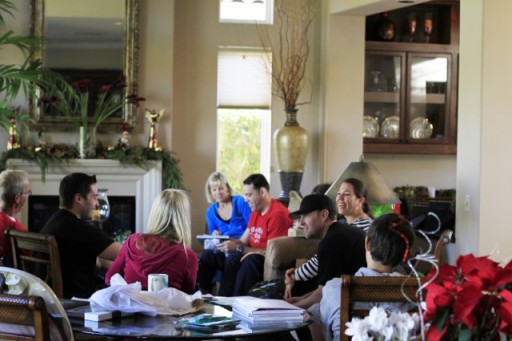 I made outfits for all the wee ones. We actually got them all in one photo looking at the camera!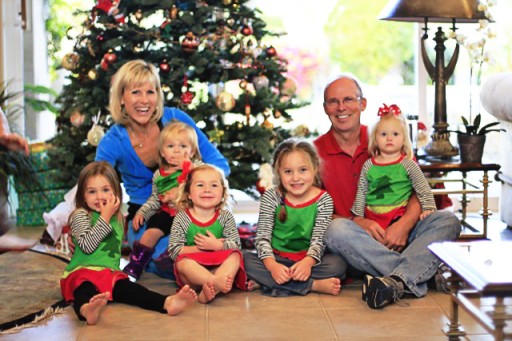 All the cousins (minus 2 who are in Seattle) for one photo: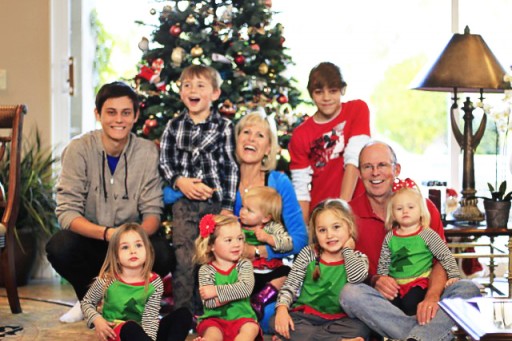 My mom is here for a few weeks and Boo is always on cloud 9. She is so patient and will play Barbies and "library" with Boo for hours: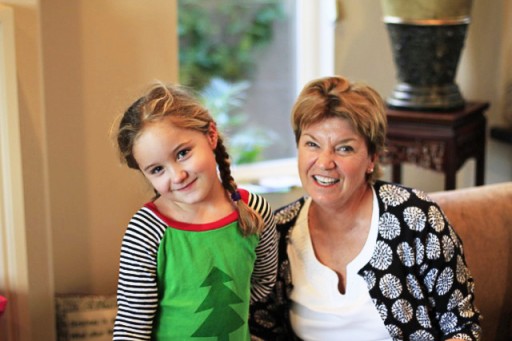 Boo was so excited that her two cousins Duncan and Cameron were staying at our house for Christmas. We played Xbox sports at night: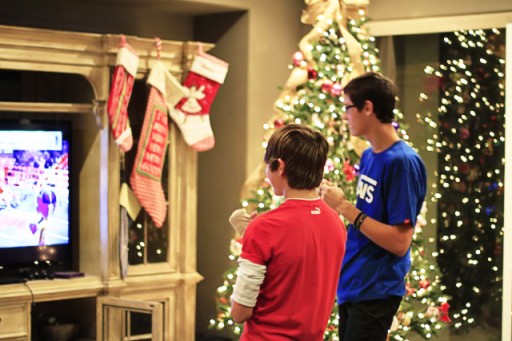 The day before Christmas Boo got her nails done: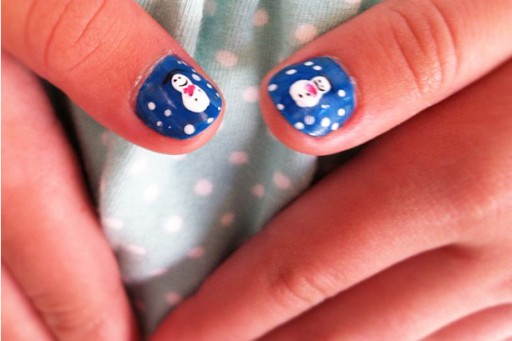 And she helped me make cupcakes for Jesus' birthday: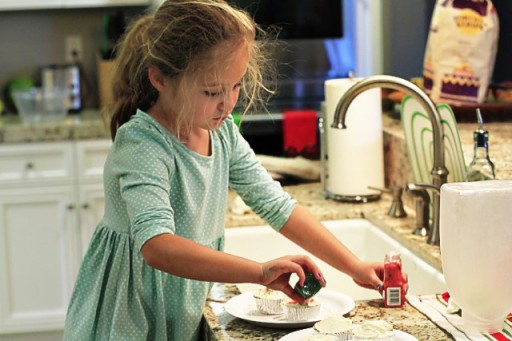 On Christmas Eve, we went to church and Boo helped us read a scripture.  She really wanted to be a part of the service so we printed out a verse for her and she practiced her lines for a few days. She was so proud and the entire congregation applauded (also in the video).  Santa left Boo pajamas at the front door with a note that said "wear these." She recognized the "American Girl" on the tag and started crying she was so excited….she said that it must be a sign that she was a good girl and Santa would bring her the doll she asked for. She kept saying: this is SO awesome.  She cried through her shower and kept repeating "Oh I hope Santa comes. What if he doesn't come? Oh please, PLEASE Santa come tonight!" It made ME cry! Seriously, I was so excited I couldn't even fall asleep!
On Christmas morning we woke up early when Boo whispered to Mr. LBB and I if she could go and peek to see if Santa had come yet.  Boo's Aunt "Kiki" (Mr. LBB's sister) read a letter from Santa:
Boo interpreted "I hope you like your present" that Santa had left her an American Doll and immediately started crying from happiness. (Can you tell that Boo's "happy cry" is a recurring theme here at Christmas?)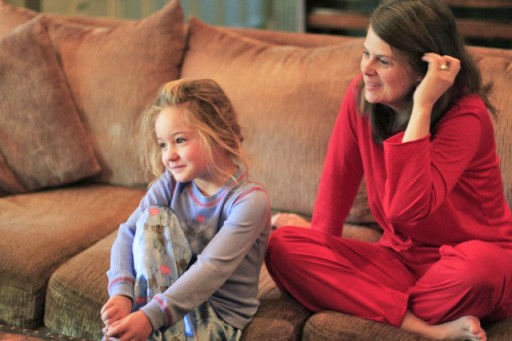 I'm sure you can guess…..yes, Santa did bring her the American Doll….PF-1221 to be exact (as noted in Boo's letter to Santa if you remember).
And ….of course…..she cried. After she opened a few presents she realized that there wasn't anything else and you could see her looking a little sad. I asked her the night before what she would do if Santa didn't bring her the doll she wanted. Her answer:
It will be okay. I will just ask Santa again next year.
I had to hold back tears on that one myself.  Anyway, we saved the doll for very last and she was so happy: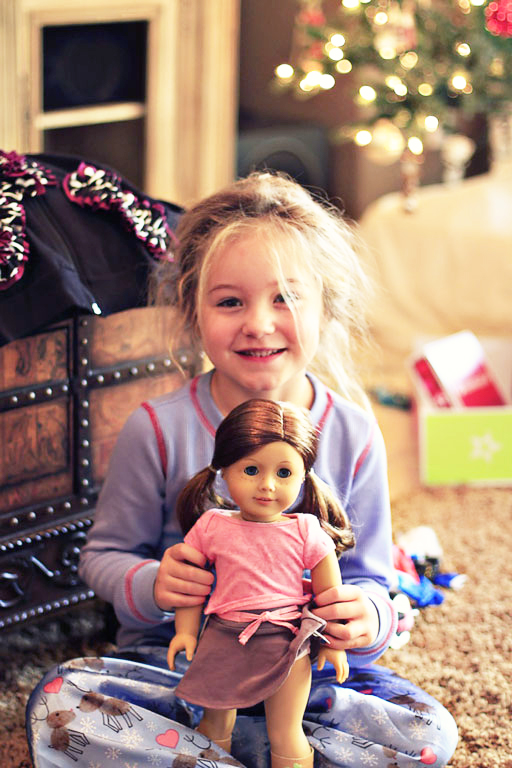 I put together a few of my favorite clips from the past few days….Boo's reaction to her doll is at the one minute mark…..so sweet:
Oh, little Diesel got an American Girl doll too…his new nemesis "Sugar":
click "continue" to read more…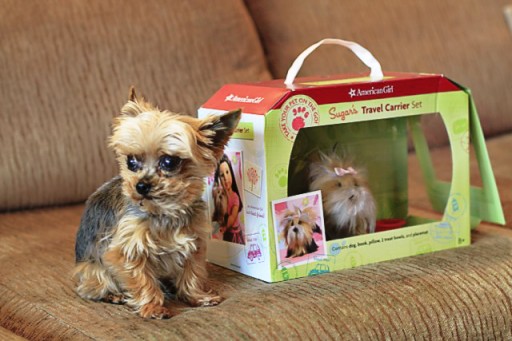 He also got a squeaky duck that he hasn't let out of his sight yet: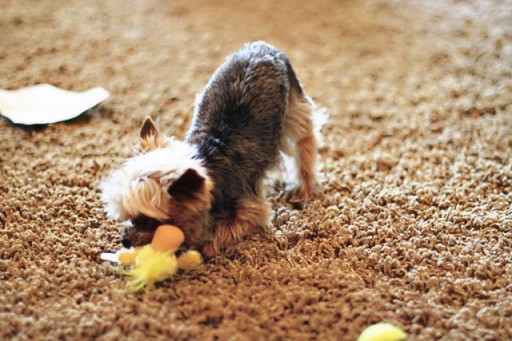 After breakfast on Christmas morning we drove to my sister-in-law Jen's house. Here I am with Boo: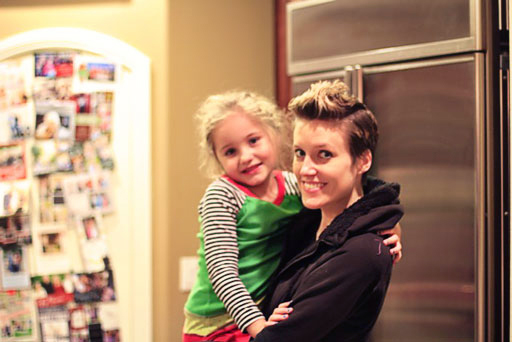 My niece Sawyer got a pink Barbie Escalade for Christmas and the girls had a blast driving it around: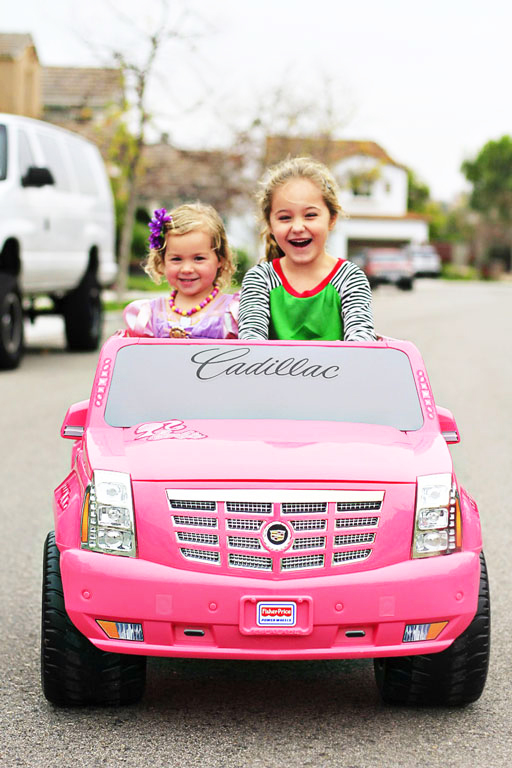 Hamming it up: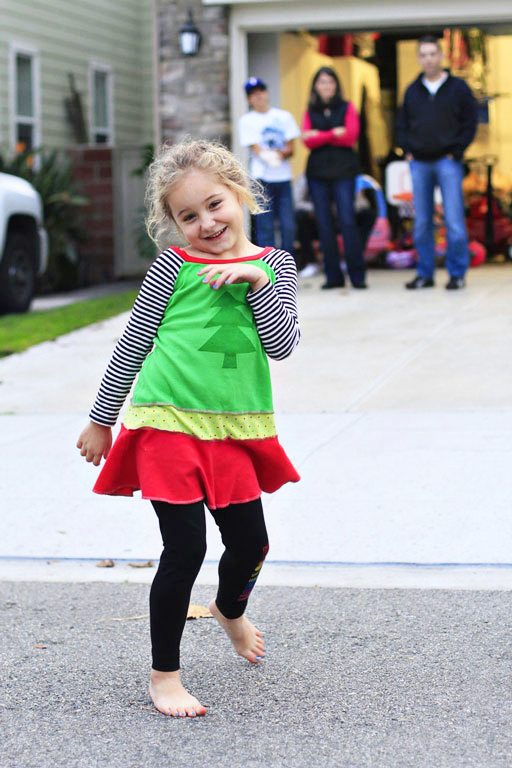 Her new leggings read "Boo Hack" (she changed her name you know):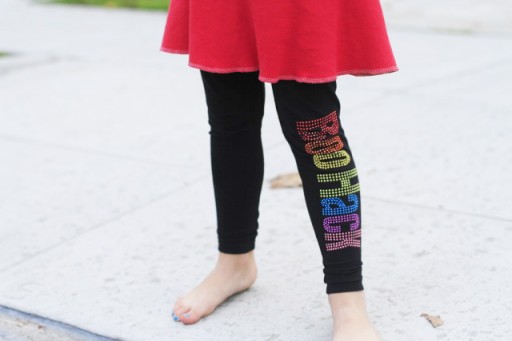 (leggings from Paperlili)
My sister-in-law Jen driving the girls around: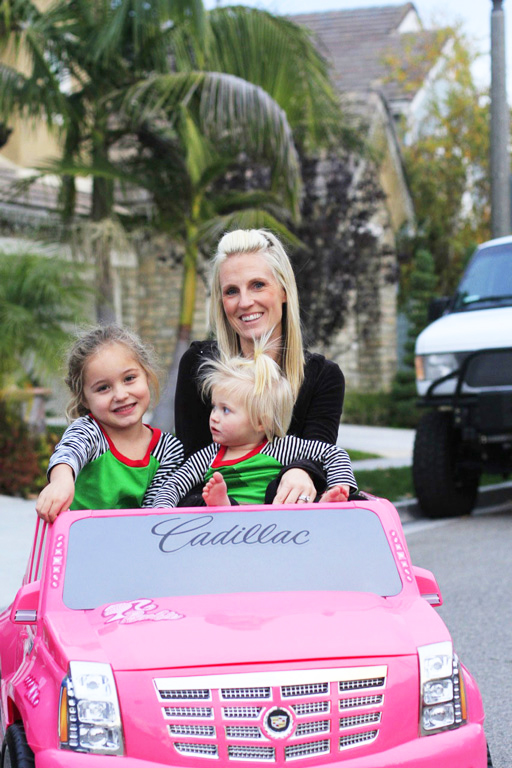 Sloane chasing Boo chasing Duncan:
The boys got my brother-in-law's sports car out for a look: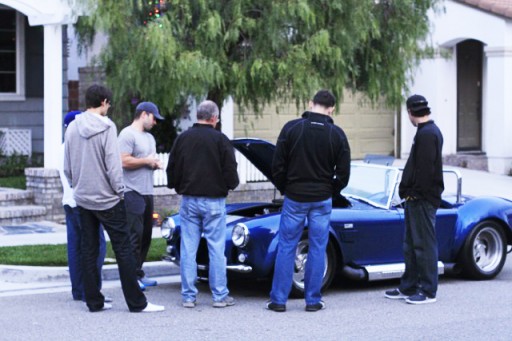 Mr. LBB and his brother-in-laws John and Gene: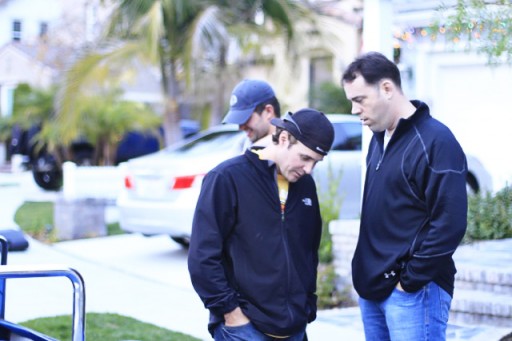 Here's how much I know about cars….I looked at this and said:
aww, what a cute little owl!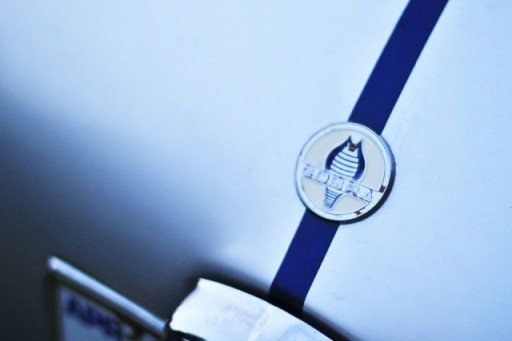 The owl could be named "Cobra" you know…..I'd buy an Owl car….wouldn't you?
My favorite part of the day yesterday was when we were leaving and my polite little niece said:
Thanks for having me at my house!
I'm going to start thanking visitors for having me at my house too…..
Boo named her new doll "Grace"….I love that.  She is in love and has declared that she will be the BEST doll mommy EVER. I don't doubt her for a second: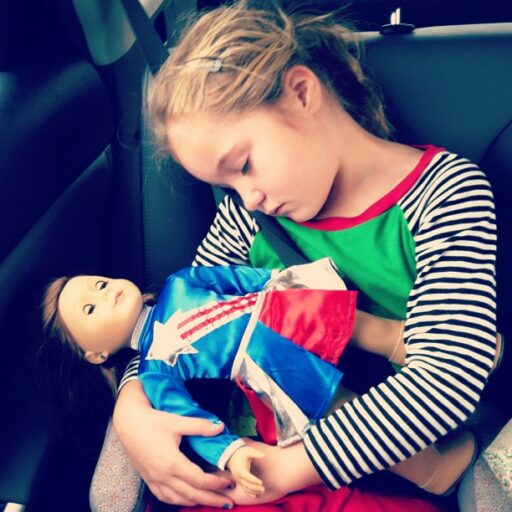 Merry Christmas!
Blessings!
XOXO!
Ashley