I love this: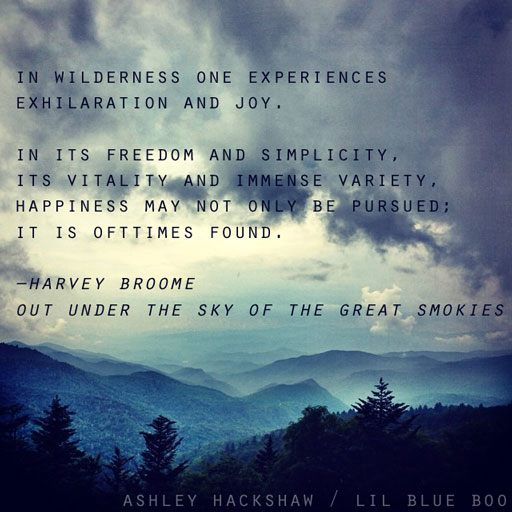 That photo of the Smoky Mountains is one I took yesterday….I'm pretty sure you can see all the way to Tennessee.  Brett has been researching the nearby trails and natural wonders. We are working on some printable "day guides" for the area of our favorite places….that could be an endless project. On the suggestion of a friend we went to visit Waterrock Knob yesterday. It's a short trail off the Blue Ridge Parkway. Don't Boo and I look really outdoorsy?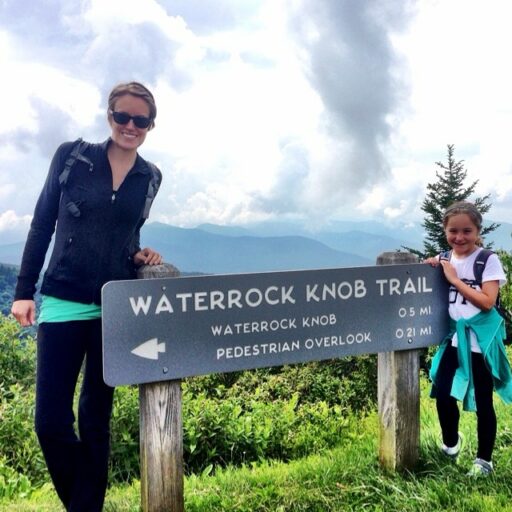 The real truth is….I am not very outdoorsy….yet. I used to be. When I was in high school I wanted to work for the National Forest Service. Now I cringe when I walk through spiderwebs or tall grass. (and when do the spiders realize they can't build a web on a path?! It's endless rebuilding! Unless they are actually trying to catch a human….) Boo and I are getting a little braver each day when it comes to nature. Brett on the other hand has already found a riding group and ventures out to Tsali on his own to go biking.  He was really patient with us yesterday when he took us on a "secret trail" and Boo and I were both almost hyperventilating at the sighting of fresh bear poop (scat?!) every 10 feet.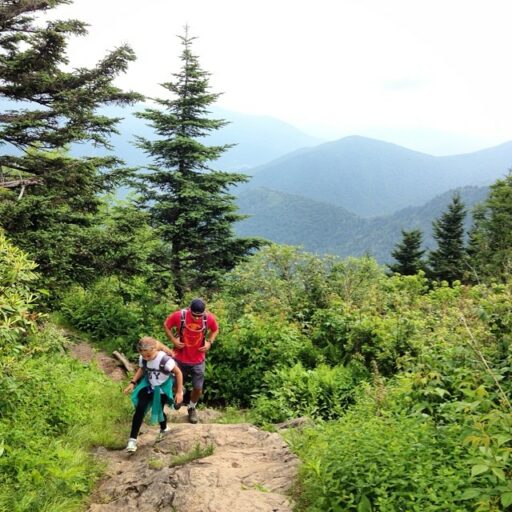 Brett and Boo are putting together some more office storage today so I can get myself out of boxes. All my bookshelves are put together and my books are unpacked. Brett's looking for some old wood tomorrow to build me a desk so there's a place to put my desktop computer and printer.  Then I have endless tutorials and home decor photos backlogged from the past few months that I never got to before our move….that will take a little catching up.  And I can't wait to share our revamp of the cottage we are staying in here at the Hemlock Inn.
I'm still trying to find my rhythm here with writing. There is so much to see and do here that I get easily sidetracked.  I've been working on a book now for 2 years and I would love to finish it in the near future which will require some serious discipline soon.  Everyone asks me what kind of book it is and I used to say "memoir" until a man told me I wasn't old enough to write a memoir so now I just call it a "totally true episode"….that leaves room for multiple episodes right? So if I don't hear from me for a few days I'm probably 1. wandering or 2. off writing for the episode…  (or I'm probably on Instagram @lilblueboo)
I went to the library today to get some work done.  As I was sitting there an older man meandered in, grabbed the newspaper and said to no one in particular in a thick southern drawl:
Well, let me sit down and read some of this here propaganda.
I lost my souther accent years ago but I hear it coming back.
I found the below passage in a magazine in the library. It was written originally in 1919 but was republished in Smokies Life Magazine recently (Volume 5 #1):
First I came here for health's sake and peace of mind. The grand old hills and forests gave me both. I return to then a fond affection.

Then I got to liking the people. They are a plain, honest, brave and independent folk. They are pure Americans, with true American ideals. They are hospitable, with genuine good will, and not for the sake of gain. They judge a man from his own deeds and bearing; not from his pocket book or family tree.

Towns are few and small. Outside of them, the people are quaintly old fashioned, with ideas of their own, not borrowed ones. They are original, these mountaineers; nearly everyone is a character.

-Horace Kephart, published in All Outdoors magazine, October 1919.
"Then I got to liking the people." There's something about a small mountain town that you can never find anywhere else I think.  Everyone I meet is itching to tell a story.  And the buildings too: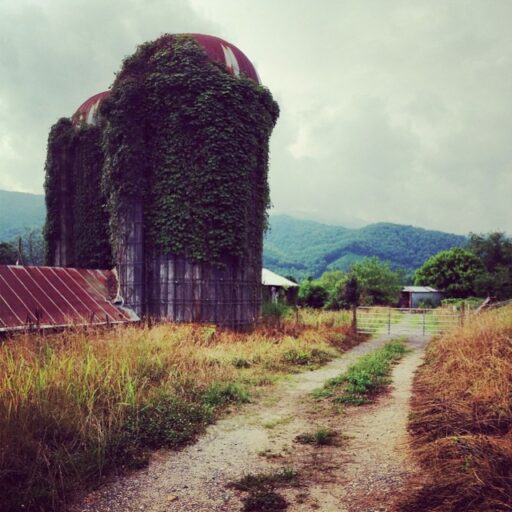 I can't wait to show you what I see. I could spend a whole month documenting the roadside motels that have closed down and are slowly being reclaimed by nature.  I could spend another year sharing some of the stories from the locals I've met so far.  And most of them have had some hard lives but most of them make me think of that Thoreau quote:
However mean your life is, meet it and live it.
It will be interesting to see how my perspective changes or doesn't change over the next year.
I just realized I haven't been to a Target in over a month….and I can't think of anything I could possibly need from there anyway.  I'd have to drive to another town to find one if I did.
Ok, enough rambling for today. I still have a letter to write.  If you haven't signed up for the weekly letter….click here.  A few recent letters if you missed them:
P.S. I'd love to know if you live in a small town. What is your favorite part about living there?