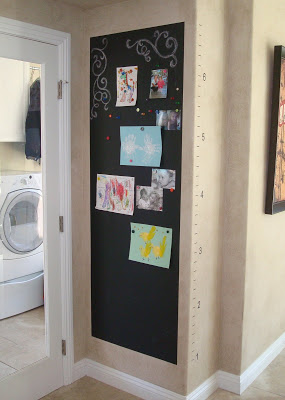 This is a project that I completed about a year ago but since my blog is new I have to catch up! I have so many ideas for using magnetic and chalkboard paint but this is the only project I've done so far. When we renovated our kitchen recently we installed a stainless steel GE monogram refrigerator….my dream refrigerator….until I found out that it is NOT magnetic. How is metal not magnetic?! I had so many plans of covering it in Sienna's artwork and photos. So I had to come up with an alternative…..a magnetic chalkboard wall.
First, I taped off a large rectangle using blue tape. Use Q-tips to burnish the edges of the tape and you won't have any paint leakage underneath. I used
Rustoleum Magnetic Paint
for the magnetic layer. I recommend buying it at a hardware store so that they can put it in the shaking machine and mix it up for you. The metal filings in the paint tend sink to the bottom and are hard to mix manually. I did a lot of research on my magnetic wall before doing it and found that there are 2 tricks to getting it right:
Trick #1: Apply many coats.
I ended up doing about 6 coats and I probably should have done about 10 to 15. Each layer adds more metal filings. The more coats you add the more even the metal layer will be.
Trick #2: Buy the right magnets.
I went through several different kinds. If the label on the magnets says "the strongest magnet ever" don't believe it. The only magnets that will hold anything are neodymium disc magnets. They look like watch batteries and they are more expensive but if you don't use this kind you'll have stuff falling off the wall all over the place. They are super powerful and will even pinch your fingers if you hold a few together. I found some at Michael's that were 6 for around $3.50. I glued buttons to the top of the magnets to decorate and to make them easier to grab off the wall. Make sure to spread the magnets out far enough apart while they are drying or you will end up with a big gooey mess (I learned the hard way!)
After the magnetic layers are dry you can add your chalkboard paint. I used
Rustoleum Chalkboard Paint
. The trick with this layer is to allow it to dry for 3 days so that it can cure properly. Once cured, you can prepare the surface for chalk by rubbing the side of chalk over entire surface and erasing.
To make the growth chart I taped off the increments with blue tape and used the remaining chalkboard paint. I printed off numbers from the computer and used graphite transfer paper to transfer the images to the wall.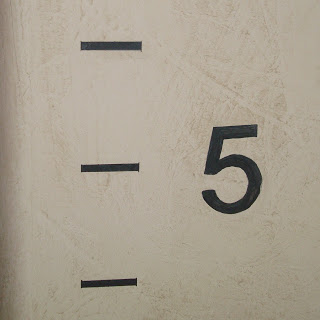 I decorated the top of the board with some chalk drawings that can be redone when I get bored with them.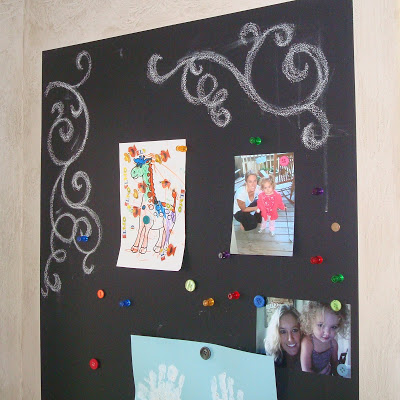 The bottom half of the chalkboard is reserved for Sienna's drawing.