Happy has a huge heart, in more ways than one. She has had a horrendous cough ever since her surgery and it's kept her up almost every night. I've slept on the couch the past few nights just to try and keep her comfortable. I was giving her cough medicine every 4 hours, and honey, and Benadryl to help her sleep a little. I was also doing accupressure massage and had the vaporizer running non-stop. It all helped a little but not enough. Happy was trying to be happy but I could tell she was just exhausted.
I took her to Dr. Mel first thing this morning and he basically concurred that she's a hot mess but there's hope for little Happy! Her heart is huge, which is basically congestive heart failure…I don't know how there's space for anything else in that little body of hers: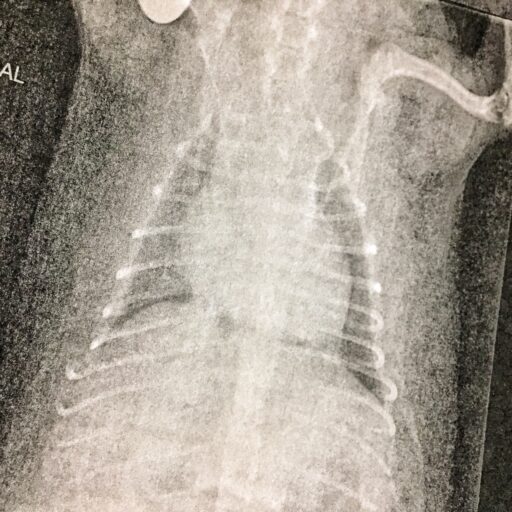 Because her heart is so enlarged her trachea is being pushed up which is causing her cough. We are now home with a huge chart of medications and her cough is already better. We didn't even have a chance to cover any of Happy's other ailments. "One step at a time," Dr. Mel said. I think Happy was onboard that!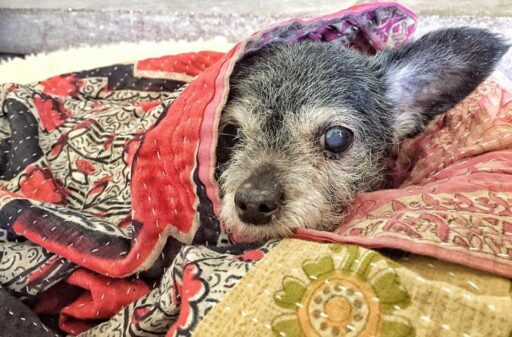 It warmed up a little this afternoon and I took Happy out to bask in the sun for a little while. All the chickens came to see us but then Happy sneezed and the whole flock took off in a panic. Happy didn't even notice all the commotion. I love how content she looks in the sunshine, even with that bum leg in the back not cooperating: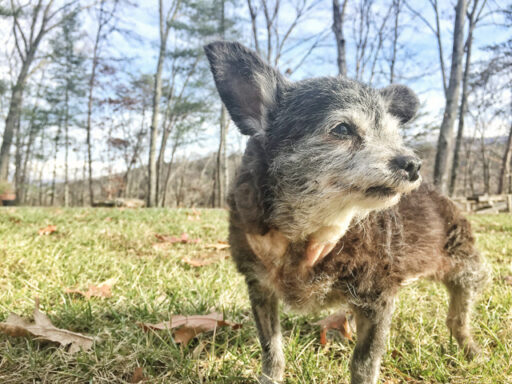 Happy also had her sutures taken out today. When the nurse was trying to get one last stubborn one out Happy tried to take my thumb off, except she has that broken jaw so it felt I was being bit by a feather. But Happy's snarl made me think that she must have been quite a feisty little gal back in the day!
It's Happy's fourth day with us and I think she's settling in great. She has some separation anxiety and follows us around the house as much as she can. If one person leaves she wimpers for a little bit watching the door. These things will get better with time as she comes to realize that we aren't going to abandon her. Oh, on top of everything else, she's also being treated for worms. She hasn't had much pep in her step this evening but I just love watching her sleep. She's so tiny, and she always has a little smile on her face. She reminds me of a tiny werewolf: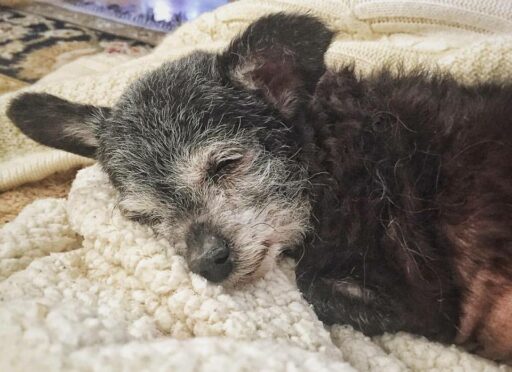 (If you are just meeting Happy today here's the post about how she came to be part of our family!)