I've always called her Ghost…because she disappears so fast that I've often wondered if I'm the only one that sees her. But the other day Brett saw her too. He found her curled up in the leaves off the side of our hill. She looked up, surprised, but didn't make eye contact. That was the longest I'd seen her stay in one place. I think we might have woken her because it was like she was trying to get her wits about her.
I don't even know if she'd show up in a photo…so here's a quick sketch of Ghost: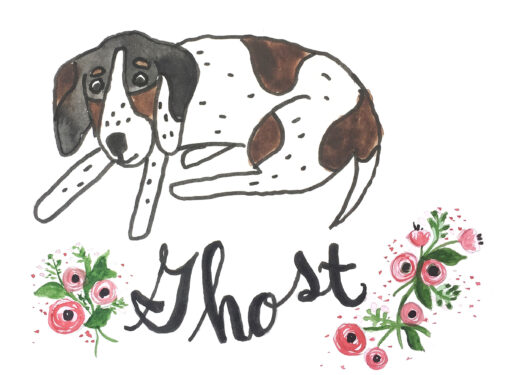 She's skittish, shy and no threat to anyone. A few times I've found her quietly eating from our compost pile….with the chickens eating right next to her. One evening last summer I found her curled up in front of our rocking chairs, soaking up the last of the sun's rays. Now that I think about it there are these small little nests of leaves all around the property where she's left her impression. When I do see her it results in her disappearance for a while. She doesn't like to be seen. She's a ghost of course.
I've put out food for her but she's so used to eating scraps around town that I'm not sure she'll ever eat kibble. I worry about her because she has a too-snug-collar on that has been on too long. I'm going to keep trying to lure her, and maybe one day I'll be able to catch her. Not to keep her, just to get the collar off and to try to have her checked out and vaccinated. Beth, the director of our local shelter has offered to help me catch her…but that means Ghost has to come back around again soon.
One thing's for sure…if we do catch her she won't want to stick around for long. I know she'll be on her merry way again…because she has lived a life as wanderer for far too long. A wanderer is a wanderer. But…maybe she'll stick around…if she has a warm place to sleep. I've asked Brett to build her a little shelter off in the woods where she likes to curl up…something with a roof. Brett says Ghost has been shooed by humans for far too long and she doesn't trust any of us. I'm always up for a challenge. I mean look at Happy:

Happy's like a teenager now, just in an old dog suit. Anyway, wish us luck. I think Ghost would be a welcome addition to our menagerie on Hospital Hill.
When we adopted Happy we did get a little sidetracked with our attention on raising money for our lone animal shelter (that needs all the help it can get!) We've gotten ten donations from all the states that have been filled in…but we still have a long way to go. We are so close to getting New Jersey, Illinois and Kentucky and we finally got our first donation from Maine over Christmas! If you know anyone that lives in the blank states we'd love it if you could share our project with them! We'd be appreciative of any amount donation from any state! Thank you for helping us help the animals of our rural mountain town that so desperately need it.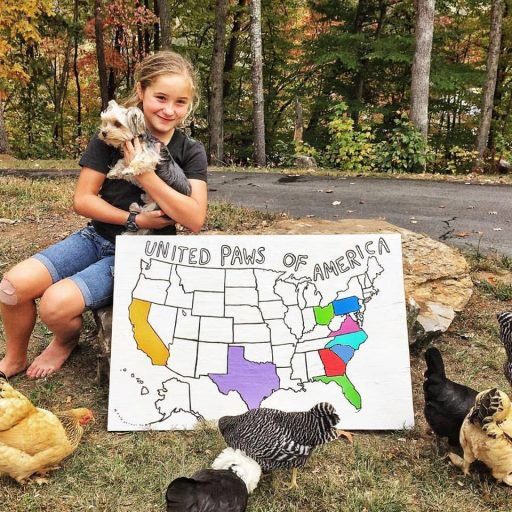 How to Donate by Paypal:
Click here —> PAWS Animal Shelter
or send funds direct to pawsbc @ yahoo.com
**Please add "Sienna Hackshaw Project" in the notes with your STATE so that we update our map and show you our progress as we go!