I've been looking for an antique circus sign for years and every time I've found something it was out of my price range or wasn't for sale. I decided to make one myself this weekend. I get so much enjoyment out of just sitting and painting letters. Sign painting can be so therapeutic. I lose track of time. I'd rather sit and paint than almost any other activity I can think of. I worked on some of the gold liquid gilding today: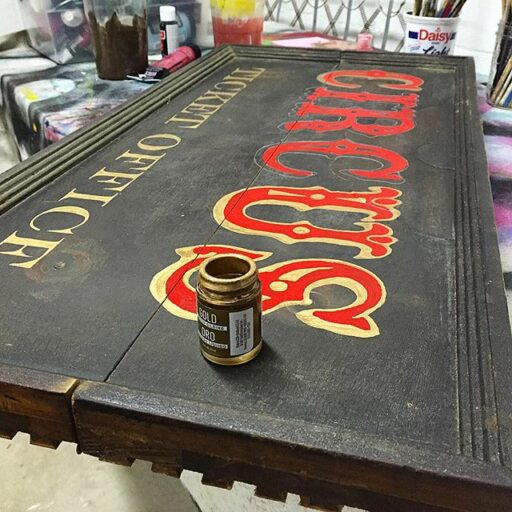 The wood background was made from two drawer fronts salvaged from an old dresser I found in the train depot. I couldn't bear to throw them out so I asked Brett to attached them to a piece of wood so they would look like a framed piece of wood. I love the way it turned out. I'll post the finished sign in a few days and upload the template I created for it.
Another project from this weekend was fixing up this old sign I found in the attic. The family that lived in the house before us owned a pharmacy in town for years. Maybe that's what this sign referenced. It was in pretty bad condition so I just added a wash to some of the letters to make them show up again. It's going to hang above the opening to our living room where you can see the town lights: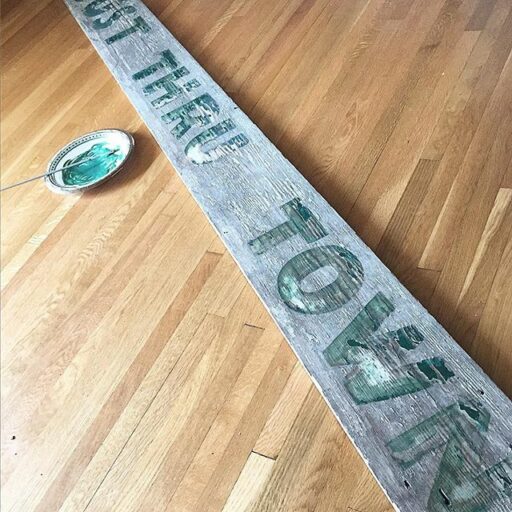 You can find more posts about the House on Hospital Hill here.