We didn't get much done on the house over the winter with all the snow. So the warm weather has brought new excitement that we can get back to working on the House on Hospital Hill. Any warm day we had over the last few months was used to fix the rotted eaves and fascia board that had succumbed to years of leaking gutters. All of that work had to be done before we put new gutters on the house. Last week we finally got gutters put back on: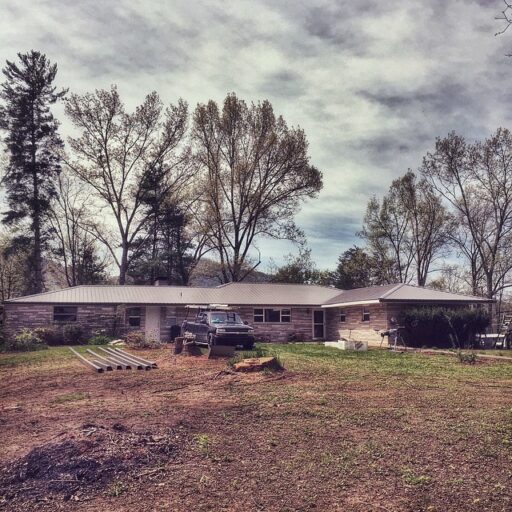 We went with 6″ seamless gutters in Terra Bronze, which is basically an earthy gray to match our metal roof.  It modernized the ranch instantly…and balanced out the colors in the Tennessee Fieldstone. I went back and forth between white and gray for a few months and finally decided that gray was different. And I like different. The install was done by Lowe's Home Improvement in Sylva, NC. The custom black metal chimney cap was made by local Larry Hughes. The top swivels to the side to allow access to the chimney without having to remove it.
I have been working on the inside of the house slowly, but I've neglected the photography…I'll start sharing those updates. I don't think our new house could be any farther (physically and distantly!) from our old house.
Someone asked why it's called the House on Hospital Hill….it's just because it's the hill in town that the hospital is located on: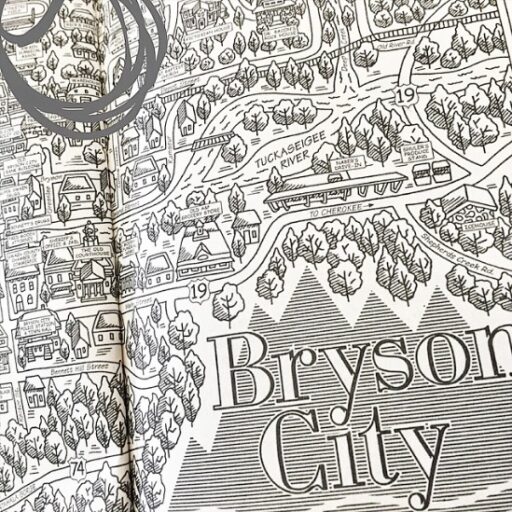 All House on Hospital Hill posts can be found here.