It is so easy to customize kids' clothes using applique.  I remember my mother making us Christmas sweaters using applique and "puffy paint" twenty years ago….there will not be any photos posted of those outfits….ever.  I am aware that this is the oldest trick in the book but I thought I would share my process anyway for those who are new to it….I am going to post a tutorial next.
This is an outfit I made recently for my friend Jackie's daughter for her 1st birthday.  I used my favorite
pattern
for the pants/capris and just added the little pink polka dot ruffle at the bottom.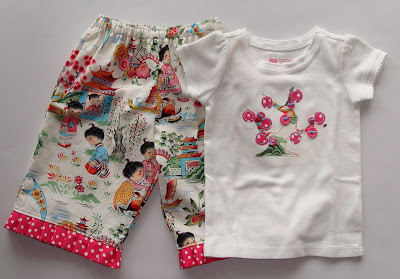 The applique I made by cutting out the tree from the lighter fabric and adding small round "cherry blossoms" using the pink fabric and small pink buttons.  I hand-stitched the detail on the pink cherry blossoms using turquoise DMC thread.  I used a white baby gap t-shirt because I like the weight of the fabric and the little scalloped edges.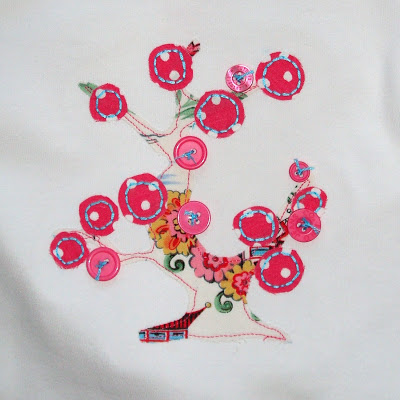 I took a picture of the outfit once it was boxed because it looked so cute with the little tag and ribbon.  I printed the tag on regular paper in my inkjet printer but I was so worried about the ink rubbing off on the outfit that I sewed a peice of vellum to the top of it. The tag has washing instructions: wash on delicate, lay flat to dry.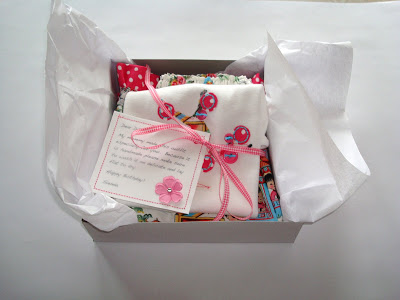 I made a similar outfit for Sienna.  The pants are a little different from the pair showed above.  Instead of a ruffle I added a large pink band at the bottom.  I also adjusted the pattern a little to make the pant leg wider.