I love this little dress top I made for Sienna. She recently wore it to a tea party to celebrate her friend Elliana's birthday.  This is by far my favorite sewing pattern right now.  It is the FAITH Double Layer Dress Top by Sew Sensible.  You can buy the pattern online at You Can Make This.  The directions included with it are step-by-step and include pictures!  Anyone who can work a sewing machine can make this top.  I made little matching  shorts to go with the top but Sienna also wears it with jeans when the weather is cooler.  It looks dressy but is very comfortable and roomy for playing.  I won't put Sienna in anything itchy or tight so this outfit is perfect!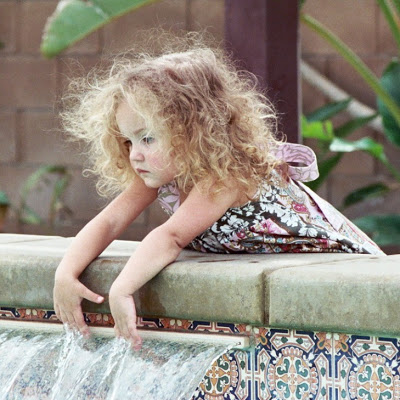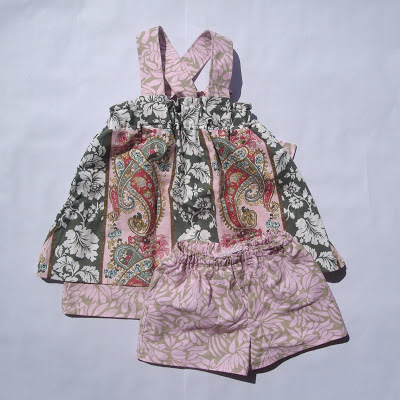 Below is the back of another dress top I made in another set of fabrics.  The top layer is Amy Butler and the bottom layer is a $3/yard coordinating fabric I found to match.  I love Amy Butler fabrics but they tend to get pricey when you need a lot of fabric!  The huge bow in the back is my favorite part of the outfit.  It reminds me of one of those big wind-up toy keys.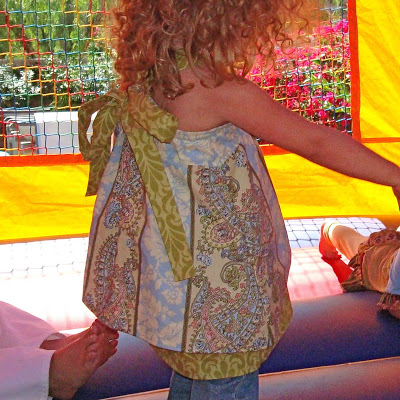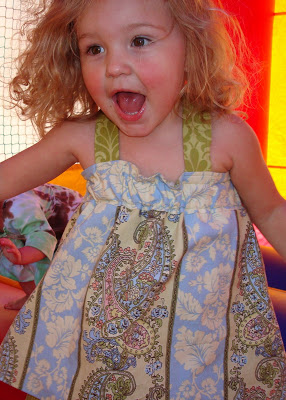 For the shorts I use New Look pattern #6689 which I picked up at Joann's Fabric.  You can also get it online at the
Simplicity website
. It is a very simple pattern and is always roomy enough for a diaper and lots of horseplay.  I use this pattern for lots of different outfit variations and just change the length for shorts or capris and add a ruffle to some.
Another easy outfit: the Momma's Darlin Apron Top.  You can purchase this pattern online at
You Can Make This
as well. I love these patterns because you can download them instantly. I made the bow a little longer than the pattern asks for, but I love when bows hang down with large loops.   The shorts are by the New Look pattern I mentioned above.  I found these fabrics at Joann's for about $2/yard when they were having one of their sales.