Look a little familiar? (
click here if they aren't
)  Sienna wanted tiny beanbags for her doll too so we spent yesterday afternoon making these itsy-bitsy, teeny-weeny "barley" bags. We aren't creative enough to come up with a name besides "b-a-b-y" yet…….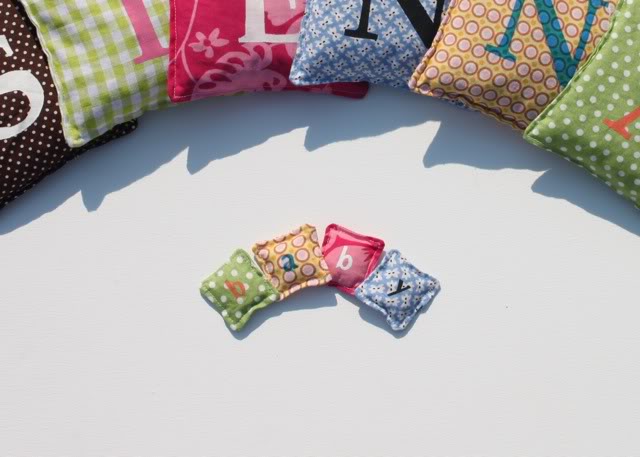 These were SO much harder than the original large beanbags. Look how tiny the squares are! The most frustrating part was getting them turned right side out after sewing them.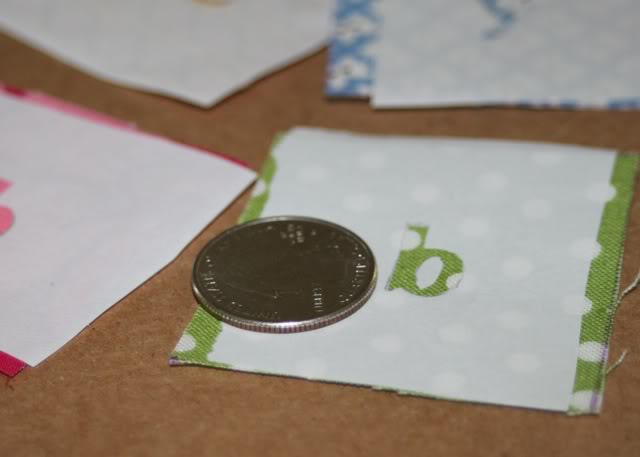 Only two or three pinto beans would have fit in these tiny bags, so we used pearl barley instead….and made a "funnel" out of a straw.
(Sienna got into some of my blue paint before hand…..)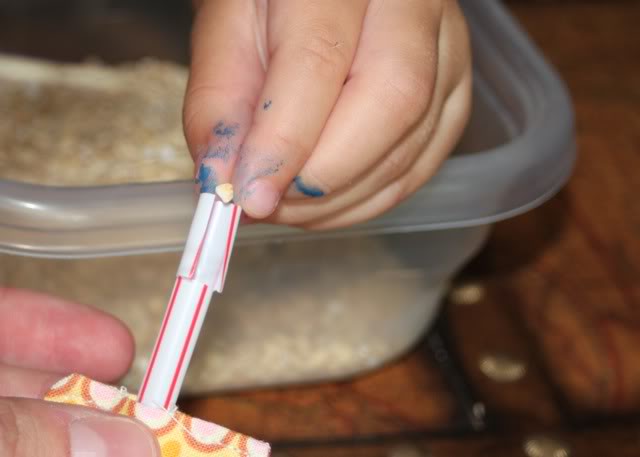 "Baby" and her new little "baby" beanbags….. just the right size.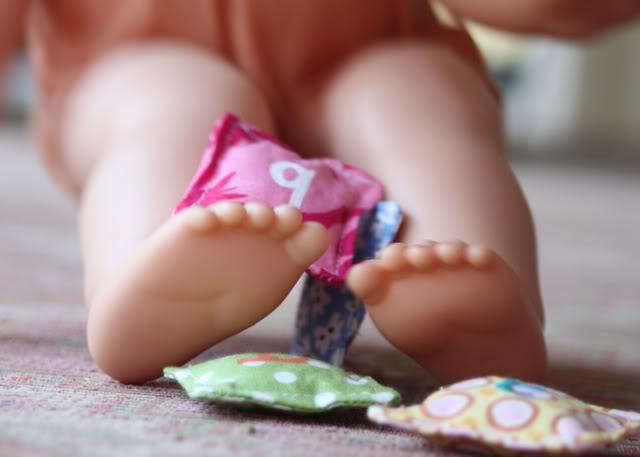 I love miniaturized things…..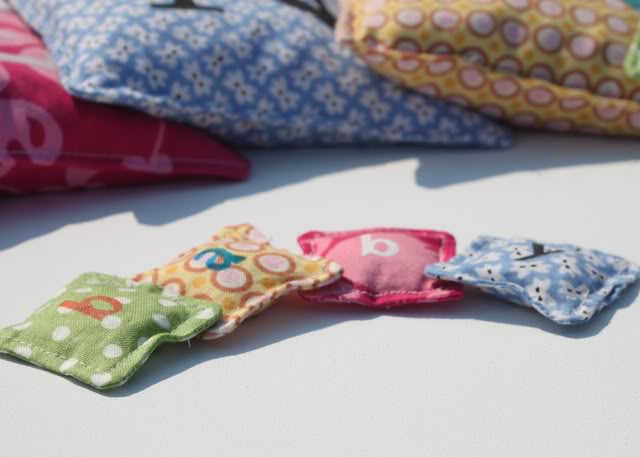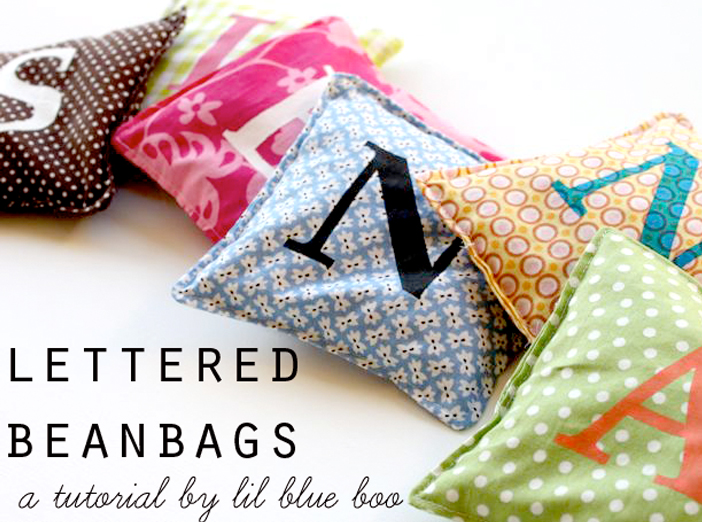 These beanbags were Sienna's and my project yesterday afternoon. Who doesn't love beanbags? We made one for each letter of her name.
Sienna doesn't know how to spell yet but she loves counting them and we also play "bean bag horseshoes" with them….trying to toss them as close as we can to a target.
First, I made a square template 6 1/4″ x 6 1/4″ and used it to cut 2 squares from each piece of scrap fabric I had.
I cut 8.5″ x 11″ pieces of freezer paper to run through my printer (there is a file at the bottom of this post with the full alphabet that you can print). I printed out S-I-E-N-N-A in both capital letters and lowercase letters. Then I cut out around the letters and also cut pieces of blank freezer paper to place behind the fabric. I used a razor blade to cut out the letters to make a stencil.
Note: Freezer paper has a waxy side that adheres to the fabric when you iron it on. The non-waxy paper side should be on the side you are going to iron. Make sure to adhere all the edges and your paint won't go on any area that you've ironed the paper onto! Just be careful not to use too much paint on each layer….or the freezer paper will start to unstick if it gets too wet. Do 2-3 light coats of fabric paint!
I ironed each freezer paper stencil onto the front of a piece of fabric (and ironed a blank piece to each back to keep paint from bleeding through).
Then I used Jacquard Fabric Paint to fill in each stencil.
Note: Be careful not to use too much paint on each layer….or the freezer paper will start to unstick if it gets too wet. Do 2-3 light coats of fabric paint!
Once dry, I peeled off the freezer paper stencil and voila!
I placed each piece of fabric right sides together and pinned.
Then I started in the middle of one side of a square (do not start on a corner) and I sewed all the way around with a 1/2″ inseam. I stopped 1″ from where I started sewing to leave an opening.
I turned the square right side out and ironed flat (this also heat sets your paint).
Next I top-stitched around the edges of my square making sure to leave an opening where the previous one was (so that there is hole to put the beans through).
I had a great assistant helping to fill the beanbag with dried pinto beans…..
…..until she got a little out of hand and started "bathing" in them.
I filled the beanbag 3/4″ full and then sewed the opening shut!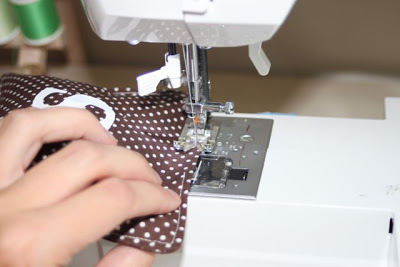 One cute little beanbag finished!
We plan to do the entire alphabet, but 7 beanbags was all we had time for today!