These are the little wallet/clutches I made for the SYTYC Contest for the theme "Green." I was going to wait until after Thanksgiving to post the tutorial, but I had so many requests that I thought I'd do it early. Maybe you want to stay in on Black Friday and make some handmade presents for Christmas instead of shopping!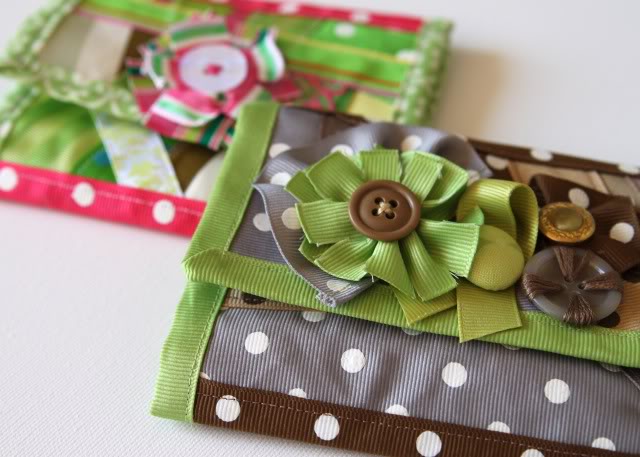 I made the wallets using leftover ribbon scraps that are too small to use for anything else (except maybe for a scrap ribbon camera strap or a scrap ribbon belt) and a basic applique technique.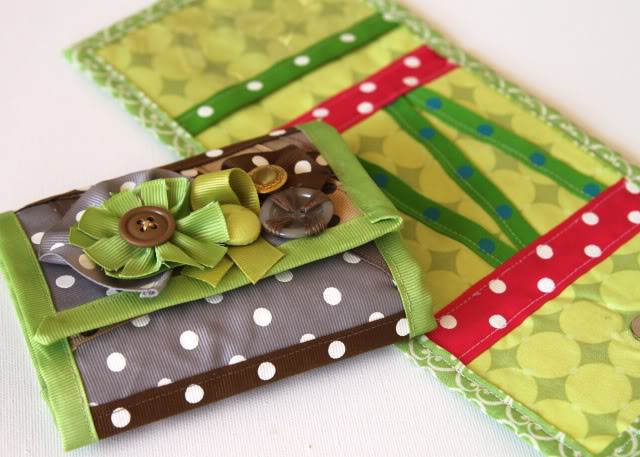 The wallets have a clear vinyl ID/photo wallet and three pockets for cash and credit cards.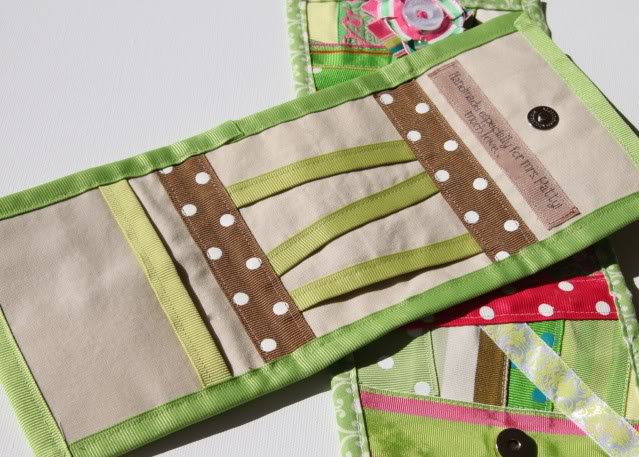 They are so interesting when folded out!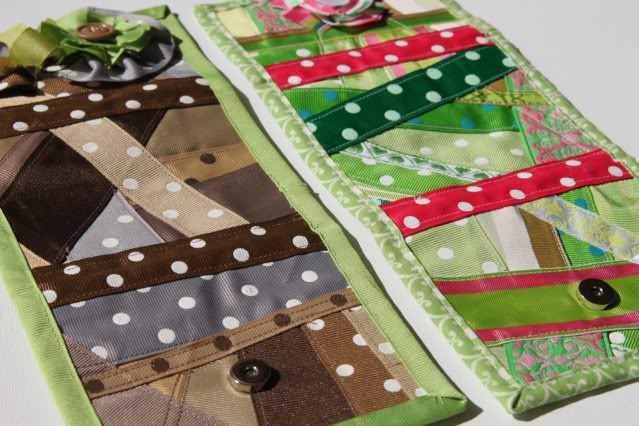 I made one of the wallets for Sienna's teacher and one for Sienna (with the little princess button/ribbon flower on the front). She keeps her little pet shop puppies in it now….she doesn't have any money….not even sure if she knows what money is yet.

Materials needed:
Scrap ribbon
Wonder Under or fusible web (I used the kind without backing)
Muslin fabric for the base of the outside
Fabric for the inside lining
Magnetic clasp
Optional: clear vinyl PVC (for the ID pocket)
Note: All the dimensions in this tutorial are for the wallet size. You will have to adjust them for the clutch size.
Step 1: Cut a 5″ x 11″ piece of muslin and a 5″ x 11″ piece of Wonder Under.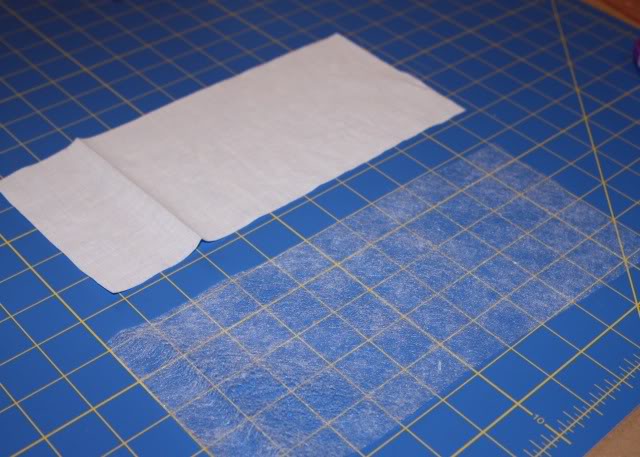 Step 2: Place the Wonder Under on top of the muslin and begin layering your scrap ribbon pieces on top until the Wonder Under is completely covered. Try to overlap all ends of the ribbon with other pieces of ribbon. As you get sections completed, place a piece of parchment paper over the ribbons (use parchment paper if there is printed design on the ribbons) and apply heat with an iron to fuse the Wonder Under. You may need to cut several small pieces of the Wonder Under and place it under pieces of ribbon that do not come into contact with the fusible web.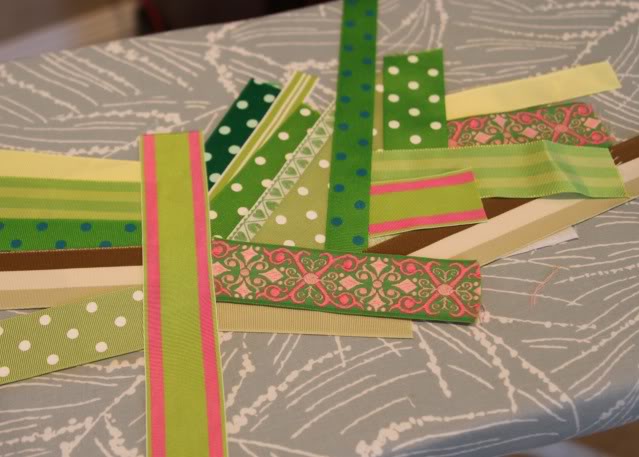 Step 3: Once all of your ribbon has been fused to the muslin, trim off the excess around edges….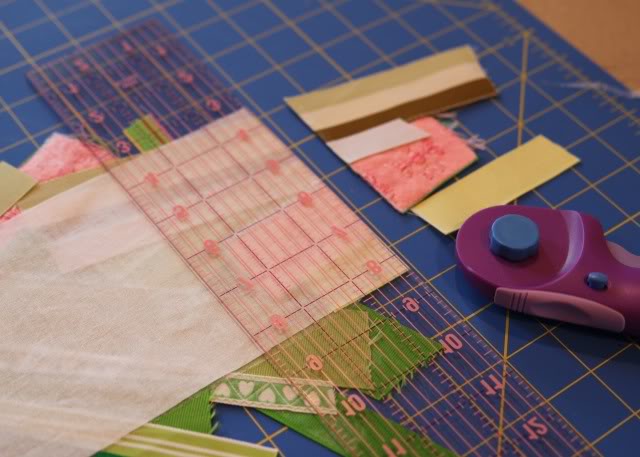 ……so you end up with a nice 5″ x 11″ piece.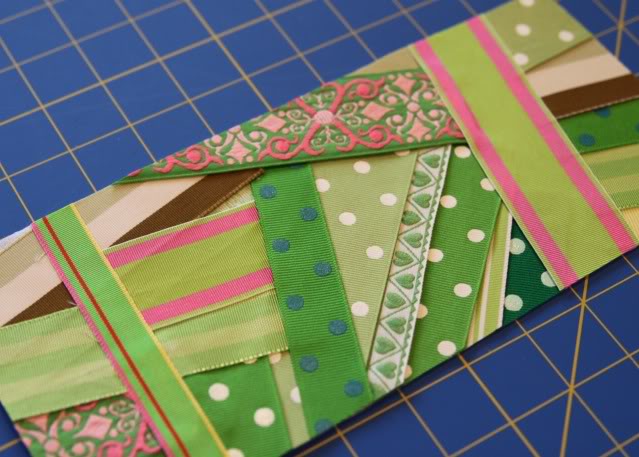 Step 4: Carefully sew all your exposed ribbon edges to the muslin….this doesn't have to be exact. There were areas where I just sewed directly across the piece instead of following a ribbon edge….it just depends on the look you want.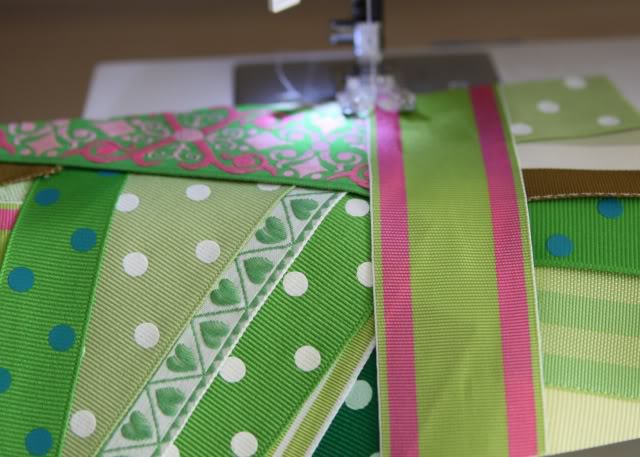 Step 5: Cut your 5″ x 11″ piece into 3 smaller pieces: one measuring 3″ x 5″ and two measuring 4″ x 5″…..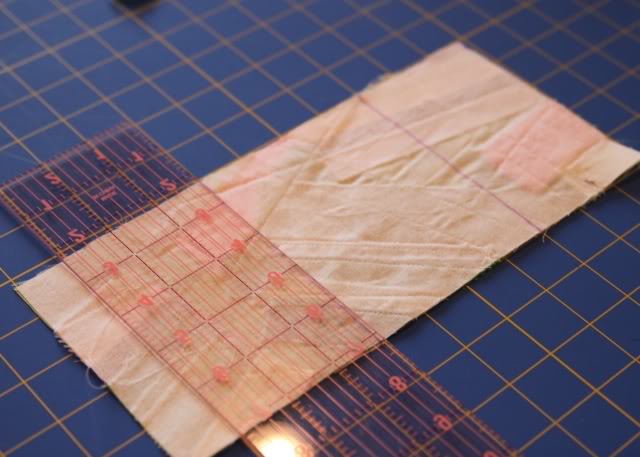 ….and sew around the edges of each piece to keep all the ribbon secured.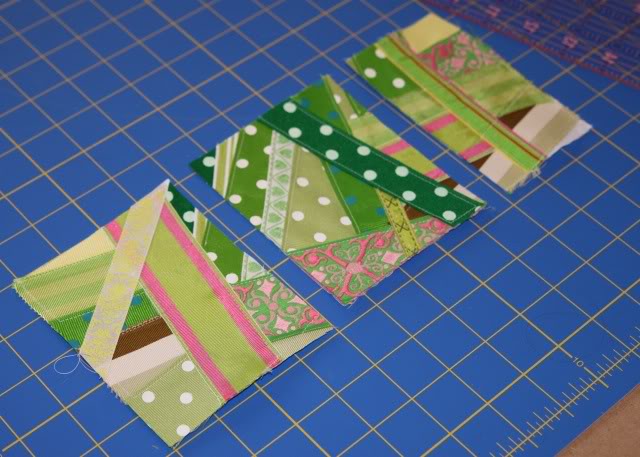 Step 6: Cut fabric pieces for your inside lining: one measuring 3″ x 5″ and two measuring 4″ x 5″. You will also need to cut a 3″ x 5″ piece of fabric or clear PVC vinyl for the inside pocket.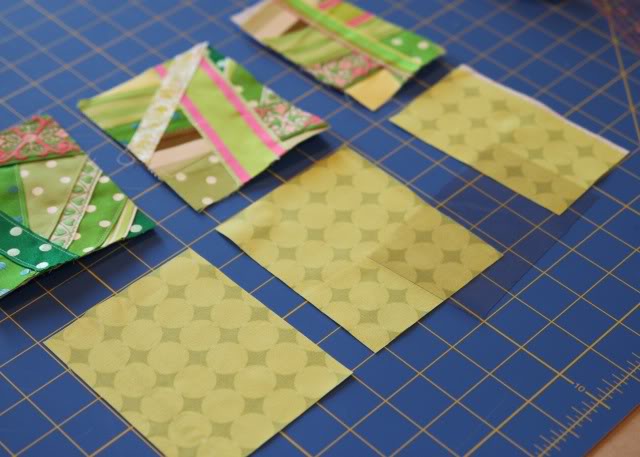 Step 7 Creating your ID pocket piece: Take a piece of ribbon and fold it in half over the 3″ x 5″ PVC piece. Sew along the ribbon edge.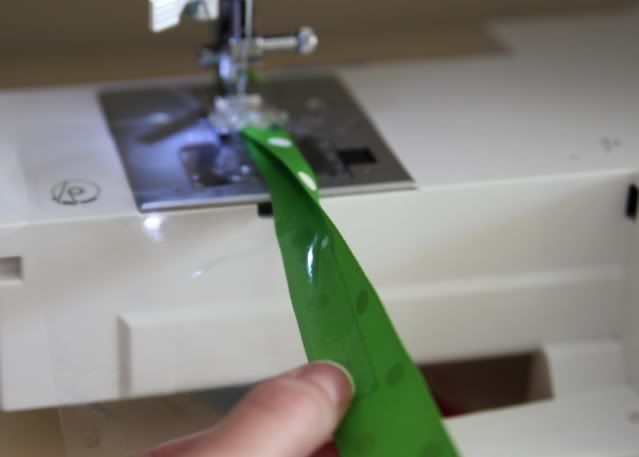 Take one of your 3″ x 5″ ribbon quilt pieces and add one side of your magnetic clasp.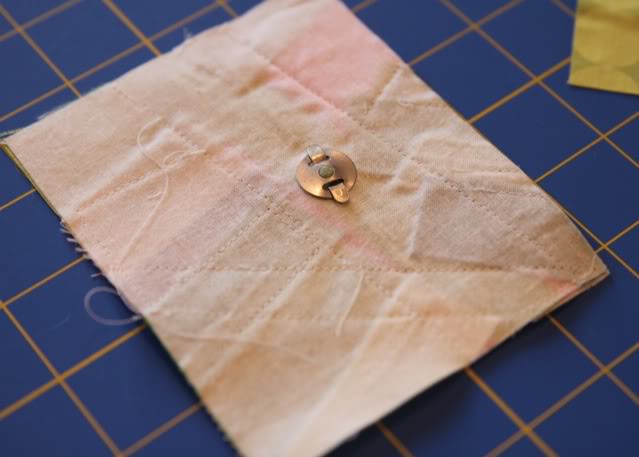 Sandwich your ribbon quilt piece with the magnetic clasp and a 3″ x 5″ piece of lining wrong sides together. Add your PVC piece on top of the two and sew the bottom edge.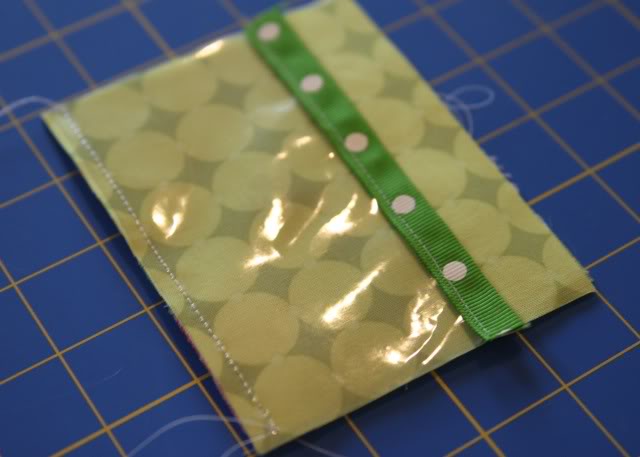 Step 8 Creating your middle pocket piece: Cut three pieces of fabric 4″ x 2″ and then cut a slight slant to each as shown below.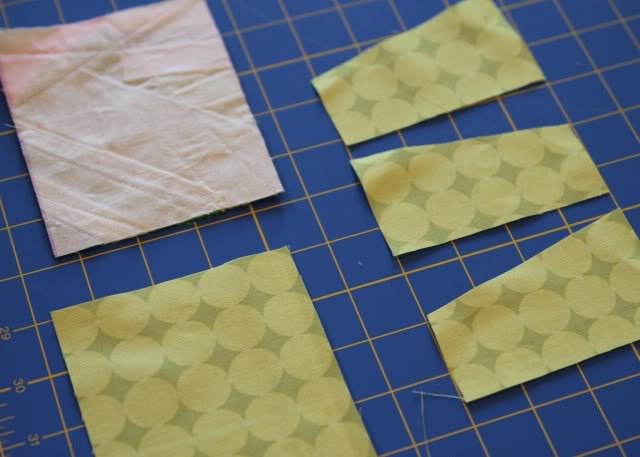 Take a piece of ribbon and fold it in half over the slanted edge of each piece (the same as you did with the PVC pocket. Sew along the ribbon edges. Place your top pocket in position first and sew along the bottom.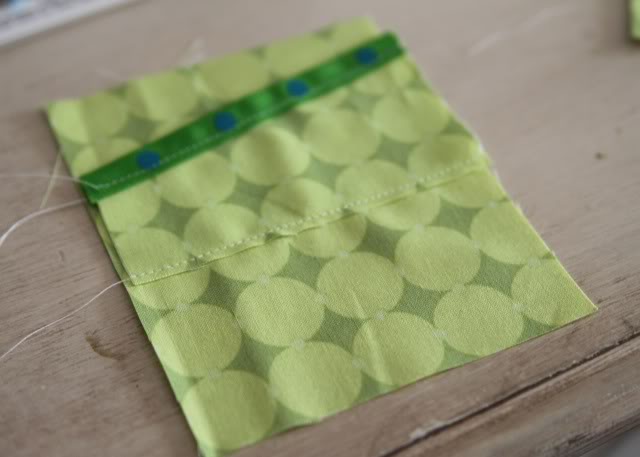 Then sew your middle on and then the bottom pocket on as well.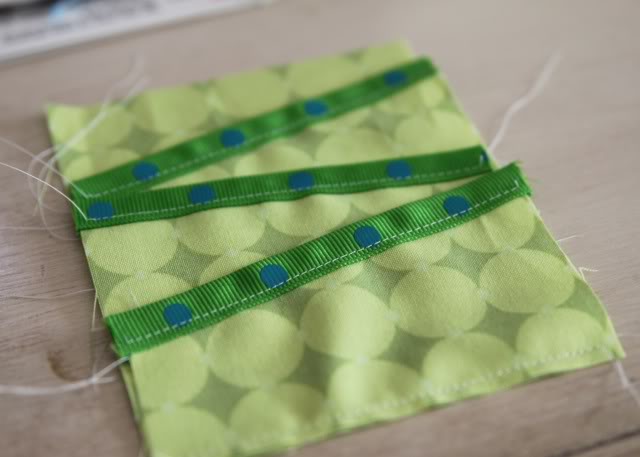 Step 9 Creating the top piece: Take your 3″ x 5″ piece of ribbon quilt and a 3″ x 5″ piece of lining and place them wrong sides together. Make sure to add your magnetic clasp first to the lining side. Sew around the edges to secure the two pieces together.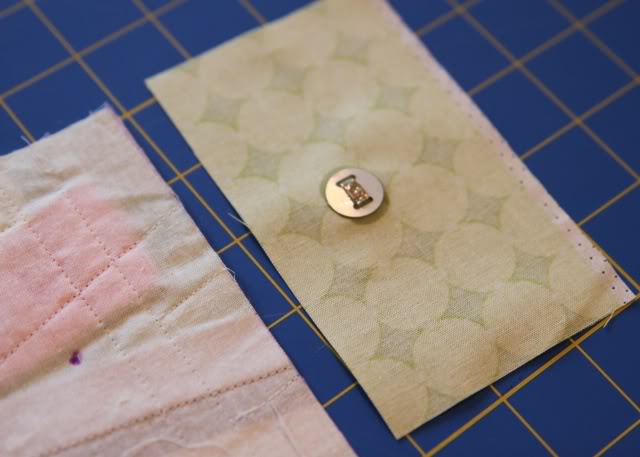 Step 10: Lay out your three pieces as shown….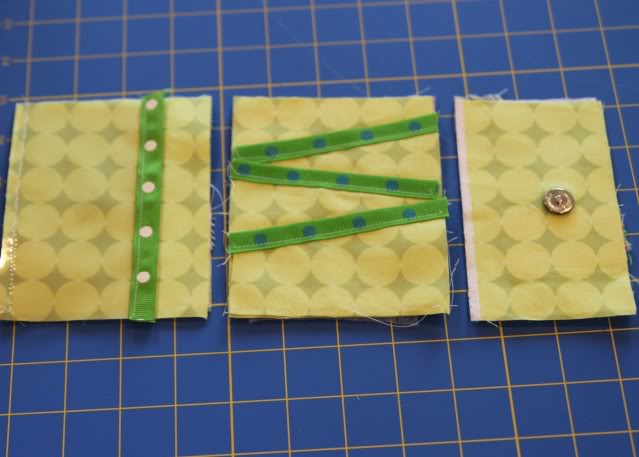 …..and find a piece of ribbon wide enough to cover where the pieces will connect but leaving a 1/4″ gap in between.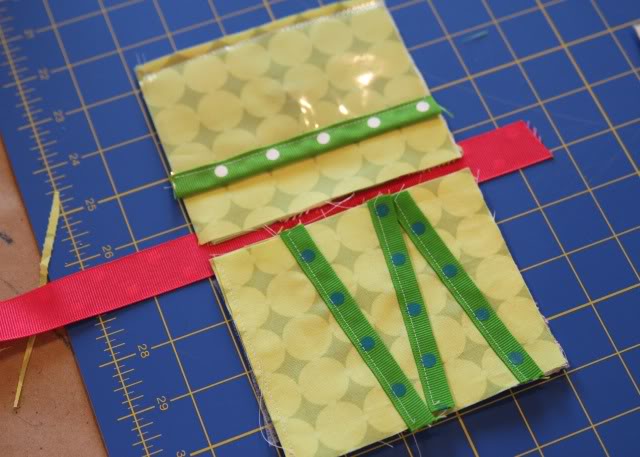 Step 11: Fold your ribbon over the gap….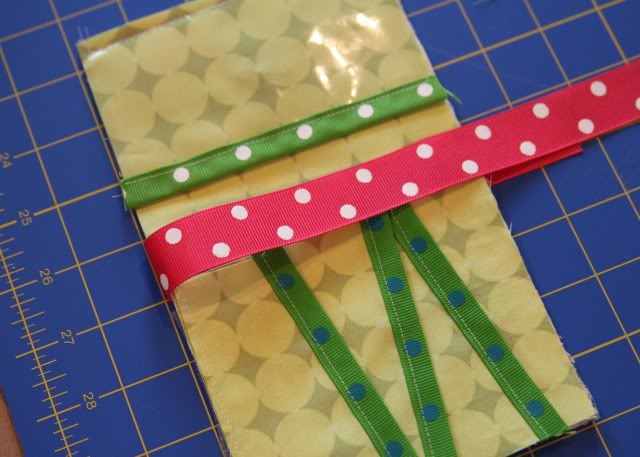 …..I used seam tape to secure (or you can use small pieces of Wonder Under)…..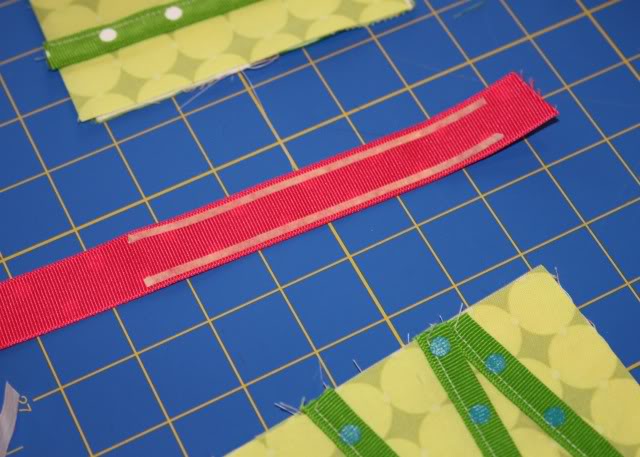 …..and sew both up both sides of the ribbon…..connecting the two pieces of the wallet.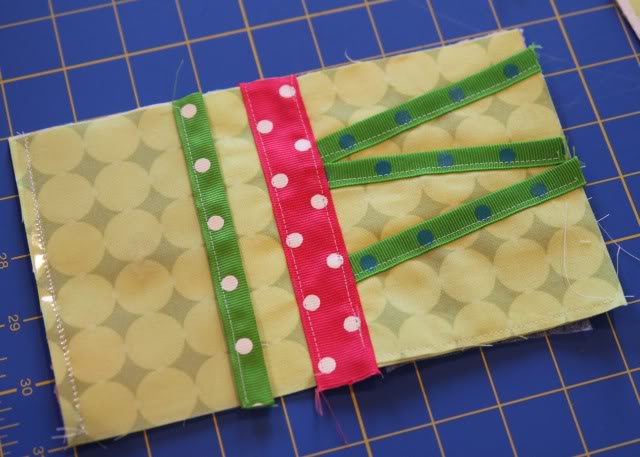 Step 12: Repeat to connec the last two piece of the wallet. Use bias tape or ribbon to cover the outside edges of the wallet…..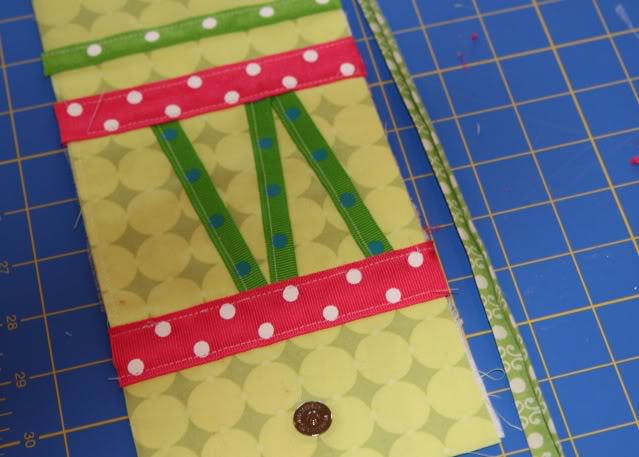 …..and now all seams should be covered!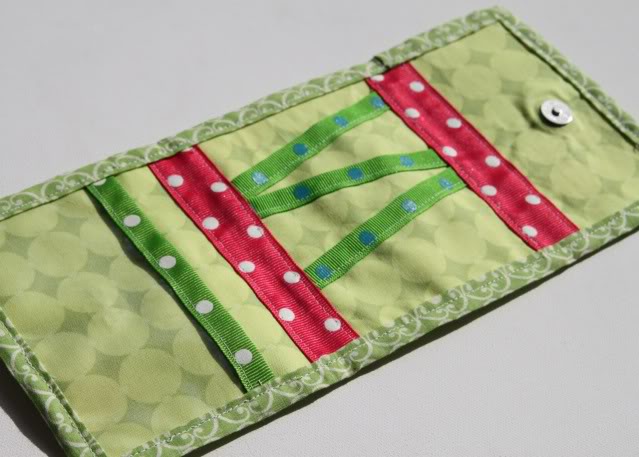 Now you can add embellishments to the front of the wallet if you like. For the brown/green wallet I added little flowers made from scrap ribbons, a plain button decorated with thread, a small ribbon "fan" covered with a gold/pearl button, and a ribbon badge with a matching fabric covered button.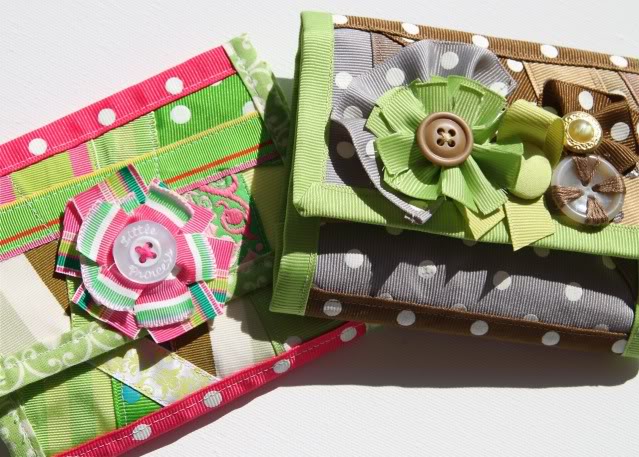 Optional: Add a personalized label
I added the little ribbon label inside that reads "Handmade especially for Mrs. Patty. Much love, Sienna" to make the wallet a little more special.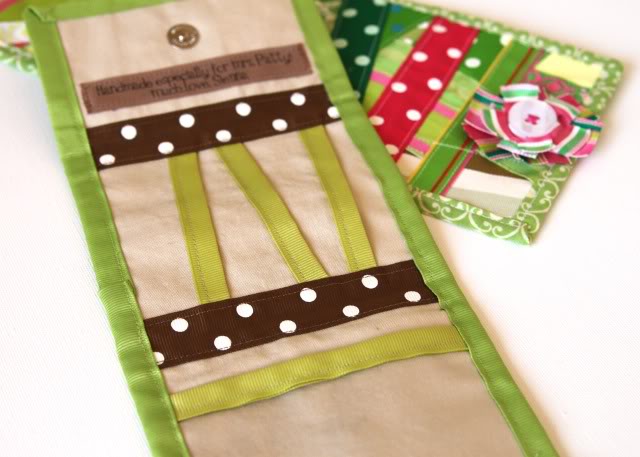 I printed the label on iron on transfer paper, adhere it to a scrap ribbon, and sewed it onto the lining before sewing the piece together in step 9.