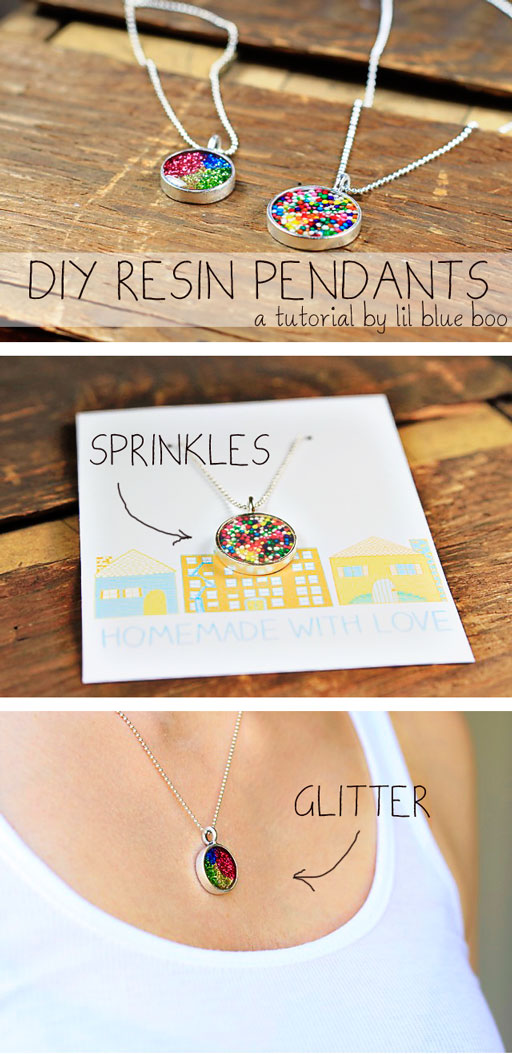 Here's a fun, easy way to make resin jewelry without the scary chemical mixing!  First I bought these silver plated bezels: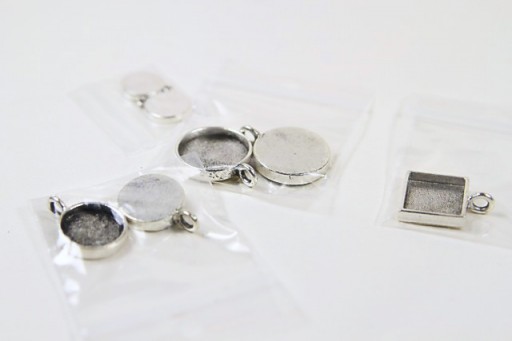 Here's the 1/2 inch size: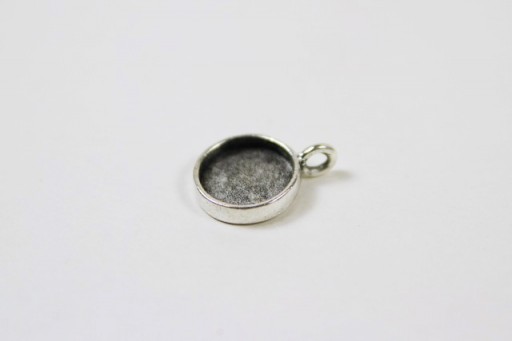 Today I filled them with nonpareil "sprinkles" from the grocery store and glitter:
I didn't have all the colors of glitter I wanted so I started by painting a base of glitter fabric paint. When that was dry I added a small thin layer of regular craft glue on one side: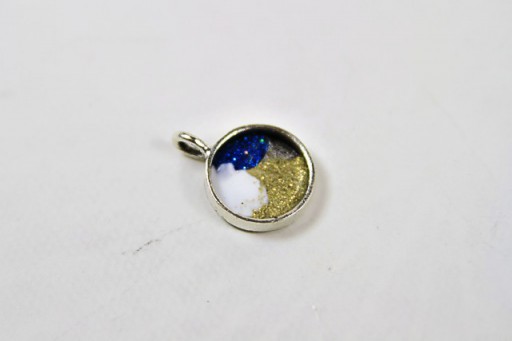 I sprinkled super fine glitter on top of the glue. When that was dry, I shook off the excess glitter and I repeated with a different color glitter on the other side: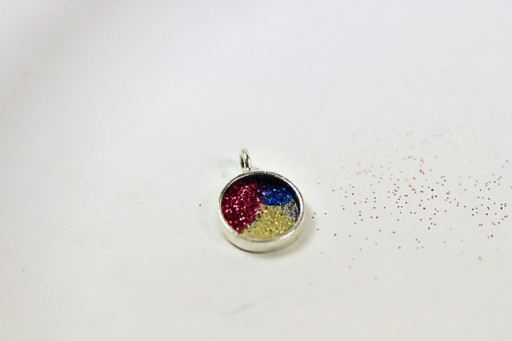 Instead of using the resin that you have to measure out and mix together I used this Gel du Soleil. The .3oz bottle is tiny but it's enough for probably 4 or 5 pendants.  The fumes aren't as toxic and it cures just by setting it in the sunlight or under UV lights: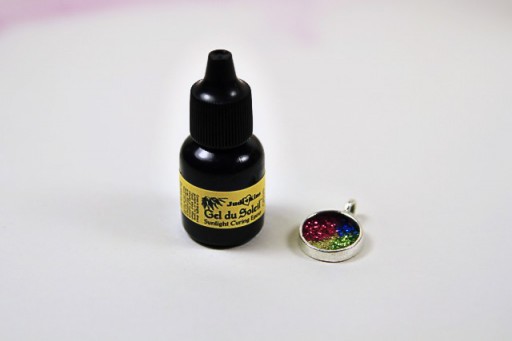 You have to squeeze pretty hard, but you can do it in drops….and the gel will even out if you tap the pendant gently on the table. You can do thin layers if you want to make collages. It also sets within an hour and continues to set for another hour so you could have this as a project for a party or youth group!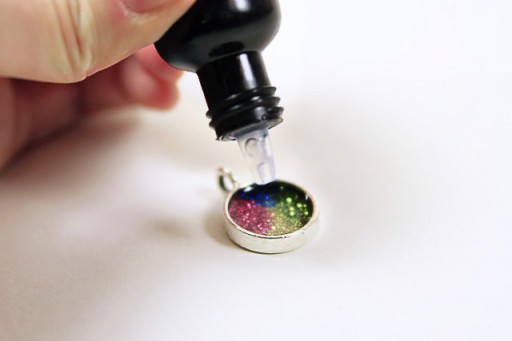 To make the sprinkle pendant I put a layer of craft glue on the bottom of the pendant and then shook out the sprinkles to cover the bottom. When it was dry I shook off any excess: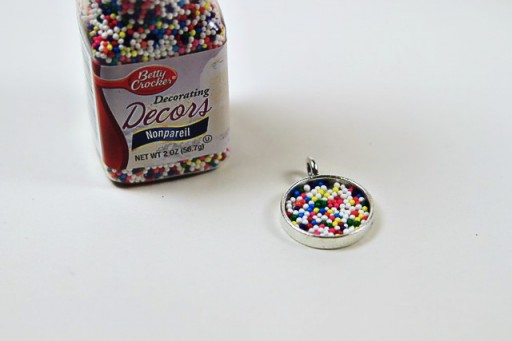 If you get any air bubbles in your resin just take a small pin and pop them or pull them over to the side and lift them out: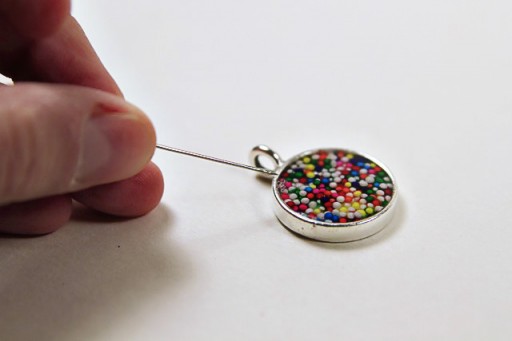 Here's a side view so that you can see how the resin fills up the entire pendant and has a nice smooth "glassy" finish: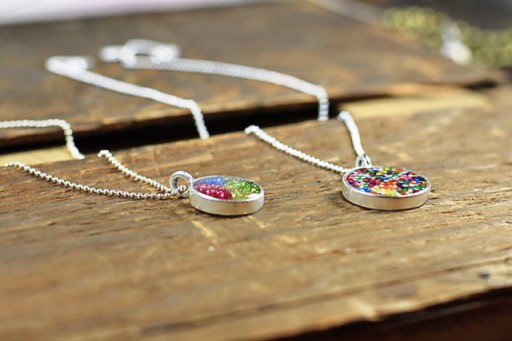 So many things you could fill these with to make fun themed jewelry for gifts and party favors: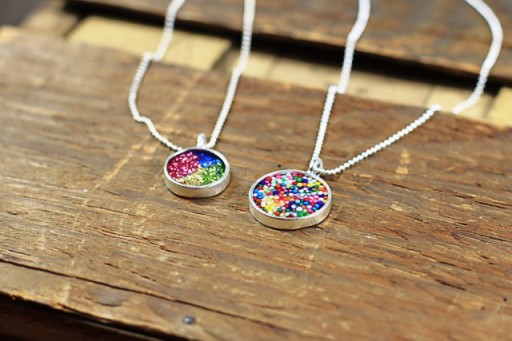 Make sure you when you give a gift you let them know that it's handmade!  I love these "handmade with love" cards by Pen and Paint. I just printed them out and punched holes as a nice necklace presentation: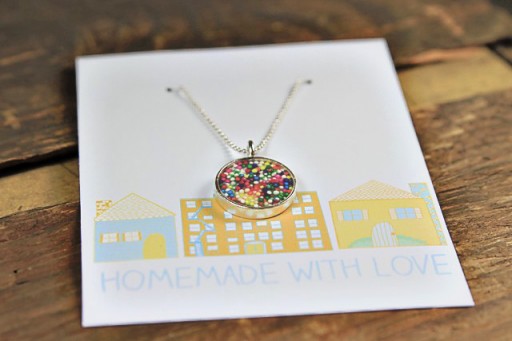 A clear plastic cellophane bag makes it look even better!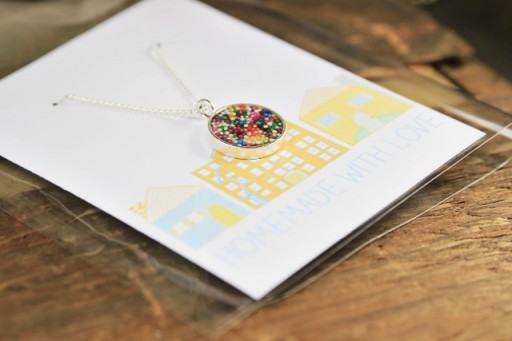 Supply Information:
Silver Plated 1/2″ Round Bezel
Silver Plated 19cm Round Bezel
Fashion Glitter Paint or Jones Tones Fine Glitter
Gel du Soleil (sun cured resin)
18″ 1.5mm Silver Ball Chain Necklace

"Handmade with Love" Printable Cards
Click here to see my other accessory tutorials!
Have Fun!