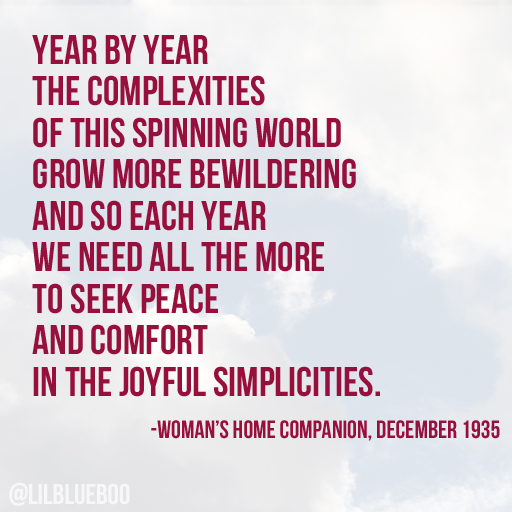 I don't really remember much from a young age….did we really go to Disneyland? The beach? Don't remember much about those…..but I do remember the Hemlock Inn. I wrote about it a little while back….how I wanted to go but I wasn't sure it was still there….and how I found it. I wanted to take Boo so she could see it and experience it.  I told my mom, brother and sister about it and they all asked: is it still there?! And when I told them it was they all wanted to go too.  So I reserved rooms for all of us.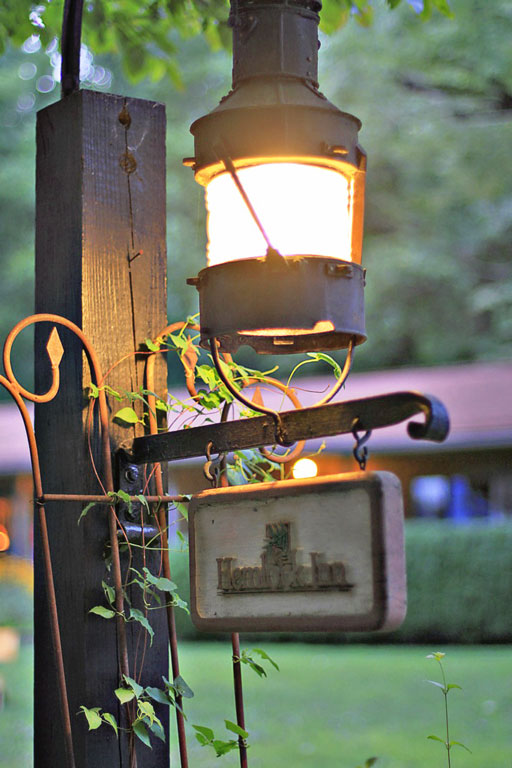 As we drove up the long drive I was nervous…would it be as I remember it?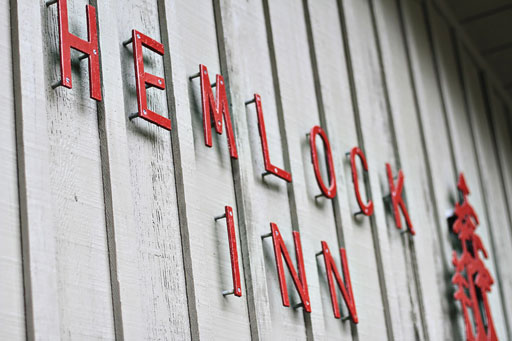 I'd had told Boo that there wouldn't be any phone or TV in our room.  She didn't seem as excited as I was. In fact she was worried….very worried.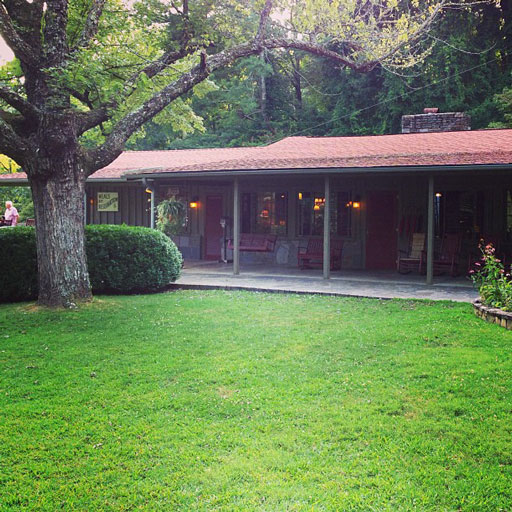 We got out of the car….arriving a little before dinner was to be served. Guests were milling around the dining hall.  A few guests walked by as I stepped out of my car and they were excited to see us. Hello! Where are you all from? The Hemlock seems to attract very friendly people. I think that's the highest compliment a place can ask for.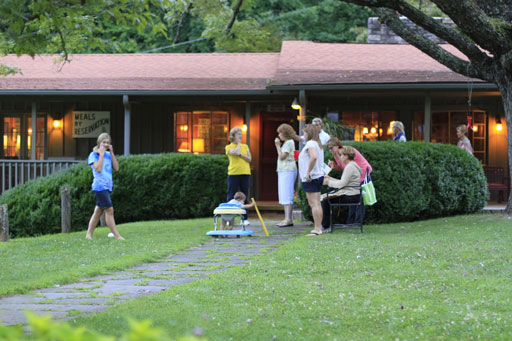 We were hungry and the dinner bell rang a few minutes after we arrived.  The dining hall was almost exactly as I remember it…I was so excited to see all of the details that I'd lost from memory over the years. You know that feeling? Like you are stepping into a dream and everything all the sudden became real?  The pewter plates immediately reminded me of my grandmother's settings (she was inspired by the Inn 30 years ago).  At the Hemlock all the guests stand behind their chairs as grace is said and then everyone eats together at large round tables with lazy susans in the middle of them. Boo wouldn't let me help her one bit. She waited patiently for the food to reach her and she wanted to help herself.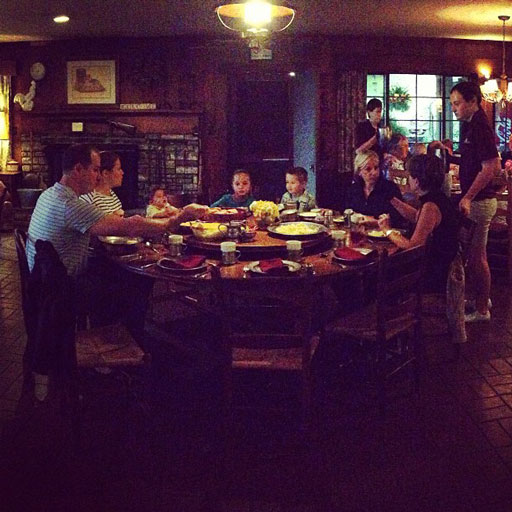 The food….nothing else like it: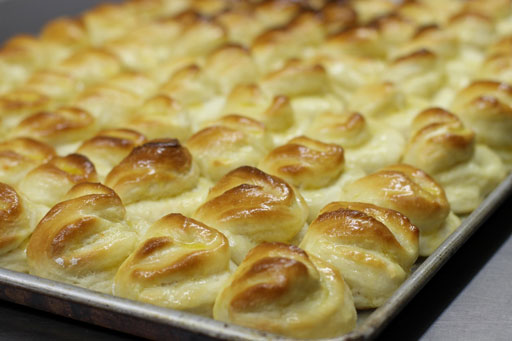 After dinner, Boo's hesitation about the place only lasted a few minutes.  She immediately found some instant friends. And the innkeeper Mort helped the kids create "sleds" from cardboard: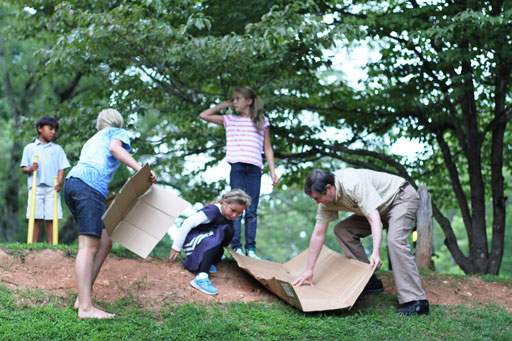 She must have gone down this hill 40 times: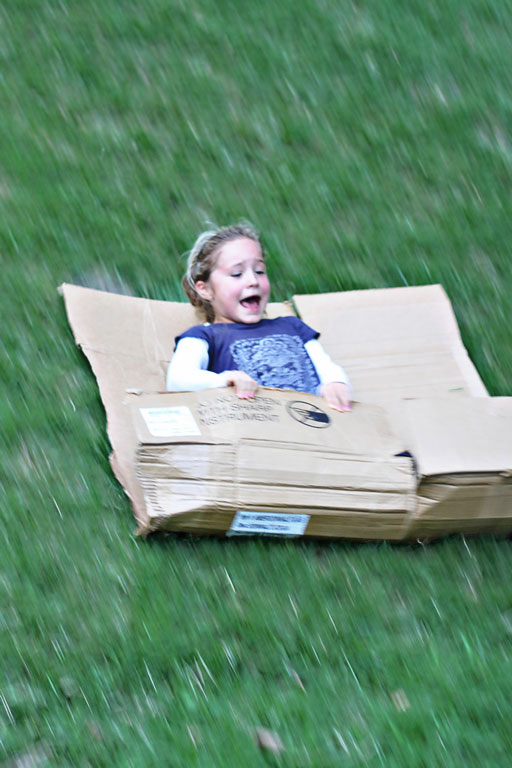 My nephew crawled around the grass as the adults played some cornhole: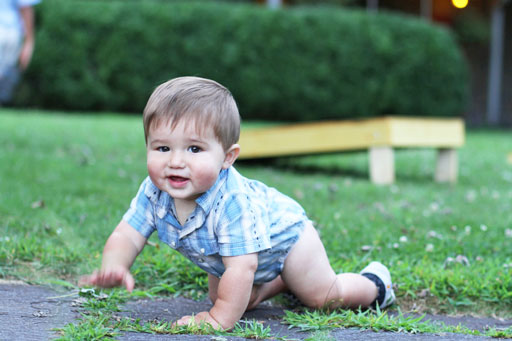 31 years ago my little brother was crawling around the same place: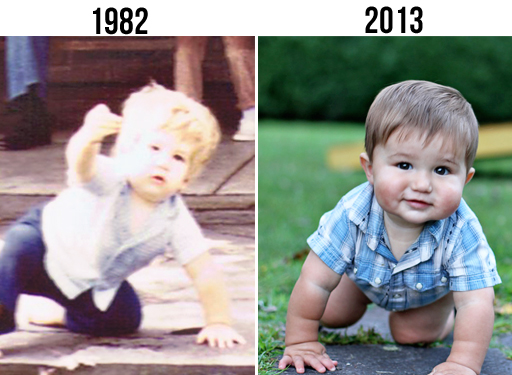 All of the guests gathered in the common areas to talk and play games. You feel like you've known people forever. It's that special of a place.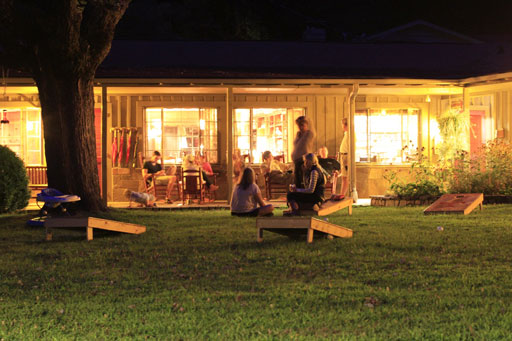 We played "SPOONS" until late in the dining hall with some new friends.  I think we got a little loud! It was my brother's fault….he makes us all laugh hysterically at his antics. I told him he could only talk in his mafia voice for the remainder of the night….I think that's when we got overly loud.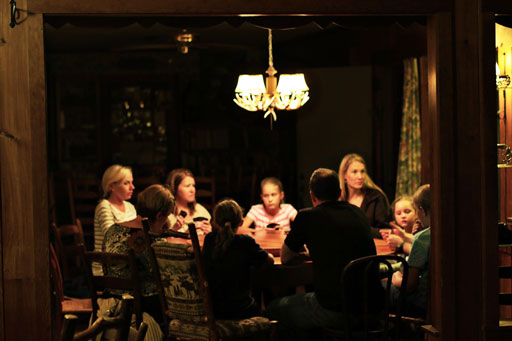 Finally it was time to go to bed.  It was cloudy but my camera could pick up the stars:
Boo: Want me to show you the Dipping Spoon?

(she means the Big Dipper….but I like her version better)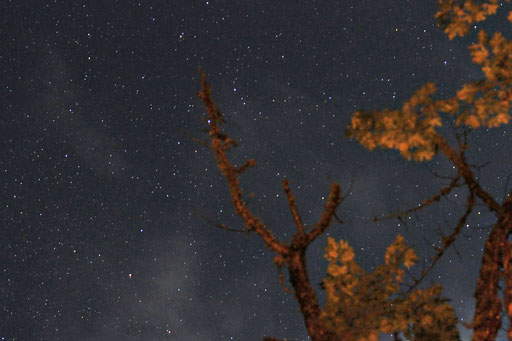 The next morning Mort let Boo and my nephew Cameron ring the bell at 8:30am sharp to alert all the guests that breakfast was being served.   I did the same thing 30 years ago with my brother: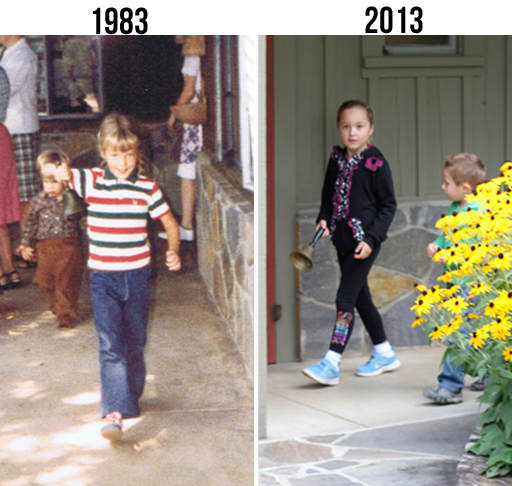 After breakfast, we took the kids to the gem mine near Nantahala: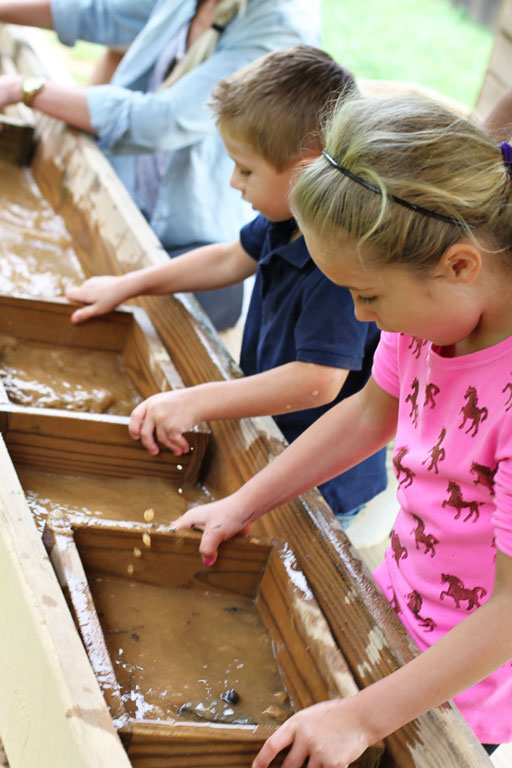 I have to admit it was really fun sifting. I think the adults had more fun than the kids.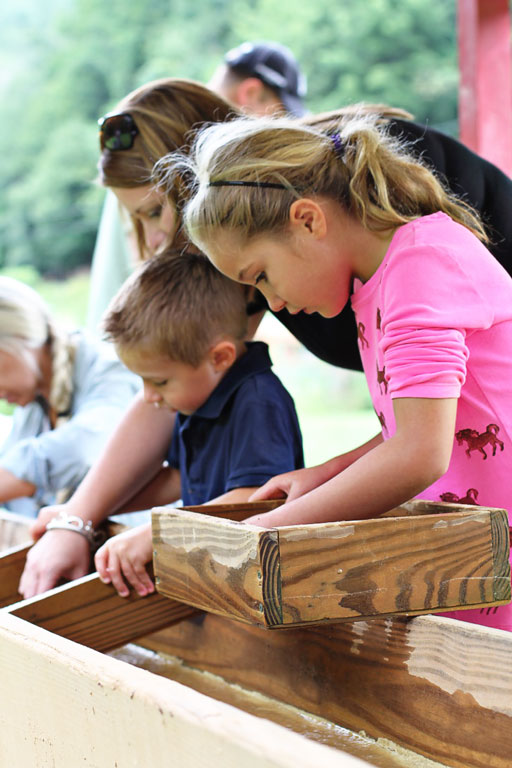 My nephew Cameron with his gemstones (and rocks):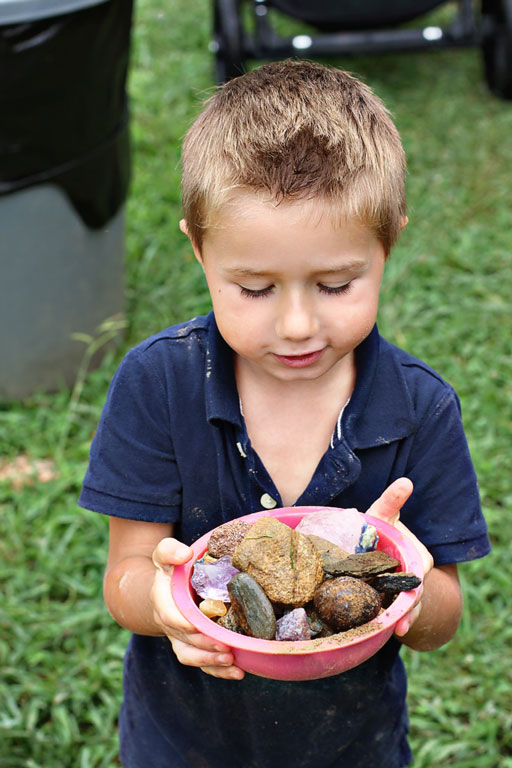 Nearby is Bryson City. We ate lunch there at The Filling Station Deli and checked out the train as it went past. A bunch of passengers were taking photos of us as they passed…we put on a pretty great show of waving to them.  I think it would be hilarious if we could find one of those passengers.
Perry kept the kids entertained for a photo: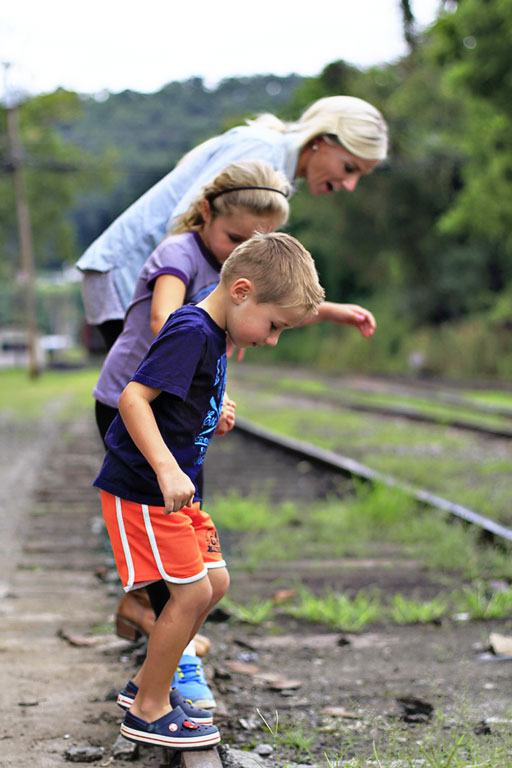 My nephew Cameron on a train car: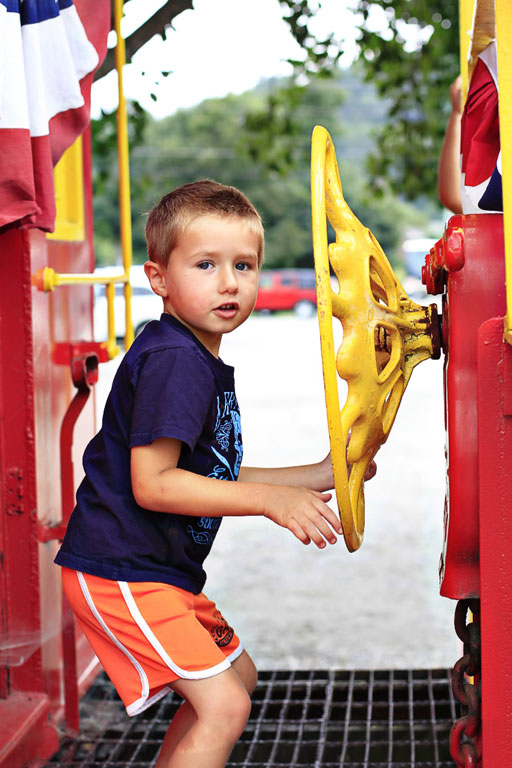 Choose joy: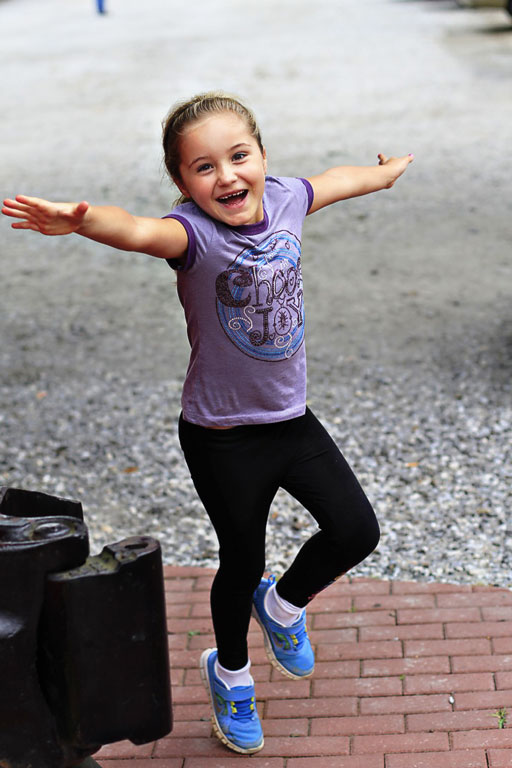 We could have found so many other things to do but all Boo wanted to do was go back to the Inn to hang out with her new friends. There was some wiffle ball playing on the front lawn: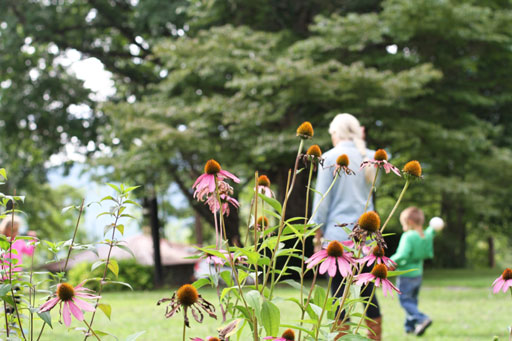 I'm ducking already!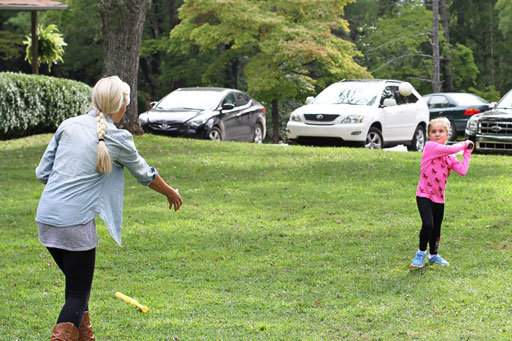 I had lots of time to write and relax with Boo running all over the place. I chuckle now that I think about Boo's worry that she would be bored.  Such a simple place with so many simple things to do and I've never seen her so genuinely entertained. Exploring the grounds, meeting new friends, scavenger hunts, games….simple joys.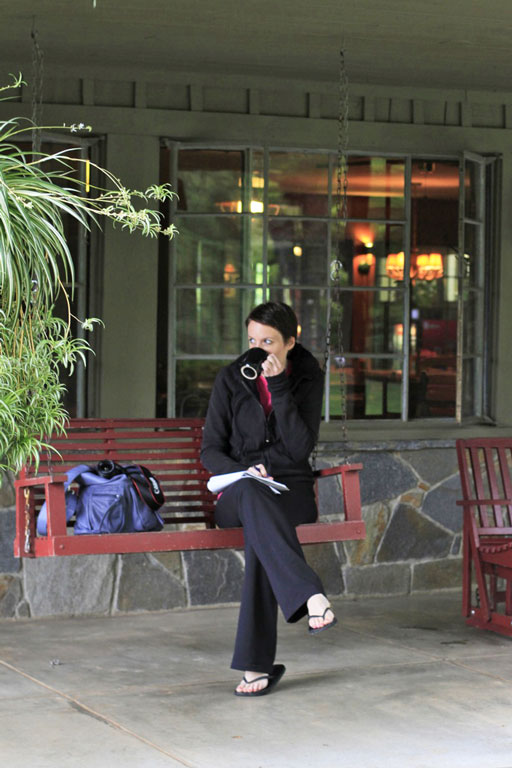 The cool air and the view….you can't help but be inspired in a place like this: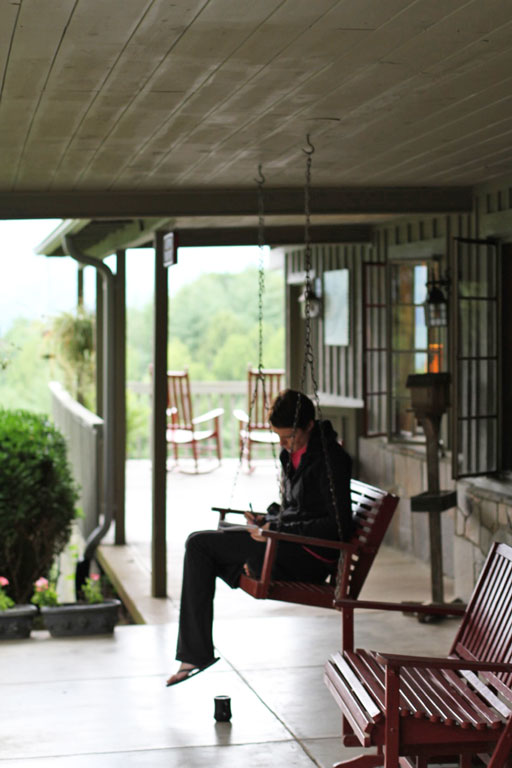 Perry and I played some shuffleboard. When she abandoned me the sweetest kid from Georgia stepped in to teach me the right way to play. He called me "ma'am"….I love the south.
After dinner on the second night we played charades on the back patio with some of the other guests. Eventually every kid in the whole place was playing.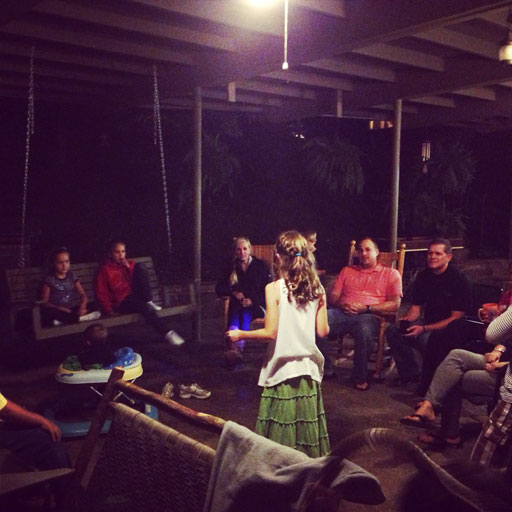 Our last morning at the Inn was bittersweet. And my picky little eater ate things she's never eaten before.  And then she asked to be dismissed from the table at the first sign of her friends across the room being dismissed. And I barely saw her after that….she was having so much fun.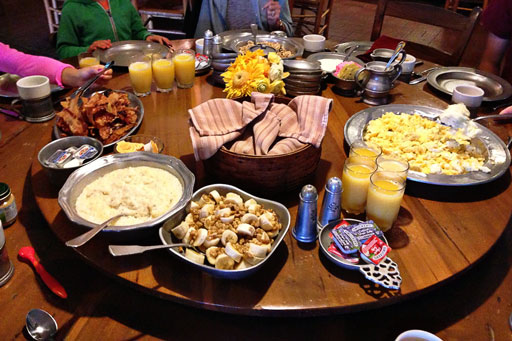 Our dear Heavenly Father, how glad we are to start this day with Thee, and we pray that somehow Thou would help us to see that it is not what comes our way that counts, but rather what we do with what comes our way. We thank Thee for Thy strength and mercy and now for this food. In Jesus' name we ask it. Amen.

(the morning blessing said by Innkeeper Mort White)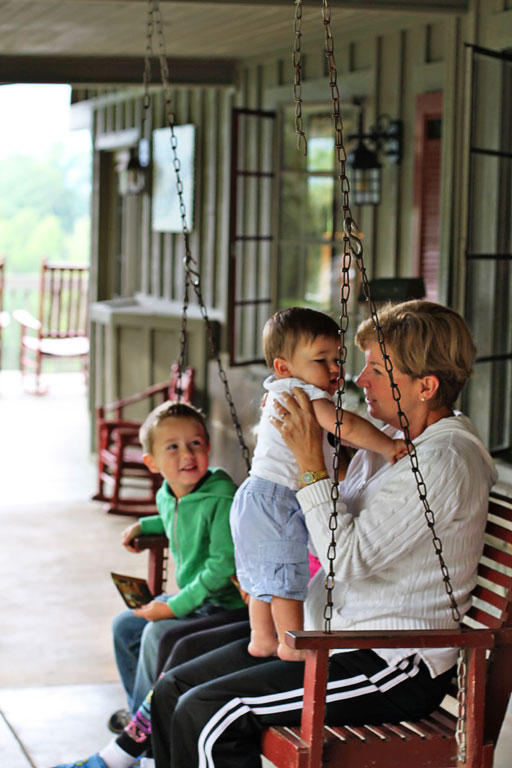 We knew we had to head back but we stayed as long as we could that morning. My mother helped the kids of all the guests put on a little puppet show after breakfast. A few of the kids were a little shy so even Mort and another guest stepped in to help give them some confidence….awesome: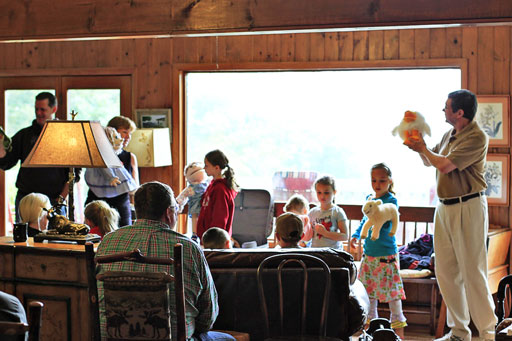 Boo and her cousins on the back steps: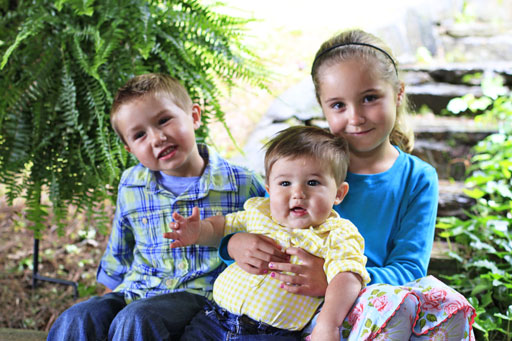 Lainey and Mort White have continued the inn in the same way that Lainey's parents ran it years ago. When we drove away from the Hemlock I felt a deep feeling of homesickness.  I was so sad to leave. That never happens to me. I felt like I was leaving part of my soul behind.  My mother read the stories from Lainey's updated cookbook as I drove and both of us were in tears.  There is definitely a sense of peace and comfort at the Hemlock.  Oh and really amazing comfort food. Boo keeps asking me to make the banana pudding. I think that's what I'll do tomorrow.
We spent more time with one another as a family than we would in any other setting. We met the nicest people. We made new friends. Boo made new friends that she'll hopefully see next year if we can plan it just right. One family we met were visiting with their kids for the first time and had already re-booked for two weeks later. We met a new friend that reminded us so much of my dad….and it ended up that they even had friends in common. I'm thankful to the White's for placing the Philpot's at our table (or maybe we were placed at their table….either way….we are grateful….and I even ordered Tim's book on his father).
And really…..I felt like we never missed all those years in between….like we picked up right where we left off.
Just goes to show that 30 years can pass by in the blink of an eye…..
…..and 30 years is never too late.
A few photos from the past…..I'm pretty sure I got the years right…..at least I know they are in order because the family gets bigger and bigger every year.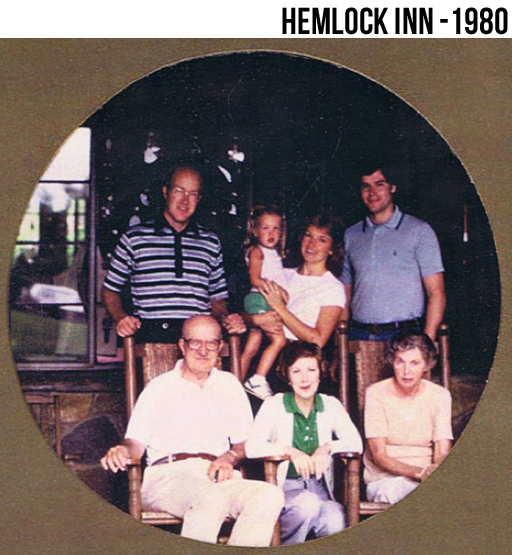 Top Row: Dad, me, Mom, Uncle Steve
Bottom Row: Paw-Paw, Aunt Sharon, Grandma Marge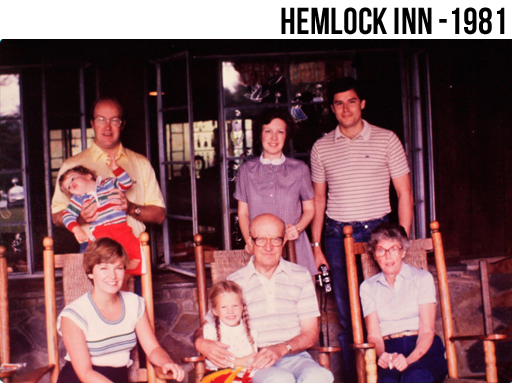 Top Row: Dad, Swen, Aunt Sharon, Uncle Steve
Bottom Row: Mom, me, Paw-Paw, Grandma Marge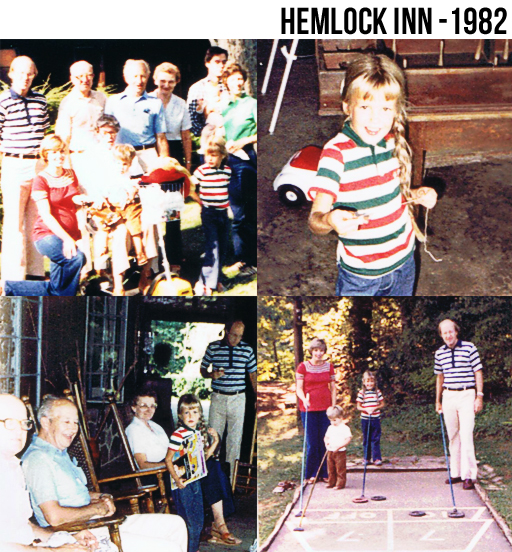 Top left photo:
Top Row: Dad, Paw-Paw, Paw-Paw's brother Bernie and wife Kathleen Uncle Steve, Cousin David (baby!), Aunt Sharon
Bottom Row: Mom, Grandma Marge, Swen, Me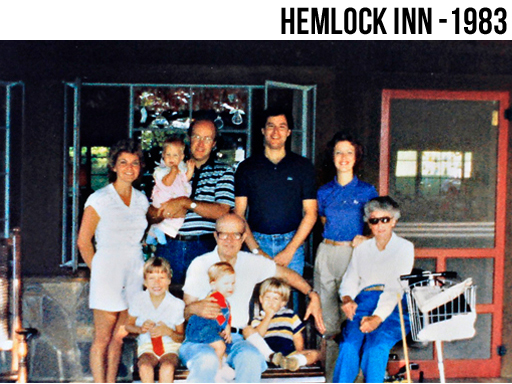 Top Row: Mom, Perry, Dad, Uncle Steve, Aunt Sharon
Bottom Row: Me, Paw-Paw, Cousin David, Swen, Grandma Marge
(I know it looks like my dad is wearing the same shirt every year…..he bought things in pairs. I got that from him…although mine has turned into more than pairs. It's much easier to get dressed when you only have one or two styles to pick from. Try it.)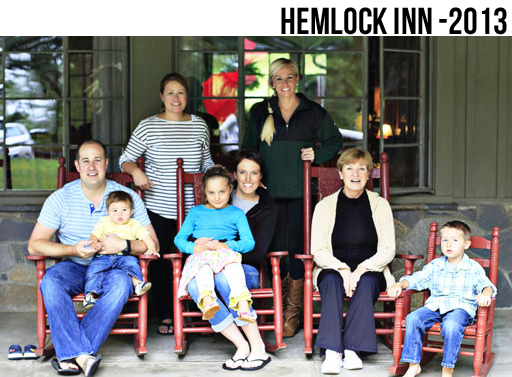 Top Row: Swen's wife Karen, Perry
Bottom Row: Swen, Carter, Sienna ("Boo"), Me, Mom, Cameron
And we were obviously missing a few this year. It was last minute. Next year it will be a much larger group with Brett, Perry's husband Justin, and some other close family and friends.

Thank you Mort and Lainey for a wonderful time. Thank you for keeping The Hemlock alive. We'll see you next summer!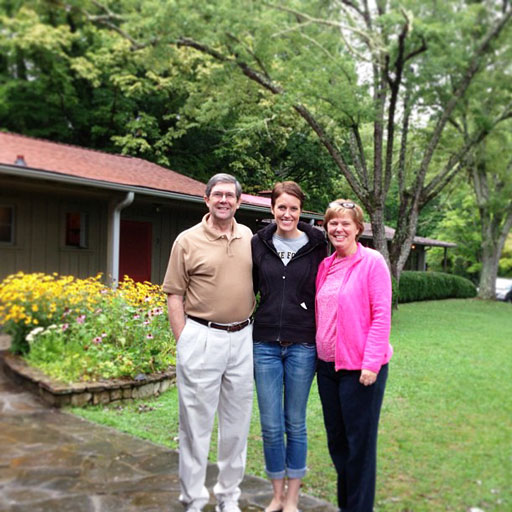 *****
P.S. Back at my mother's place in the mountains Boo played "Hemlock Inn" with her Barbies.  It was so cute and hilarious at the same time.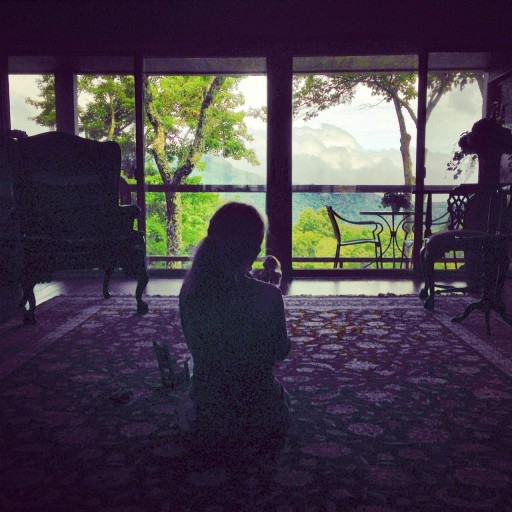 If you haven't ever heard of The Hemlock Inn make sure to check it out. It's a special place to us. Maybe it will be a special place for your family like it has been for mine. The third edition of the Hemlock Inn cookbook is available now. My Aunt gave me my grandmother's copy when Mr. LBB and I got married.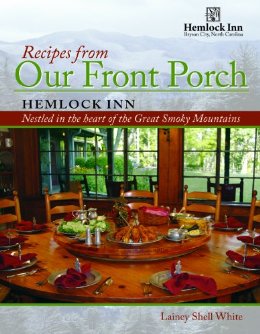 If you have been there I'd love to know some of your favorite memories!  Who did you meet? What was your favorite dish?  How did you spend your time?

P.P.S. My mom told me that our kitchen/dining area in our house when I was little was inspired by the Hemlock.  I dug up a photo. The large wood table and oversized lazy susan looks kind of familiar right? I love learning little pieces of information like that.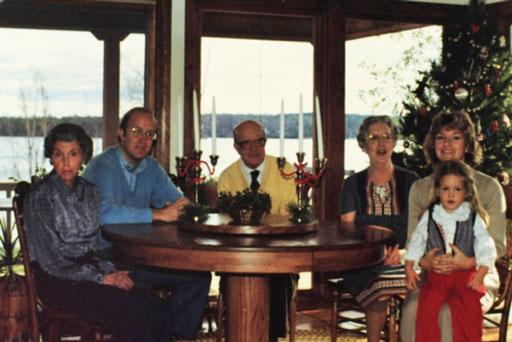 Years ago, we put a blank  "memory book" in our sunroom for our 50th Anniversary and encouraged our guests to share their favorite Hemlock memory. Many wrote of their wonderful visits and all of them were heartwarming. But one comment has stuck with me more than the others. It was from a 12 year old girl who simply wrote in her comments "…my dad finally had time to play a game with me." She didn't want things, she wanted time.  -From the Hemlock Blog