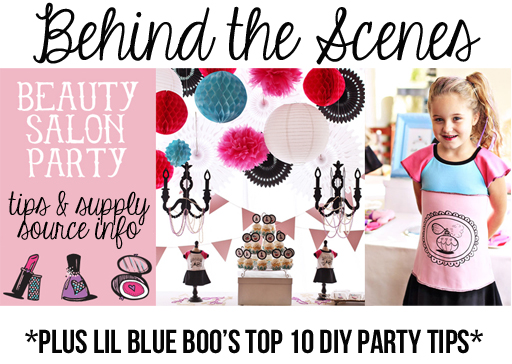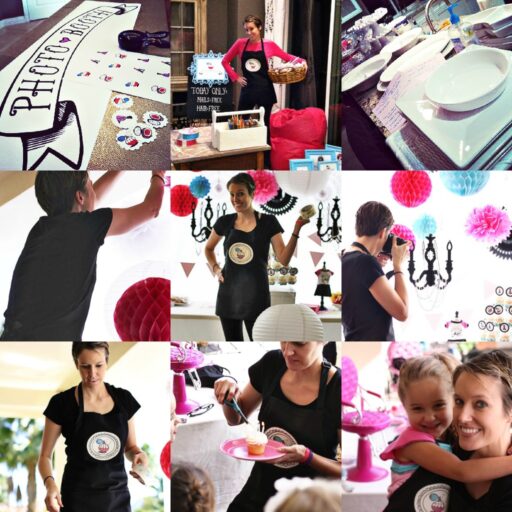 Here's the behind the scenes from Boo's party and some of my tips for preparing a similar party….or any party for that matter!  You can see the full original Party Post with all the pretty photos here.

The decor was actually pretty simple.
I like to set up one main food and treat table that is the backdrop of the party…..hanging different types of poms.  I bought the pink tissue poms this year but the rest of the poms are from past parties. The lanterns are great because they are large and fold flat easily. I just recycle them all and repaint them if necessary. Spray paint is a great way to get all decor to match perfectly!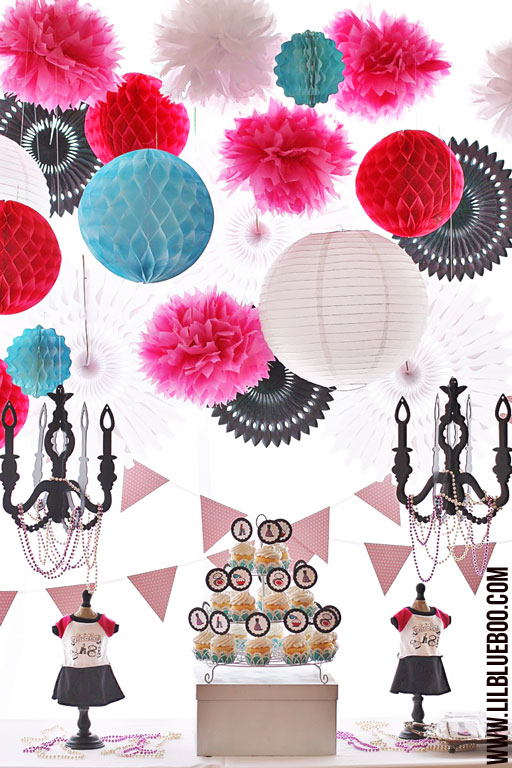 I have a sun problem on our patio for early parties….so last year I bought 2 bolts of 108″ muslin to cover the entire patio and block out the sun!  We hang it from the roof (a few gallon jugs filled with water are great to keep it in place if you have a flat patio…..other wise a few nails can keep it up)….it folds up easily for storage too. The best part is that I can pin bunting and other party decor to it…..and you can create a great backdrop for photos.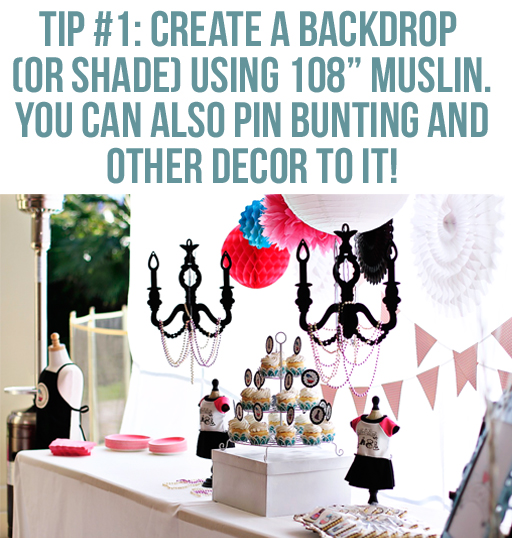 I always buy generic type items that can be reused year after year. I also look for items that can be packed away easily in a large bin. I just re-spraypaint items to match the new theme.  I have large white bowls and platters that can be used with any theme. I use large paper mache nesting boxes and hat boxes to add height to the tables (just re-spraypaint them!)
I can't believe Boo is six years old!!!  First off, I want to put a disclaimer on this post to admit that this party is just a little over the top.  I'm not really a party planner…..I don't entertain a lot…..so Boo's yearly birthday party is something I really love putting energy into.  Boo knows that while the party is centered around her…..it's also about bringing our friends together, entertaining them and sending them home with some fun handmade swag.  She also knows that I reserve the right at any time to decide not to throw a party, serve $5 pizza and stick a candle in it!  I love coming up with cute ideas and sharing them with you…..and there are many ways to make a wonderful fun party with only a few elements from this post!
Boo wanted an American Girl themed party (shocker) so we talked about doing something interactive with lots of activities that her friends of all ages would enjoy and came up with the Beauty Salon theme….complete with American Girl-sized doll salon.  I always borrow, recycle and improvise for parties and all of that will come in the "behind the scenes" post to follow this one. I will say one thing about this party…..the doll salon was a TOTAL hit. I was actually surprised…..but the girls had so much fun putting capes on their dolls and primping and fixing their hair.  It was totally adorable and definitely something I'll put together more often for playdates!
So here we go! I had a vision of what I wanted in my head for the graphics and Stephanie Corfee brought it all to life with her graphic design!  It turned out so amazingly cute that I convinced her to offer it to everyone as a printable in the shop complete with extra graphics to make it fully "do-it-yourself" customizable.
Just a note: we called it a "DOLL" salon party…..and invited Boo's friends to bring any favorite doll for the salon…..because not everyone has an American Girl (Boo's only had one for 2 months).  A few friends brought extra American Girl dolls too for those girls that didn't have one.

Oh my….the day before the party the wind in the desert was over 30 miles an hour! I couldn't set anything up until the morning of the party!