Have you tried felting yet?  It's so easy and a fun effect.  We've been making these little mixed color pinwheels for accessories. Boo's favorites are the rainbow ones. With this technique using pipecleaners it's easy to make a long "rope-like" piece of felted wool.
First, you need some wool roving (I got mine from Dharma Trading)…..and a little bag goes a long way.  It comes in a variety of colors: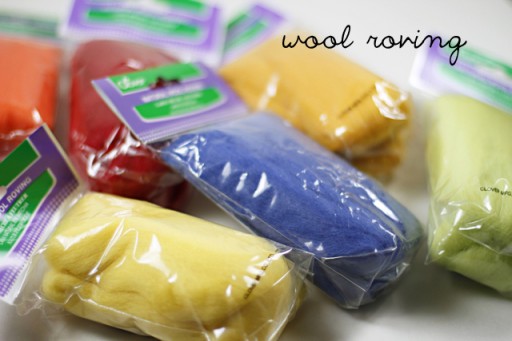 You'll also need a felting pen: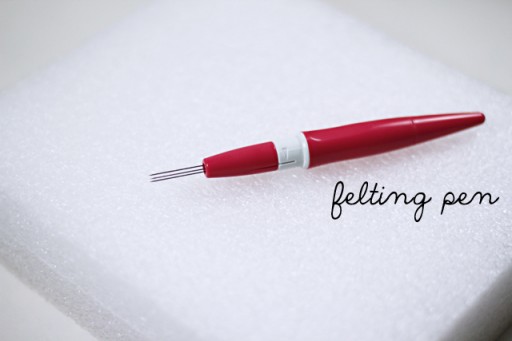 Other supplies include:
pipecleaners
Fabric glue
Hot glue gun or ES6000
Dishsoap
Plastic kitchen saran wrap
To start I began wrapping a small piece of wool roving around the end of a pipecleaner: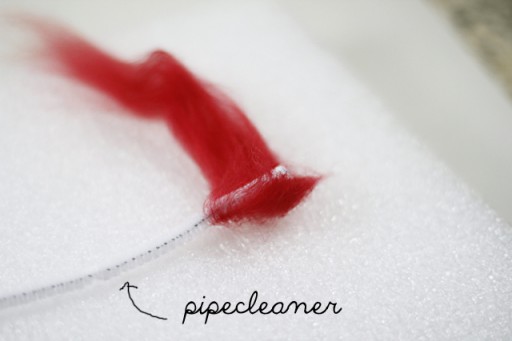 Using the felting pen I punched it in a few places to secure it in place. (See my basic needle felting tutorial here to understand this process fully)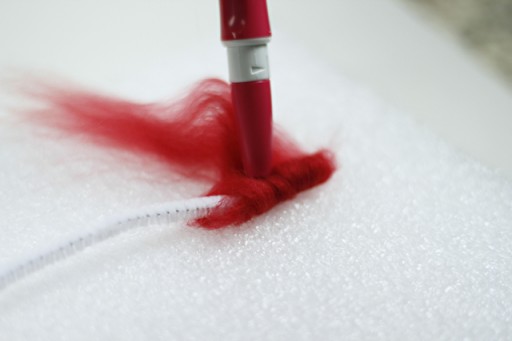 Add your next color around the pipecleaner making sure to overlap the colors and use the felting pen to attach them: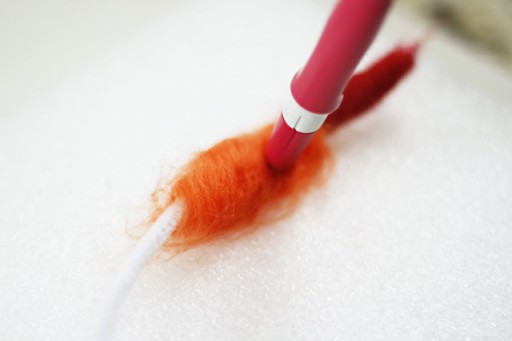 Continue adding roving until your entire pipecleaner is completely covered with a consistent thickness wool. This is what it will look like: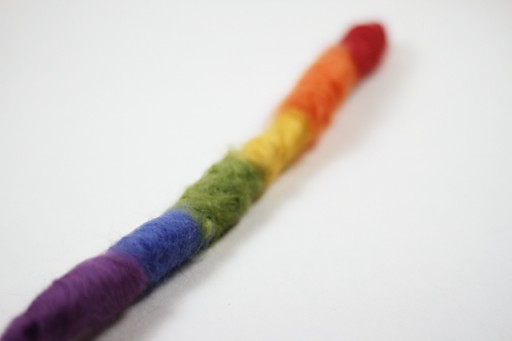 Dip your wool/pipecleaner into hot, soapy water: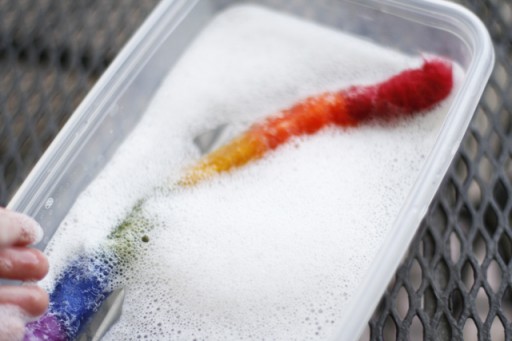 Then remove it and lay it onto a long piece of saran wrap….and wrap it up as shown below: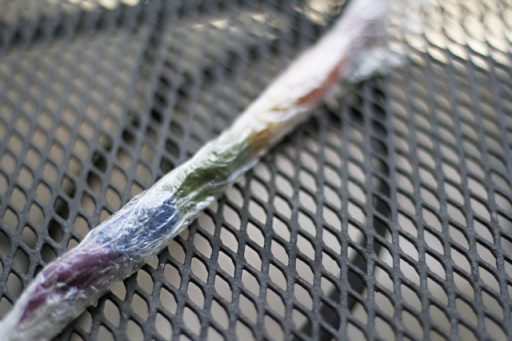 Using the palms of your hands roll the piece back and forth for about a minute…..this will start the felting process. You will feel the wool start to become denser and denser as you roll it back and forth: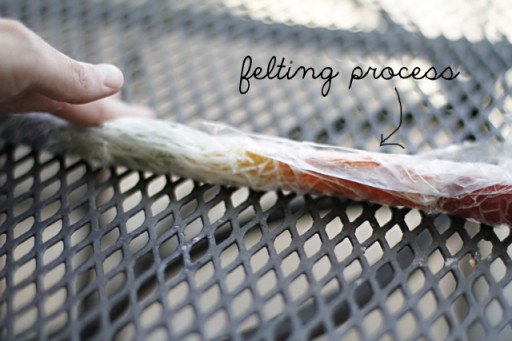 Remove the felted piece and wring out any excess water. Then you can start to curl it up at one end……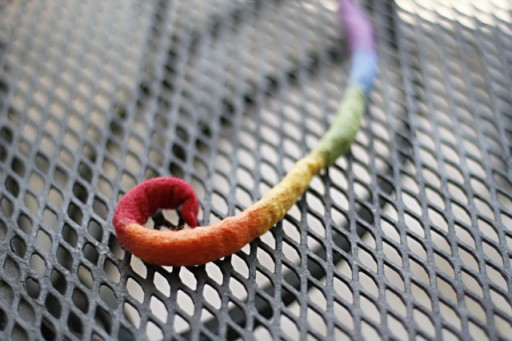 …..to form a pinwheel shape: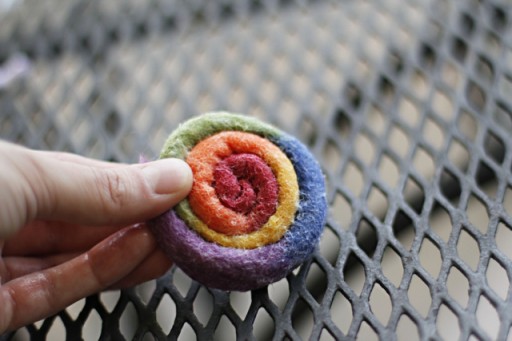 Secure the pinwheel with a pin and let it dry overnight. When it is dry you can unroll it and add a dab of fabric glue in between the rolls to keep the shape secure: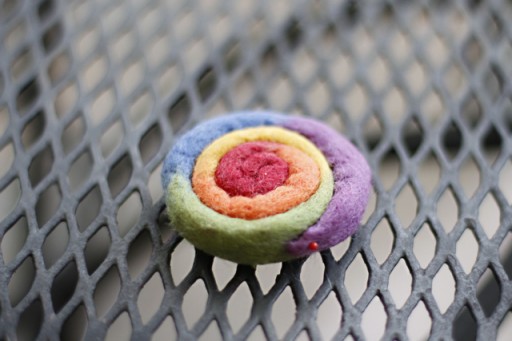 Once the pinwheel was dry and finished, I cut a circle from a piece of craft felt (just slightly smaller than the pinwheel):
Using household glue (ES6000 kind) to glue it to the bottom of the pinwheel: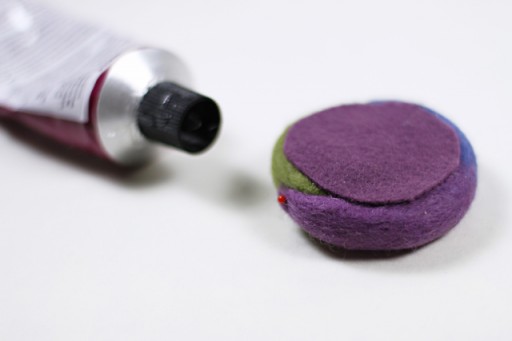 Using a glue gun I attached the finished pinwheel to a generic headband (this one I bought from Target in a pack of 3):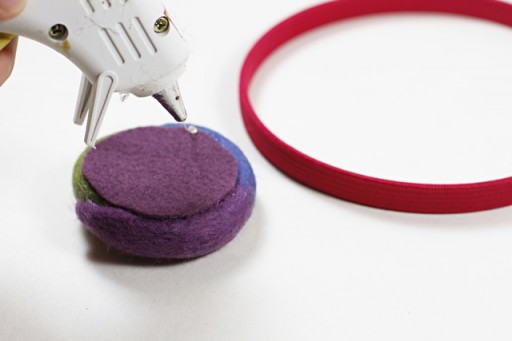 Press the pinwheel so it forms to the headband: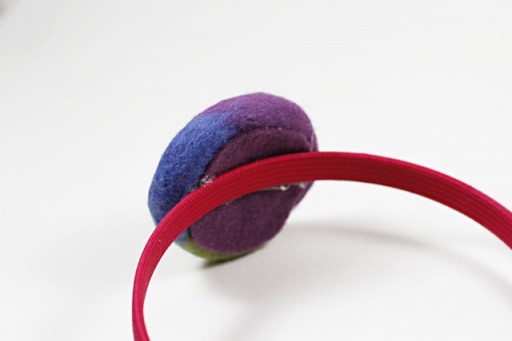 Finished!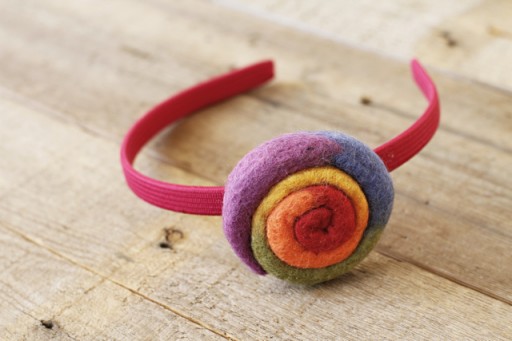 You can also add them to little hairclips if you prefer…..or alligator clips to add them to shoes!