Now onto the living room and office…which are just off the kitchen.
This is the view from the kitchen down the hallway. You can see the edge of the couch in the living room: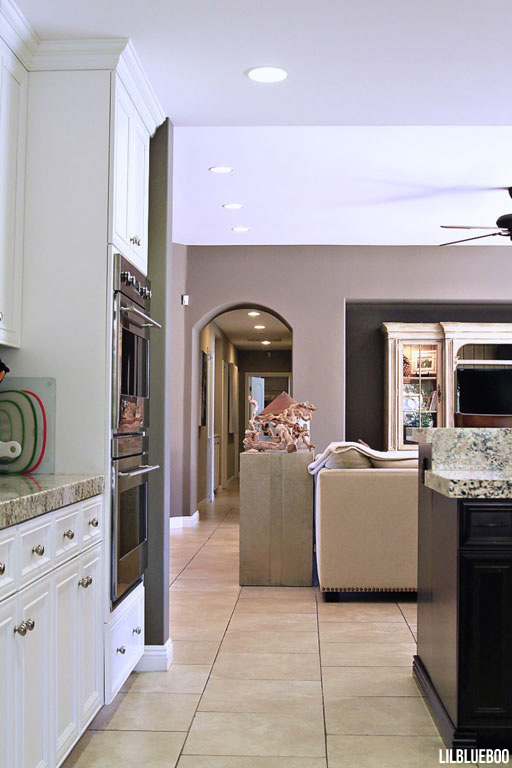 The couch seemed a little too low to me so we raised it up (so it would be the right height for the silver side table too).   To raise it up Mr. LBB made some new wood feet, sprayed them black and just used the old feed as a template for drilling the holes: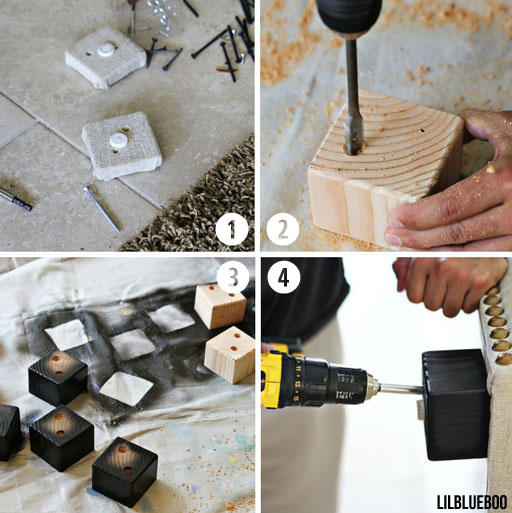 This is our TV cabinet. One of the first pieces of furniture we bought as a married couple.  We refinished it last year to the antique distressed look: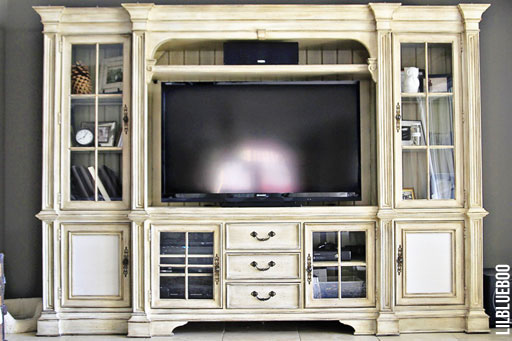 This is what it looked like before: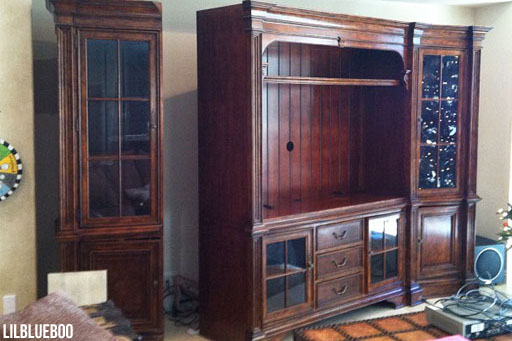 This is a before photo of the living room with our old brown couch. The paint color of the walls has changed twice.  I think what really dates this photo are the baby bottles on the sink, the baby gate to the office, and my pink flip phone on the counter!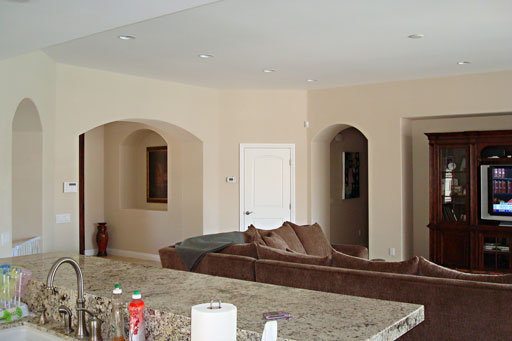 To the left of the previous picture the "lazy susan turned spinning artwork" used to hang. I haven't figured out where I want to hang that back up again yet.
What will you be today? Dreamy, Joyful, Awesome, Inspired, Iron Man, On Cloud 9, Sweet, a Firecracker, Curious, A Spicy Meatball, or all of the above?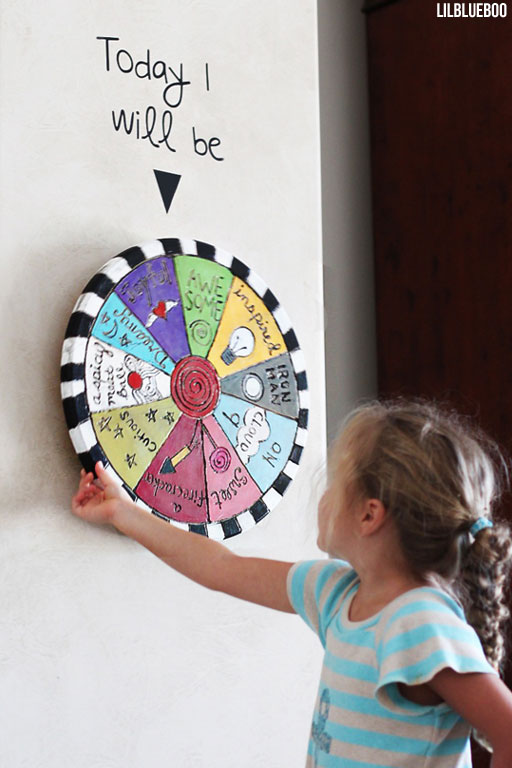 I love the new finish on the TV cabinet: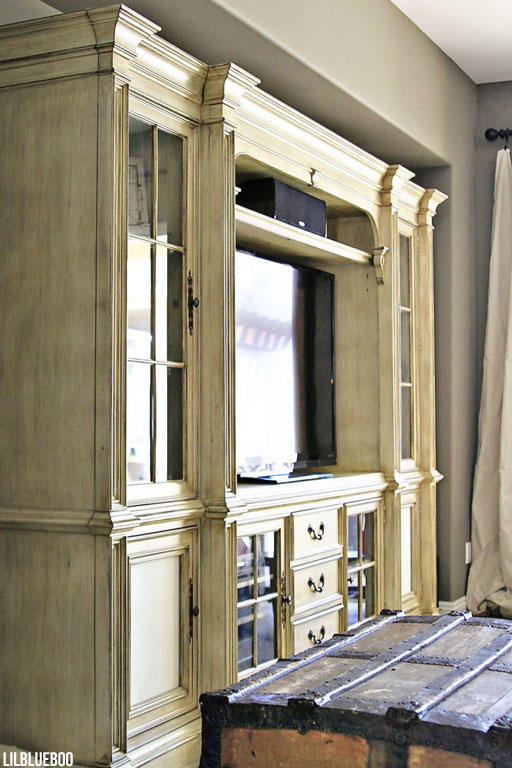 For the TV speakers to be able to go inside the cabinet, we replaced the wood panels with a linen fabric. I popped out the panels and then used a staple gun to stretch the fabric into place: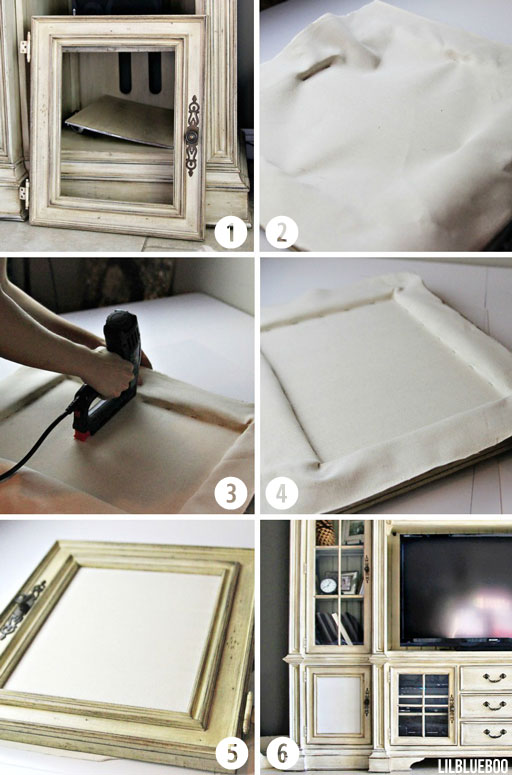 Can you guess what the drapery panels are made out of ?  (they need to be ironed obviously)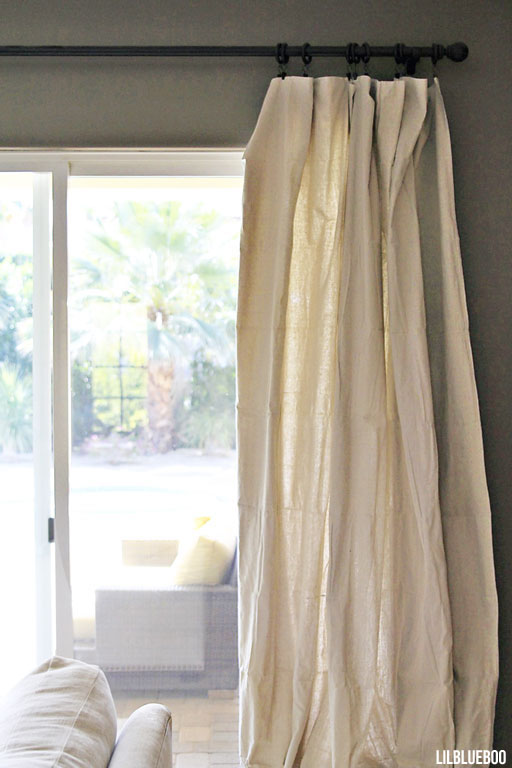 My drapes are just 9×12 foot canvas drop cloths.  They were $19 each from Pittsburgh Paint.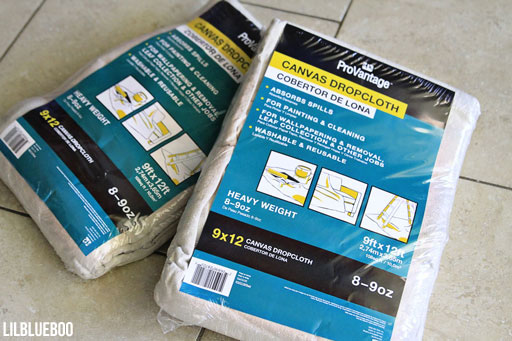 I used to paint children's portraits and murals to keep myself busy when Boo was first born.  This is one of the last ones I painted….I thought Boo should have her own portrait since I was always painting other people's kids: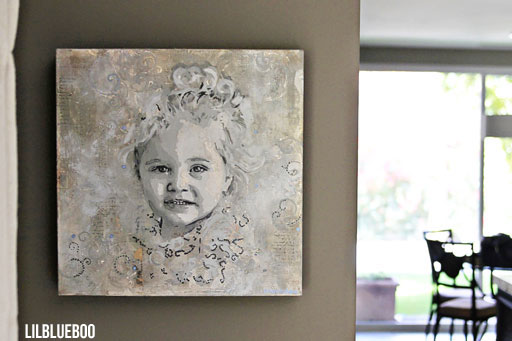 The original photo. Precious Boo.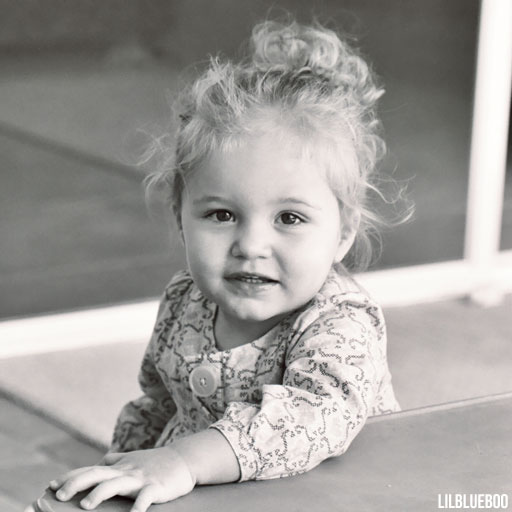 I like to paint in a messy, layering technique. Her portrait is layers upon layers sanded down repeatedly. There's even old stamps and papers worked into the mix: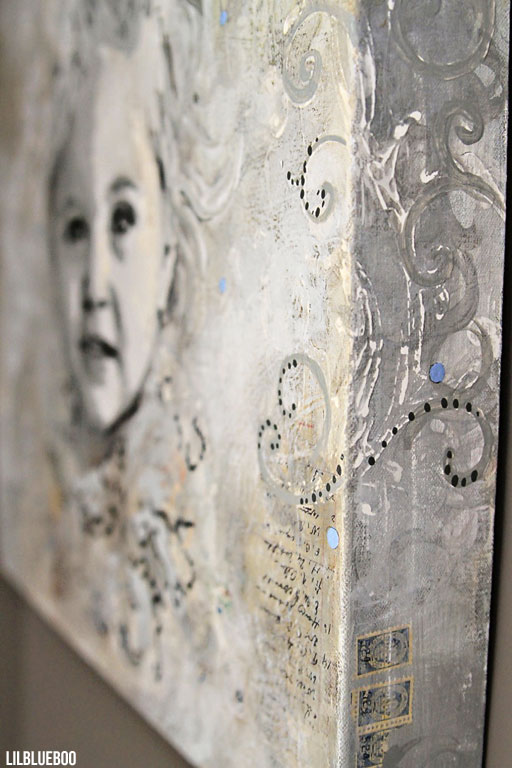 I picked up this driftwood in the flower district of L.A. It's actually two pieces that I layered on top of one another to make it appear bigger: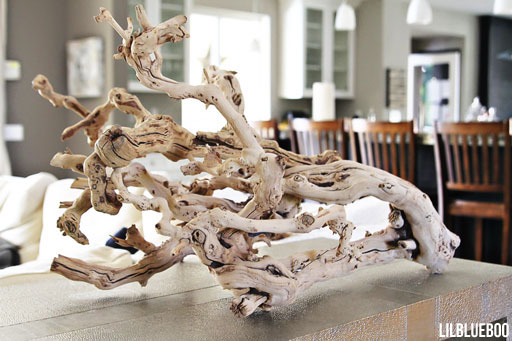 This…is an old rustic chicken feeder.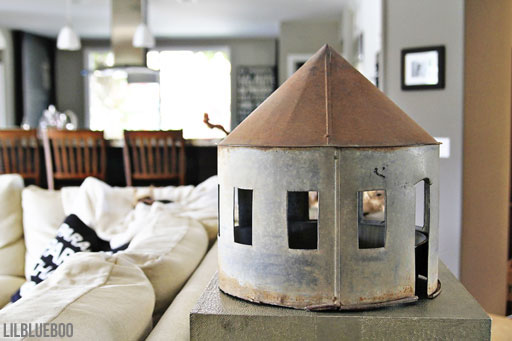 Instead of photo frames I like to display some favorite photos as little beanbags in a large wooden bowl. People like to pick them up and rearrange them: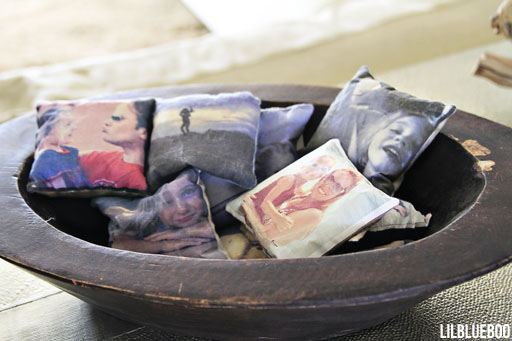 That's my decrepit old trunk I found while thrifting. It's one of my favorite finds. It used to be covered in fabric but it was in such bad shape that it was all ripped off.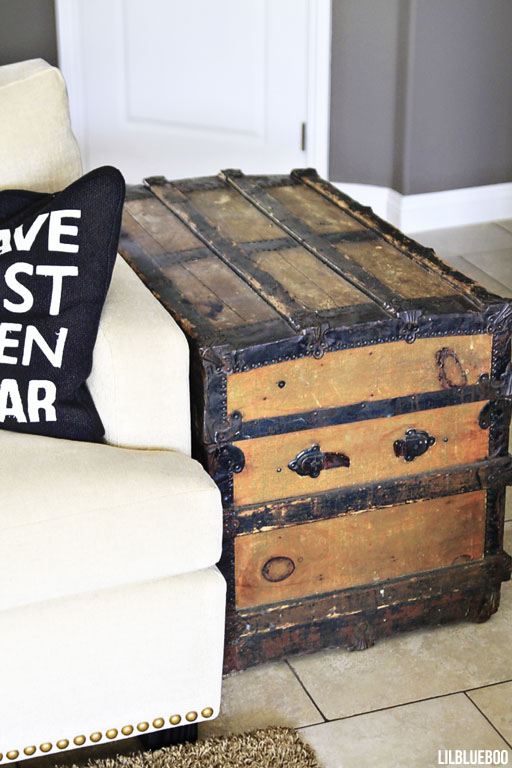 I've love to know where it has traveled: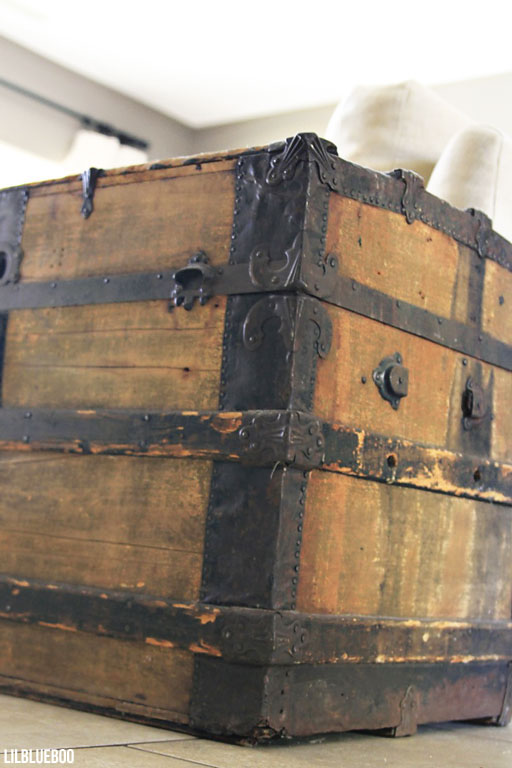 I've been looking for a new coffee table but haven't really found one I like yet.  I love the metal look of this Restoration Hardware one but it's a little too shiny for me, and a little out of my budget. I added casters to the bottom of the table below so that it can be easily moved by Boo.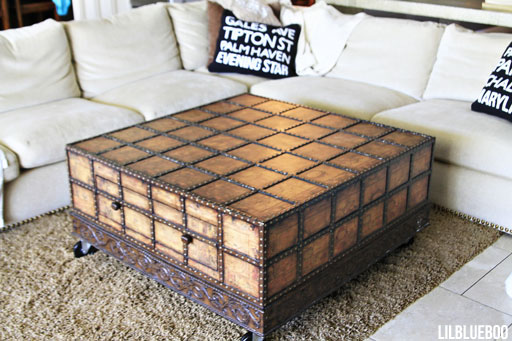 This is what our coffee table usually look like….covered with Lego friendsL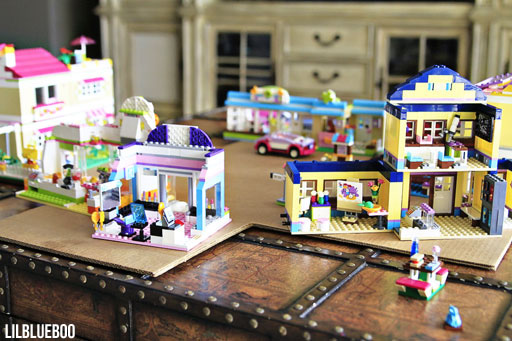 Adding the casters: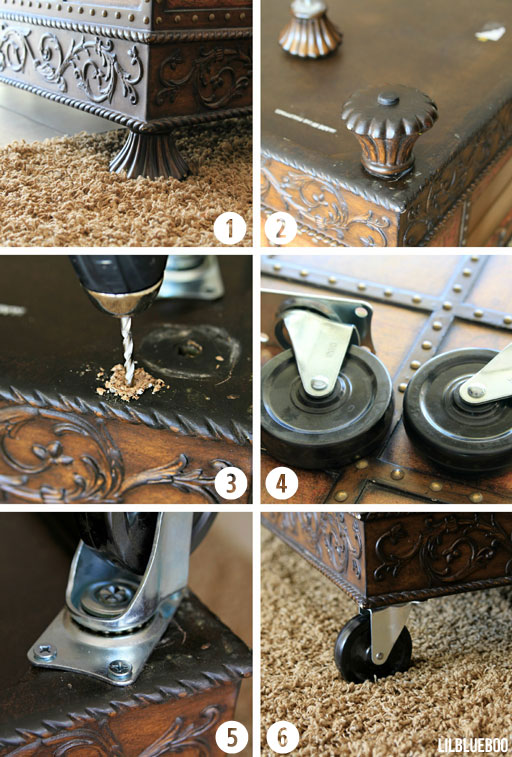 I made the pillows a while back to match the subway-inspired art in the kitchen.  I just bought ready made pillows from Ikea and added the white letters. The streets have significance to our families: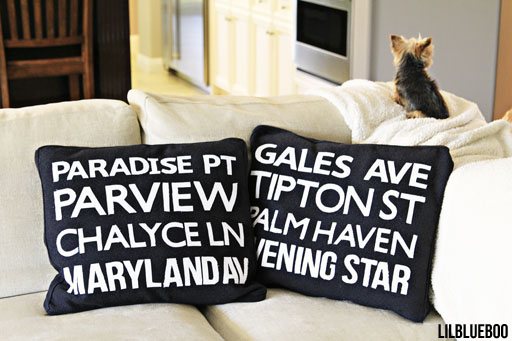 Diesel in his lounging space: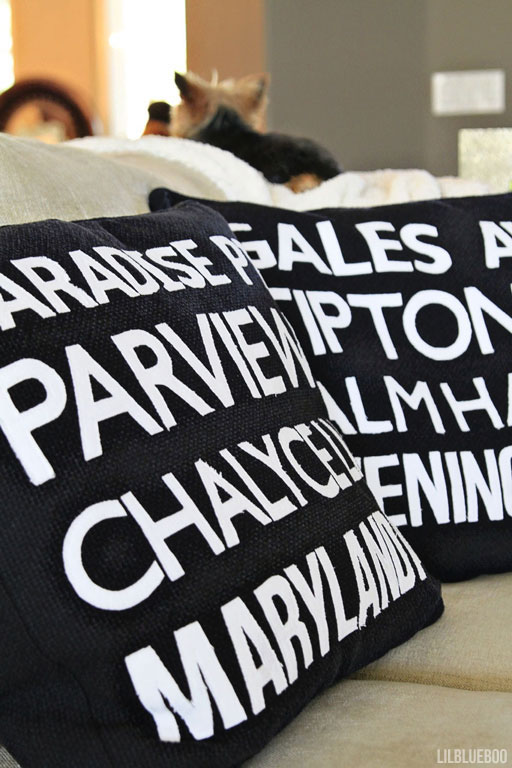 The living room opens out to the backyard:
In one of the niches off the living room is an old weather vane. It used to hang on my childhood home.  When my parent were selling it I climbed up to the roof and took it down. An identical one is on the roof of Carmel Country Club in Charlotte where my dad grew up caddying as a child, and where we grew up: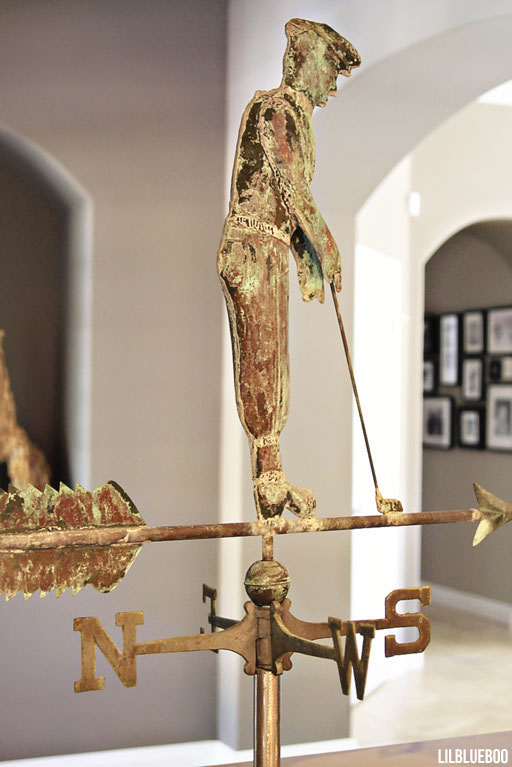 The niche opposite to the weathervane holds a rusted reindeer that I decided that I'd leave out all year round, a painting I painted in college,  and the giraffe that Boo and I made using wine corks: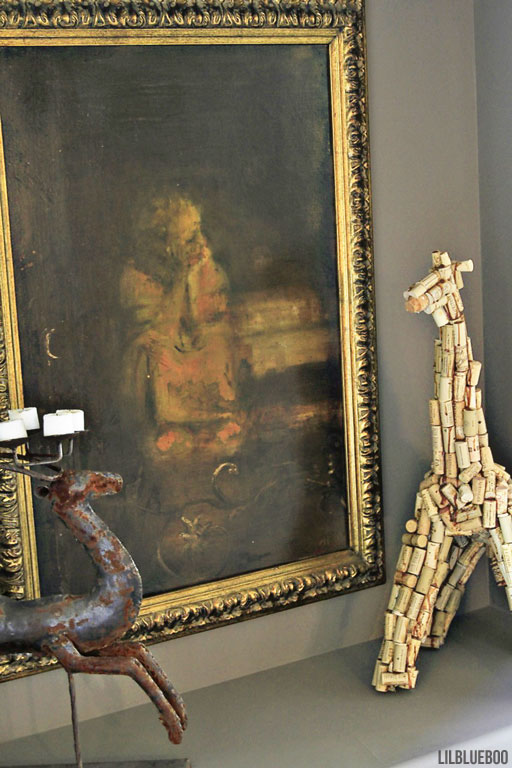 The Office. It's not really supposed to be an office….it used to be a huge sunken living room before we renovated.  Now it's a dining room, and we just eat in the breakfast nook.  Turns out I'm not really the entertaining hostess I thought I was. The table in the middle is just where I organize papers. The clear file holders I LOVE….and own close to 30 of them.  They keep paper work, books and receipts organized until they can be put away. I got them at the 99 cent store.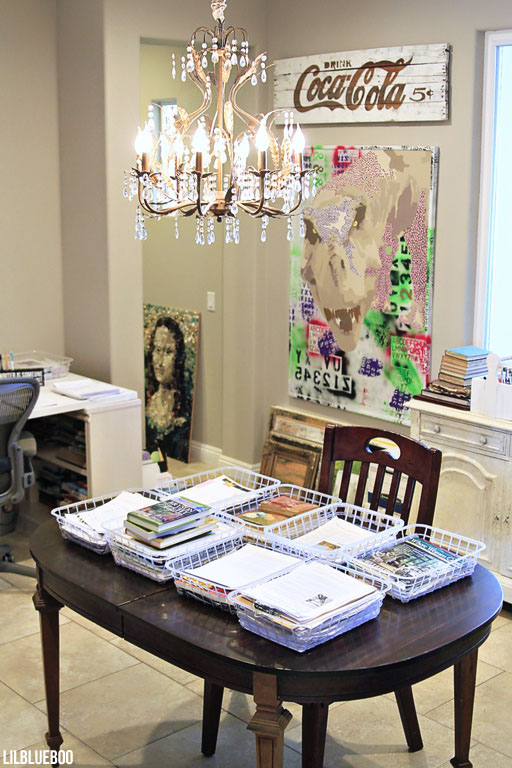 I made the rustic Coca-Cola sign and the dinosaur pop art painting: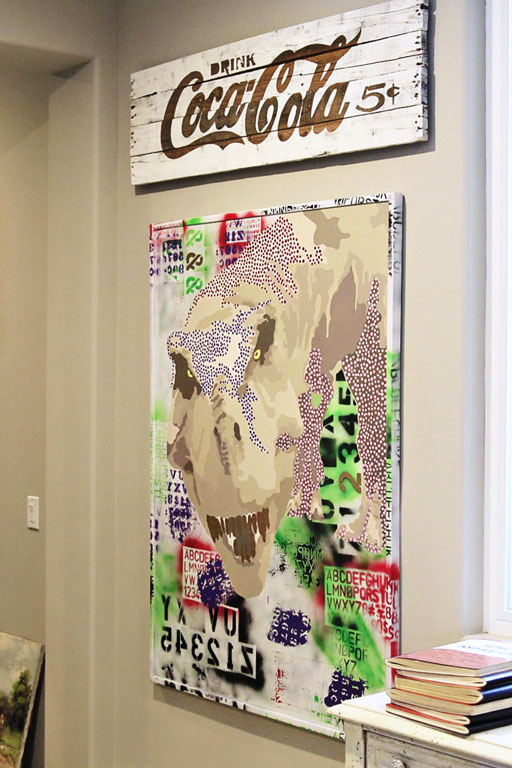 We added the wall to create a division between the butler's pantry.  The wall was supposed to be made specifically for a china cabinet my parents gave us but it ended up being about an inch too short.  My desk fits right into it. The desk is actually just a 3 foot wide hollow core door that I stacked onto some bookshelves.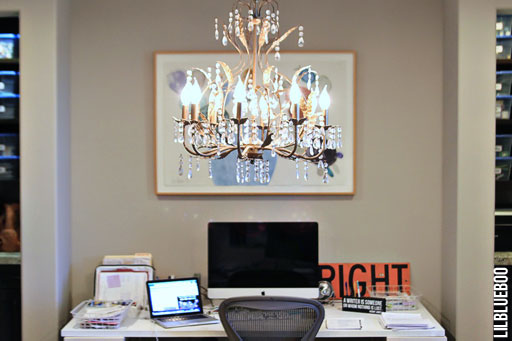 Here's when the wall was added. The shelves in the butler's pantry for all my craft and art supplies was added a few years later.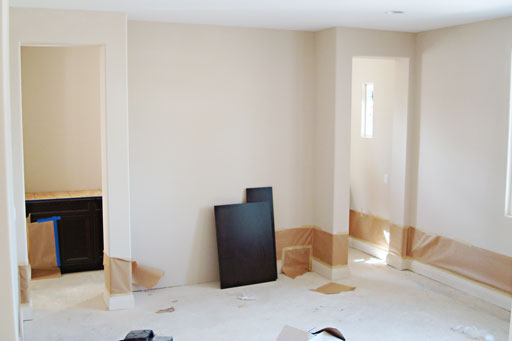 The chandelier was an old one my in-laws took out of their house: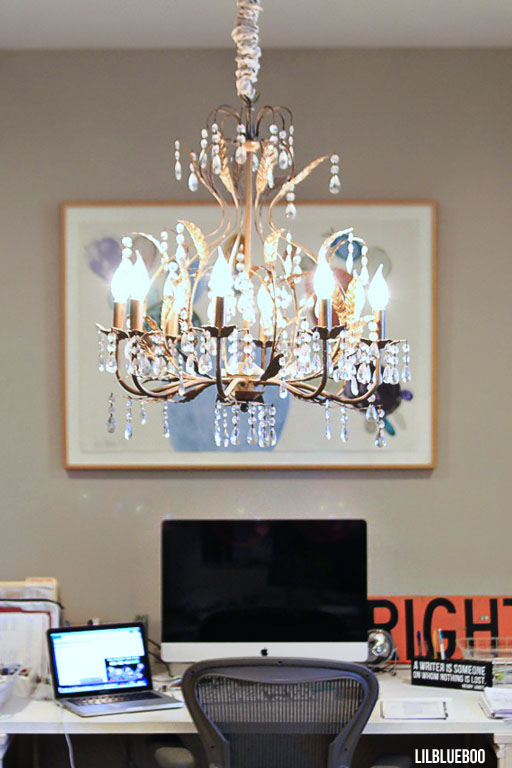 Another project, a wood pen holder, with a favorite quote…again made to match the "subway" theme around the house: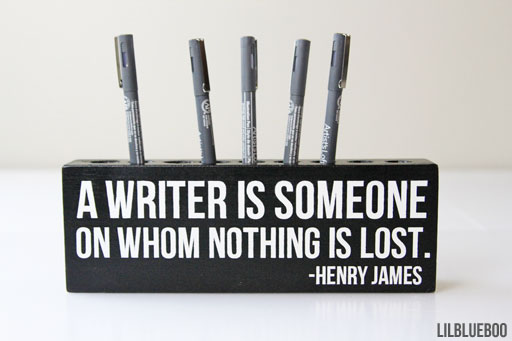 This is the painting above my desk. I bought it for $40 at a thrift store because I was going to reuse the sturdy maple/glass frame for some other artwork. But I ended up hanging it the way it was and it slowly is growing on me. My friend and art dealer Shari said it's cute.  I think I needed her to reassure me that it was artistic in some way.  It says V. Hollman 1986 in the corner.  Probably someone in the desert….maybe someone know who painted it. It's actually the only piece of artwork in the main house that isn't mine. I think I'll name it:
Inflated Surgical Glove Cacti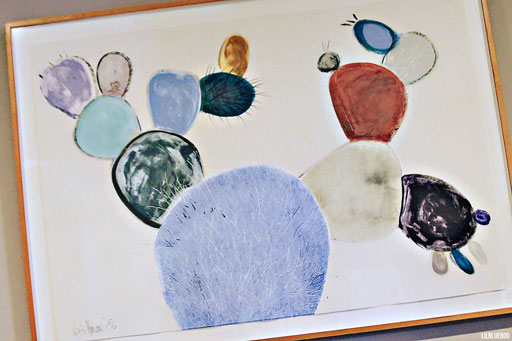 Opposite my desk is a table on casters that I painted white.  It's where I take photos.  It's also a place for stuff I don't know what do with yet: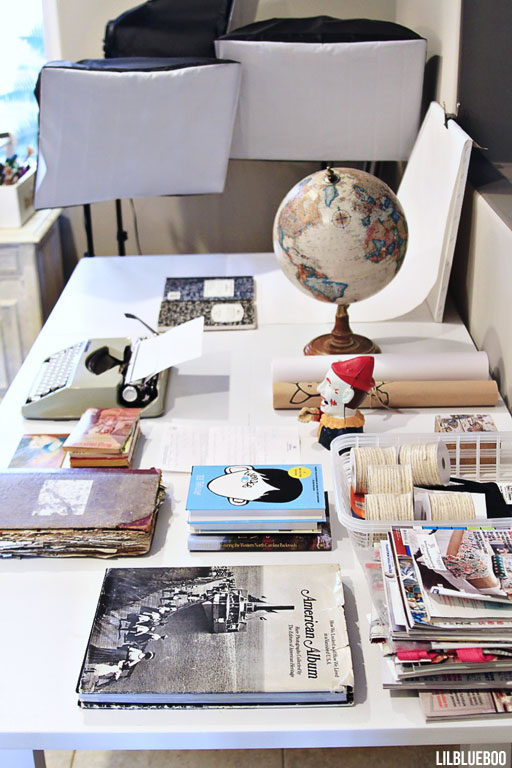 The china cabinet and a piece of chalkboard art I made with some favorite quotes.  The chalkboard was made from another hollow core door: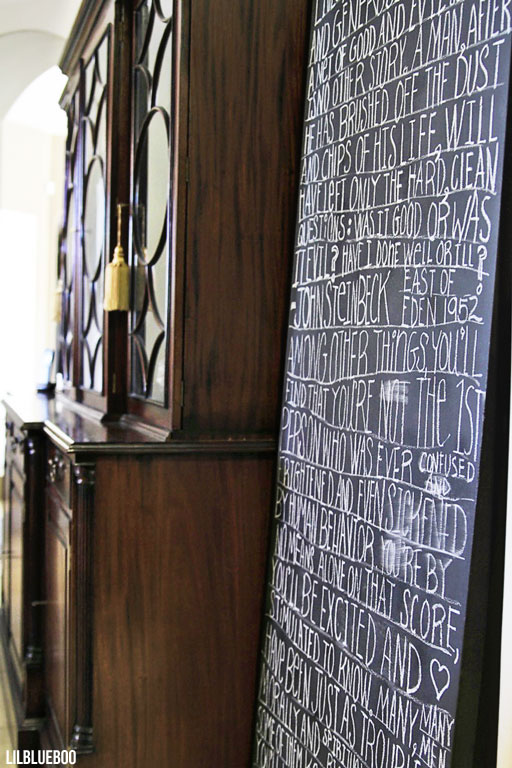 A full photo of the chalkboard: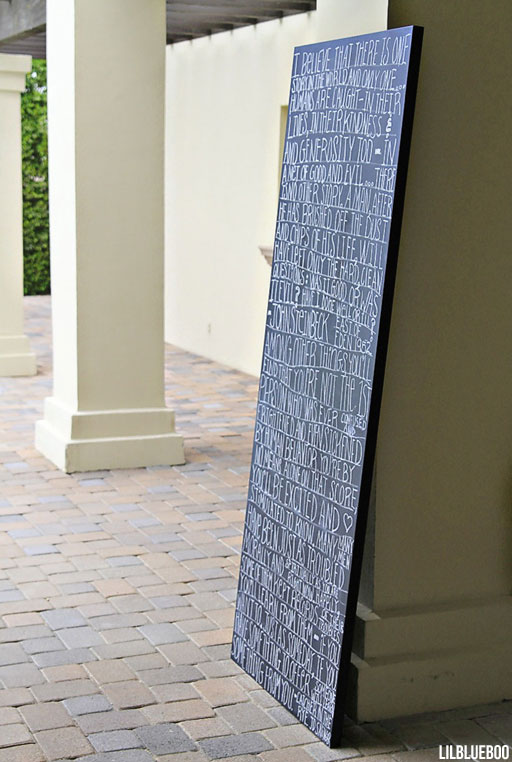 In the china cabinet I keep books, files and vintage cameras: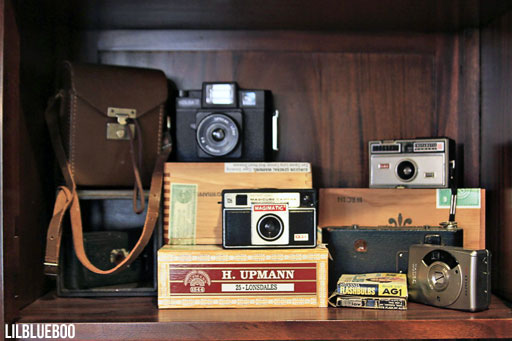 I found this huge dresser at a thrift store for $99. It was already repainted too. The red typewriter was a gift from a friend who knows I love typewriters.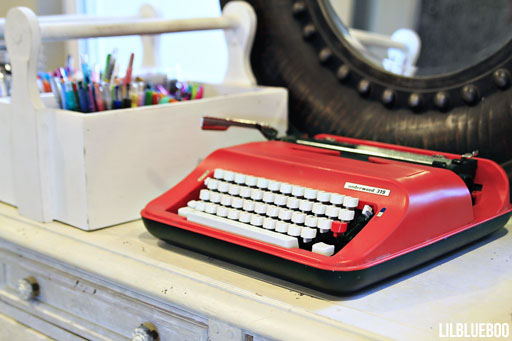 I have three of these large wooden garden bins for storing supplies: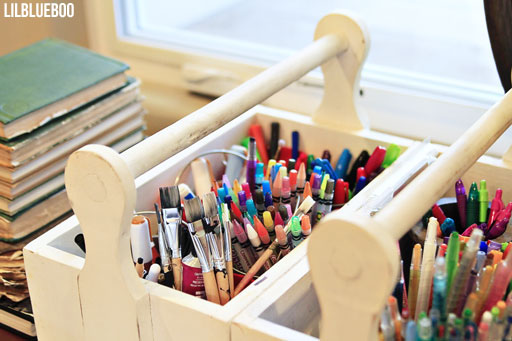 Ideas and inspiration are kept in large 11.75×9.25 computation books. It's my own tactile form of Pinterest: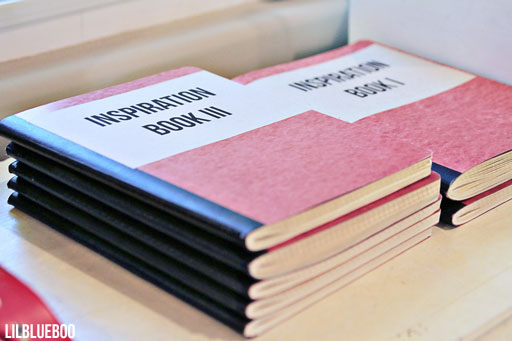 I've become a bit of an art hoarder.  I paint something and then it just becomes part of another stack in the house somewhere.  I just can't figure out what to do with them. There's only so much art you can display. I'm planning some type of art liquidation soon.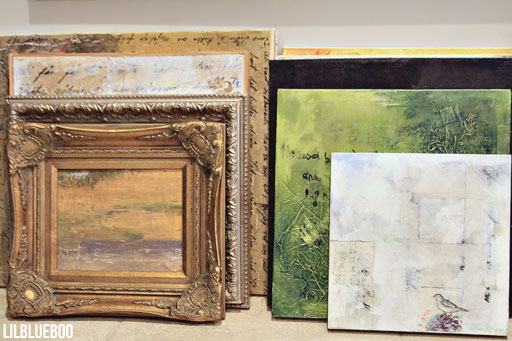 Past my desk is the butler's pantry…it did not come with a butler. There are two wine refrigerators…even though I do not drink.  Mr. LBB built the shelving for me last year for Christmas. It's where I store all my art supplies and the wireless printers. Originally I had faux painted the entire house…you can see the remnants on the back wall. We repainted last year. I made the vintage labels for all of the boxes on sticker paper. You can download the template here.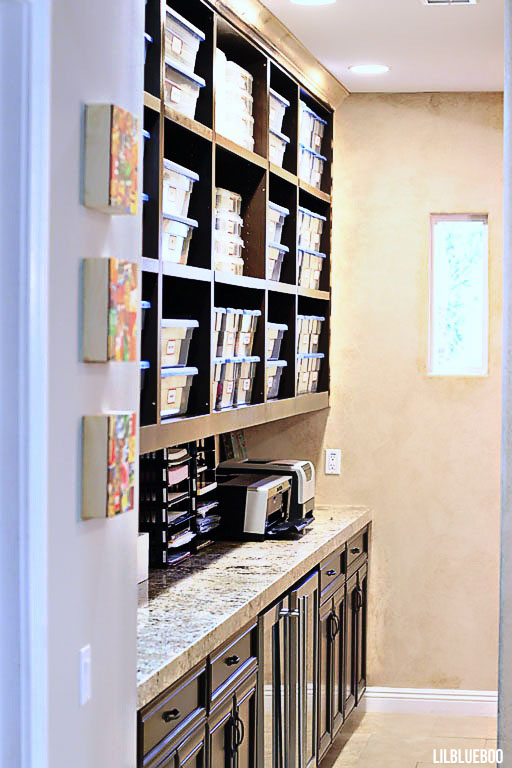 My plans for the butler's pantry was to add a rolling ladder to reach the tall shelves….but that hasn't happened yet. One thing I kept of my grandfather's when he died in 2003 was his awesome vintage step stool….so that's what I use right now: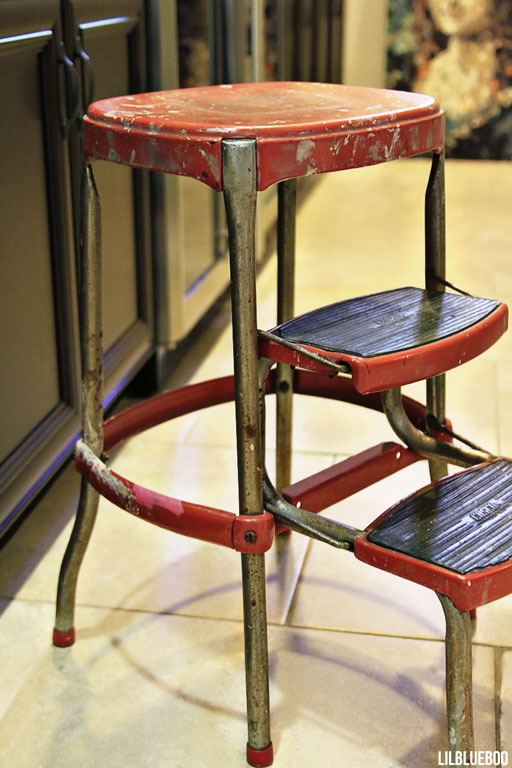 One of my pieces of button art. (I'm officially an art hoarder….going to have an art and furniture sale when our house sells….I'd like to lighten our load so I'm willing to part with just about everything. I'll be putting some vintage and art items in the Etsy shop too to try and get some of it on it's way before then.)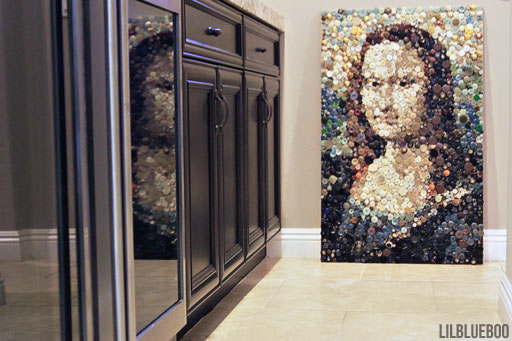 The view from the office to the living room.  I love how Diesel ends up in so many photos….just chillin' out.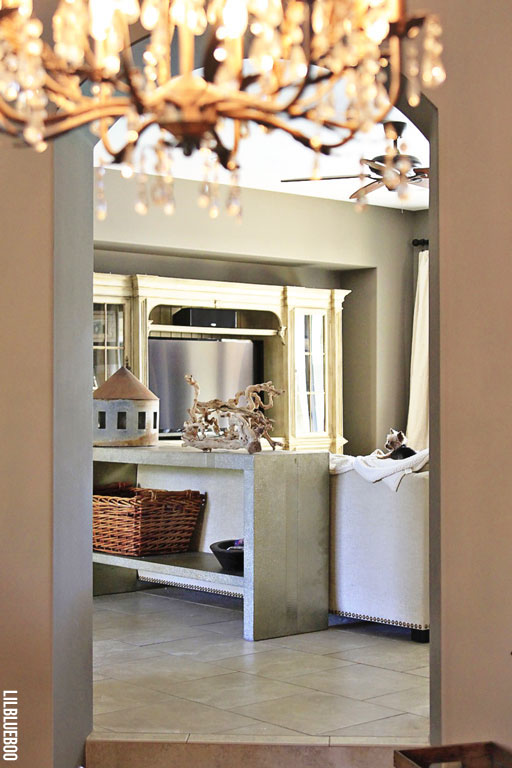 Down the hall to the bedrooms and playroom/old office. That's my big photo wall….46 photos in all: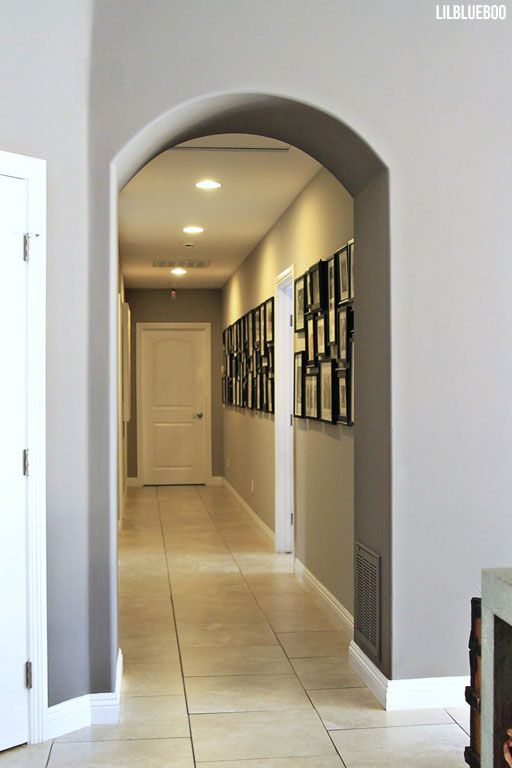 I've just collected random black frames over the years and the black and white photos are changed out periodically:
On the other side of the hall is some artwork I painted.  Both I did for an art show in college. Funny but at a critique, my classmates and teacher said that they didn't think it was finished so I added the black "film" boxes in a disgruntled manner afterwards.  Then they said it was great. I used to build all my own canvases back in the day…I love a thick 2.5″ border.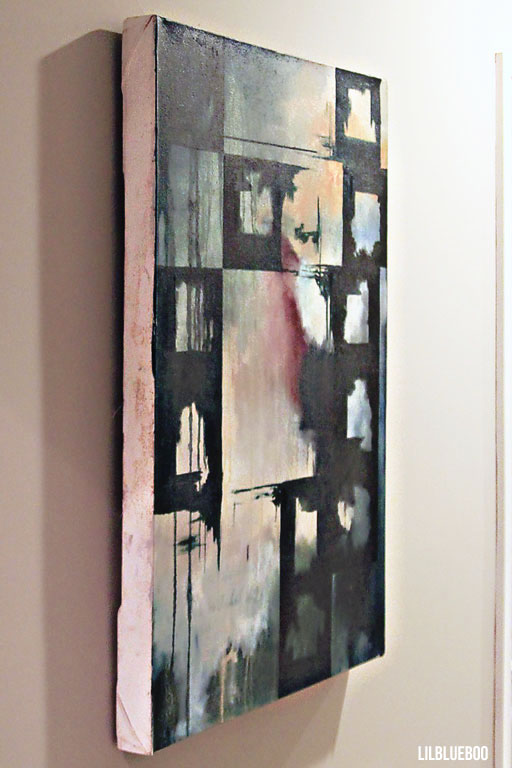 This painting is 4 feet by 4 feet and is a set of 4 that I did in a series called Reap, Ripe, Rope, Repair. Each painting had some sort of skeletal figure in them and mixtures of glazes/resins over top. The one below was the Ripe painting.  I picked all 4 names on a whim at the last minute.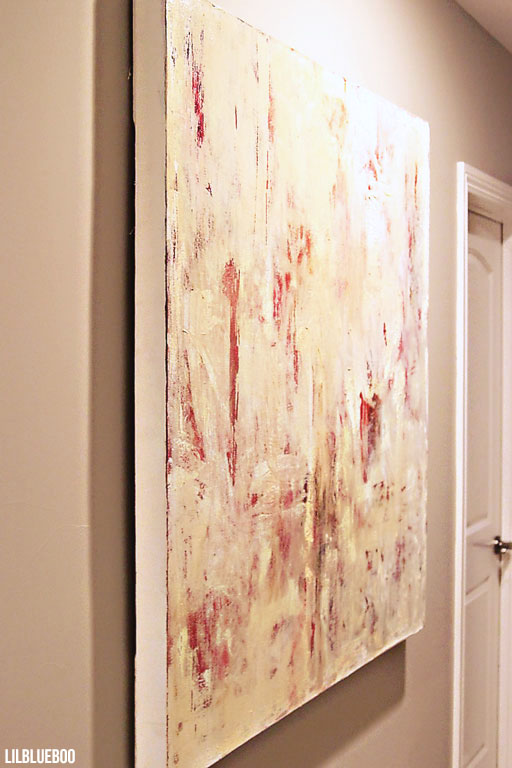 They were all kind of creepy and disturbing on some level.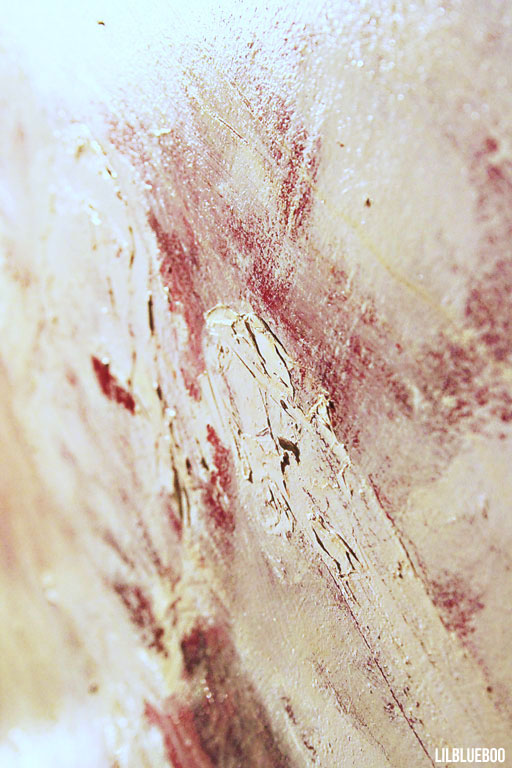 So that's the living area.  Lots of stuff to get rid of before we move as you can imagine.  I'll show you the bedrooms and the workspaces soon.
So far in the tour:
Tutorials featured in this post if you want more information about anything I've made:
Home Decor
DIY Subway Art Pillows using Ikea Pillows
How to Make A Large Lightweight Chalkboard
DIY Instagram Photo Sachets and Beanbags
DIY Pencil Holders for School or Office
Artwork
How to Make Altered Thrift Store Pop Art
How to Make a DIY Rustic Palette Sign
Custom Painted Layered Portraits
How to Make a Sculpture Out of Wine Corks
How to Make a Folk Art Spinspiration Wheel from a Lazy Susan
How to Paint a Fake Landscape Painting