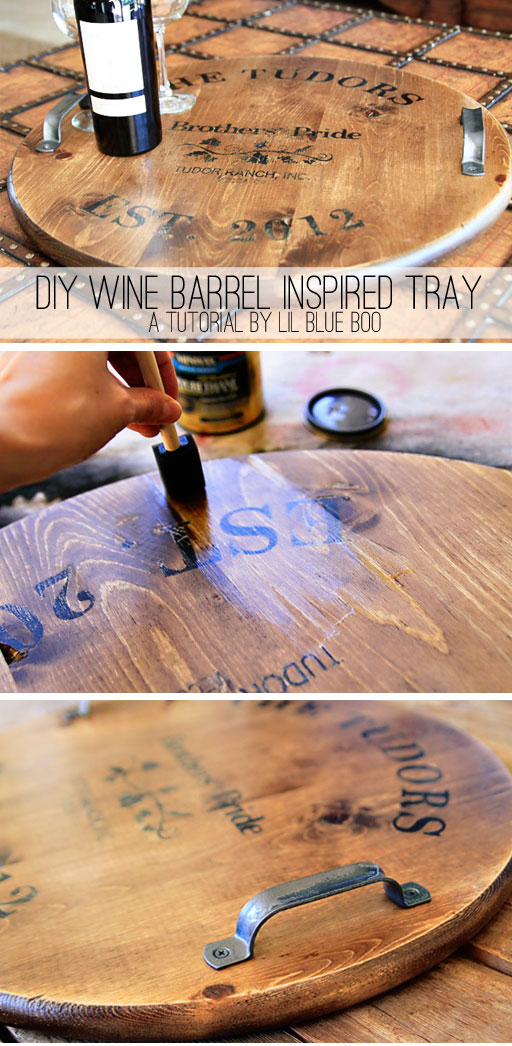 I wanted to make something handmade and personal for my friends' wedding recently and I decided on an oversized wine barrel inspired tray.  I used a precut wood table top from the hardward store. They actually come in several sizes. This was the medium size: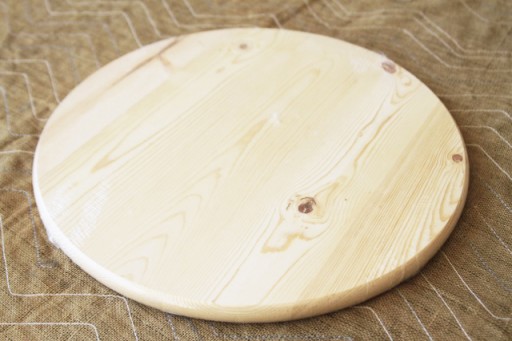 I used regular ConTac shelf paper for a stencil.  I used my Silhouette machine to cut out my design but you can hand cut one as well using an exacto knife: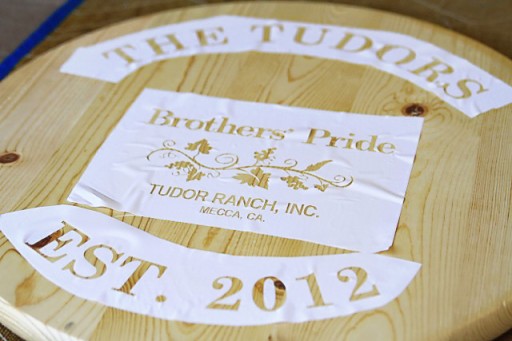 Here's how I set it up on the Silhouette. I made an outer ring the size of the wood so I could picture the wording on it.  Then I added the text inside. It's obviously too big to cut it out on the 12″ wide cutting mat……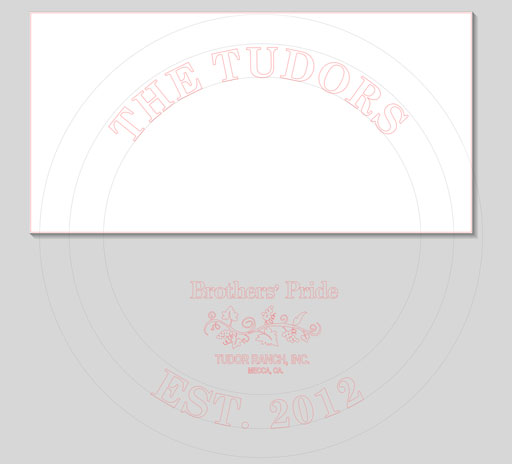 …….so I copied the whole image, re-pasted it and positioned it so that all the images fit onto the one sheet: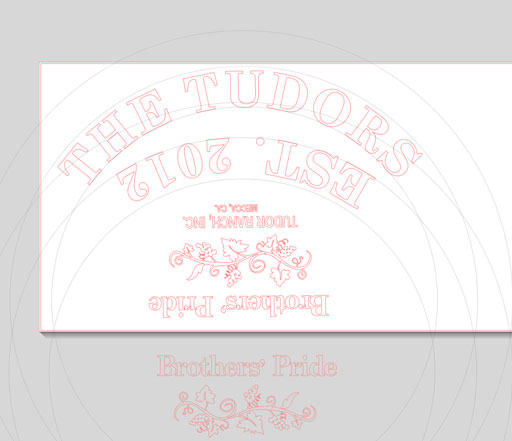 The design doesn't have to be overly technical: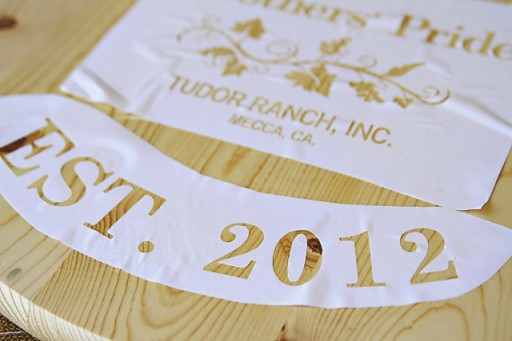 I used a non-toxic black craft paint for the letters and applied the paint using a sponge brush: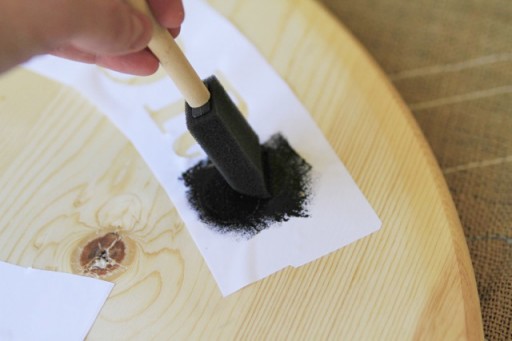 The finished design.  The groom's family grows grapes here in the desert so I wanted to incorporate that somehow with a grape leaf motif……I used an old grape crate from the ranch as a guide.  You might remember the crates from the Harvest Crate Label patches I made a few years back.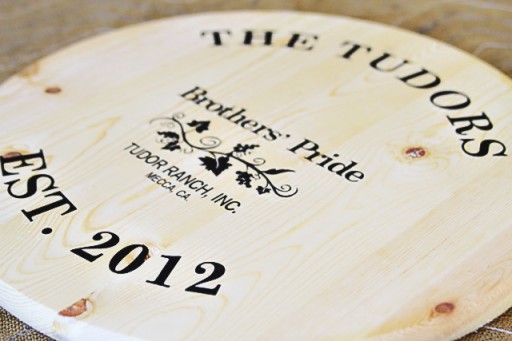 Once the design was dry I applied my finish.  I used Minwax Special Walnut and Clear Satin Polyurethane.  That's steel wool in the back that I used to sand it down in between coats.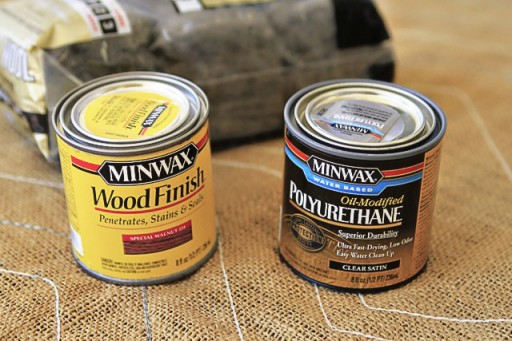 First I applied the stain with a rag to the wood: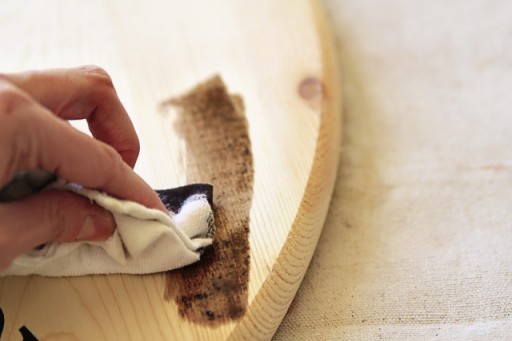 I applied three coats….but between each coat I sanded areas of the tray down to distress the finish.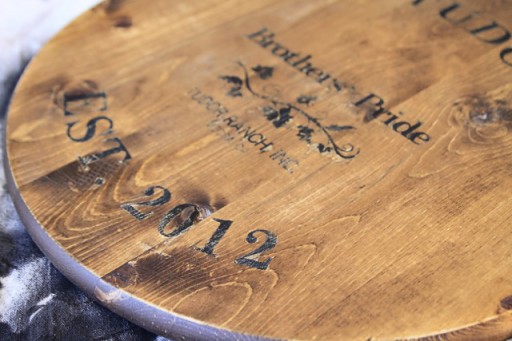 I applied two coats of the clear satin finish using a sponge brush: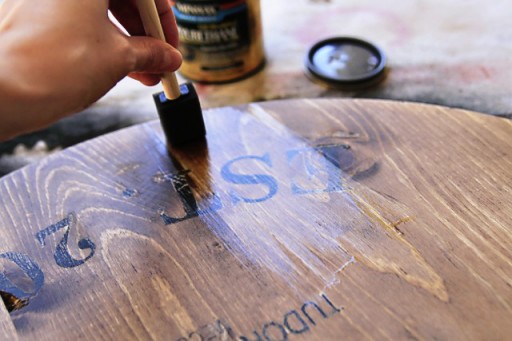 A beautiful, distressed finished…..with just enough age to make you think it's actually old (minus the Est. 2012 text):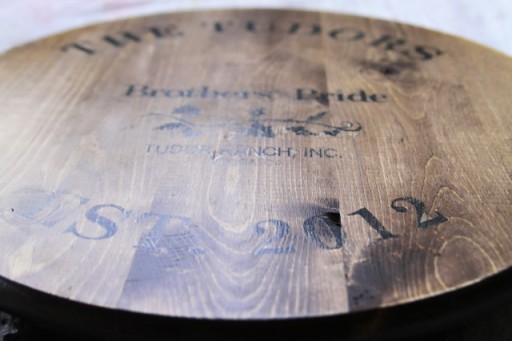 For the handles I bought large utility handles and sprayed them down with Krylon Hammered Finish so that they resemble wrought iron.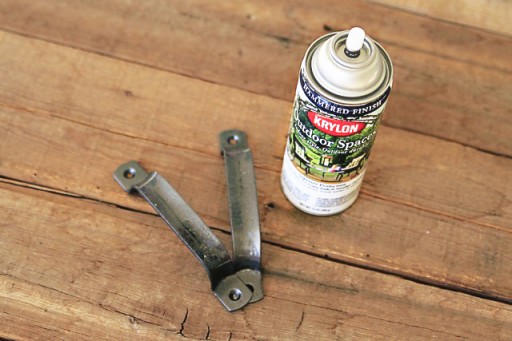 I sprayed the tops of the screws as well so they would match.  Using a household drill I made holes for the screws and attached the handles: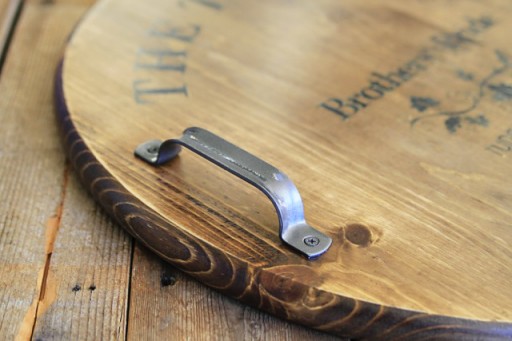 The tray is oversized and heavy duty: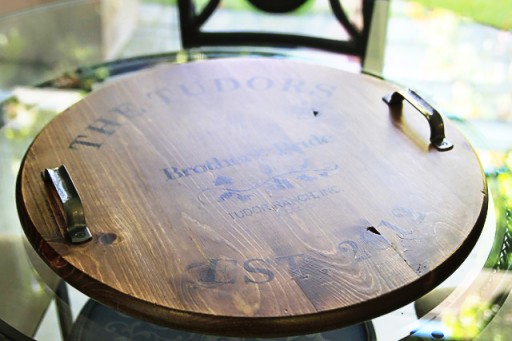 It's personalized so it's just for them: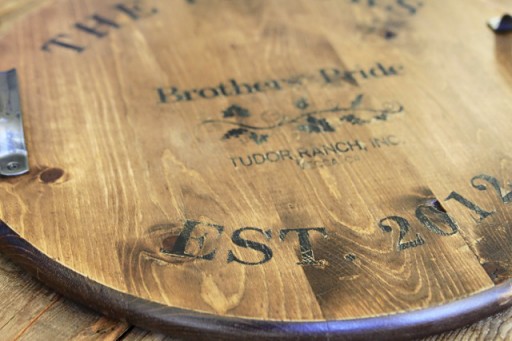 It can be used for entertaining or even hung on the wall for decor….or add legs for it to be a table!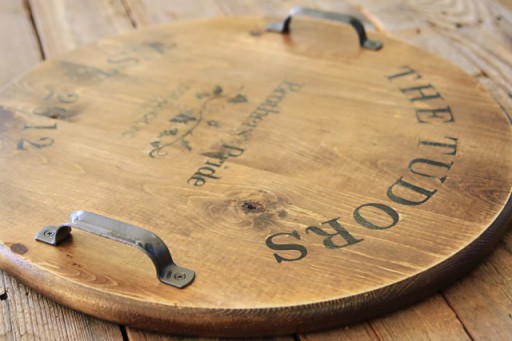 I love that it looks exactly like an old vintage wine barrel: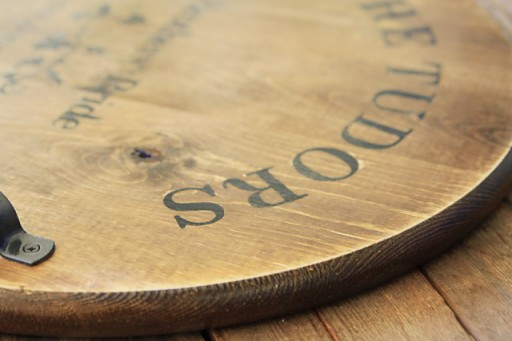 A special gift for special friends: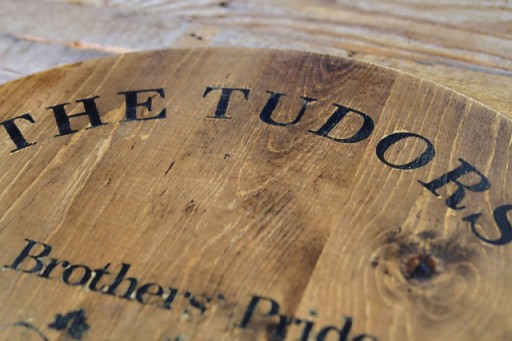 The heavy duty handles are the perfect weight for such a large tray: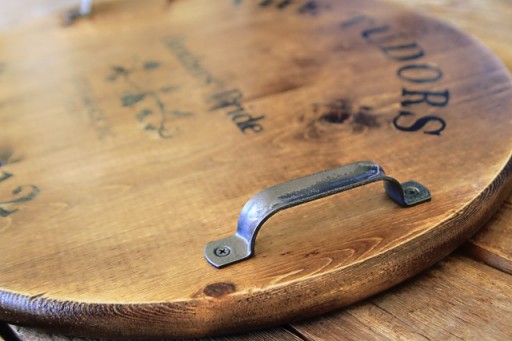 You could also make a similar version with a lazy suzan like I did a year ago.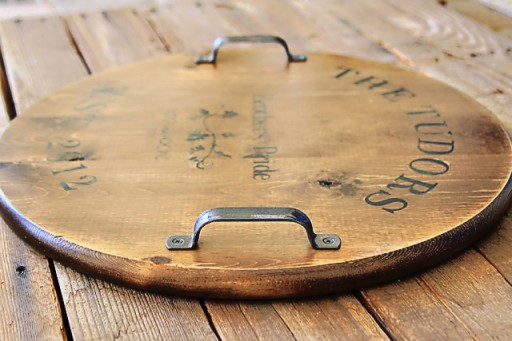 If you make one for a gift just be sure to let the recipient know that it's not a cutting board because of the varnish.  You could make one without varnish using butcher block oil but it won't have the natural stain unless you use maybe wine and tea.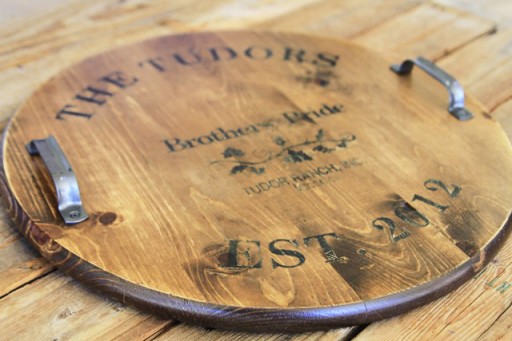 Just use wax paper to serve cheese and fruit directly on top.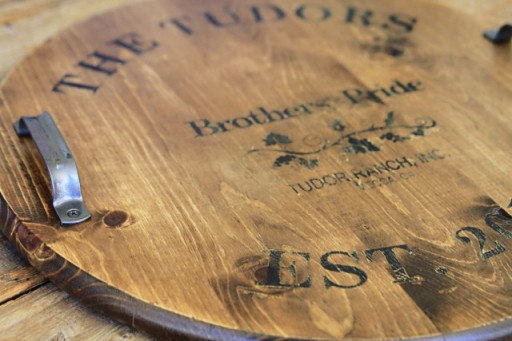 Great for an uneven coffee table too: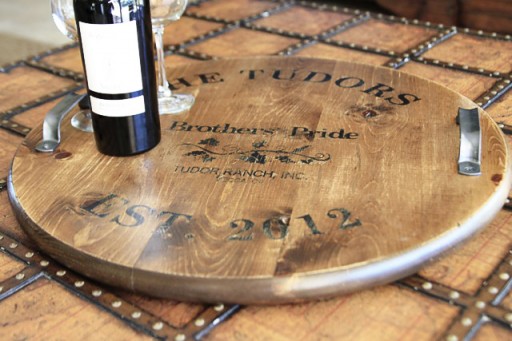 Click the image below for a similar tutorial using a vinegar, tea and steel wool to distress a thrift store lazy susan!
P.S. Make sure to sign up for my weekly newsletter.…it's where I give my weekly rundown. Your info is safe with me…..never shared with anyone else…..promise. I don't spam. Promise.