I was totally prepared this morning…..there was going to be no wonky bra on today's CT scans. I wore a sports bra top….you know, just in case I felt like doing some yoga while I drank my barium sulfate.
I hope the radiologist notices when he does the comparisons of past scans: oh look, finally…she got rid of the wonky underwire. Because I'm pretty sure they pay attention to those kind of things, right?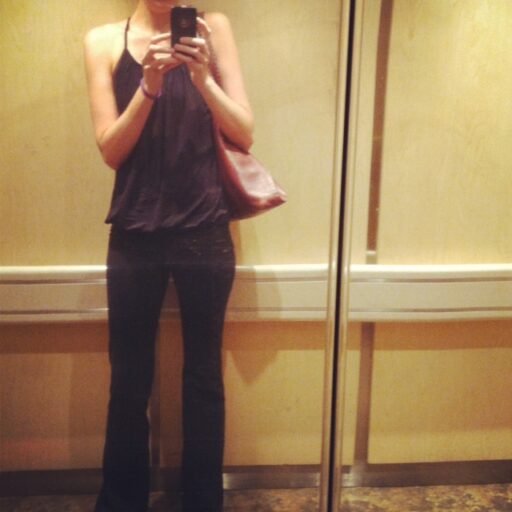 elevator photo opp
(when the doors opened the woman standing there thought I was taking a photo of her)
My CT scan got scheduled pronto and Dr. L asked them to call him with the results so we can meet again late this afternoon. That. is. efficient.
This was my breakfast. They usually let me drink the Crystal Light version…..I was not happy about this. I am a very competitive drinker and I knew this was not going to go down as fast as the "jungle juice" version.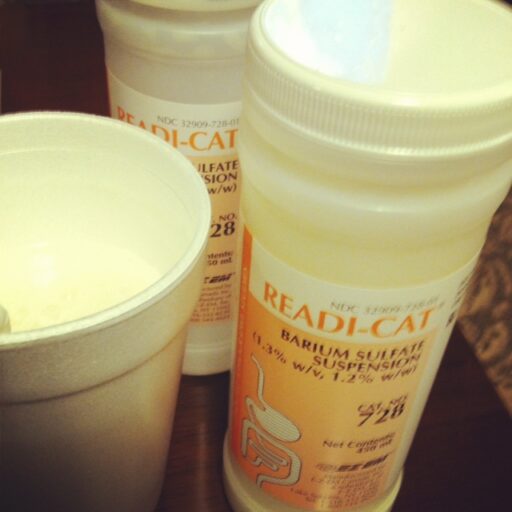 Then I got home and wolfed down some chicken nuggets…..and I had BBQ sauce packets leftover from my last trip to Chic-Fil-A…..score. The day is getting better and better!
Me: I think something's growing back in my hip. Look how this side is bigger than this one.
Lisa: It's probably just fat.
Me: Well, scans are scheduled for Thursday morning.
Lisa: If it turns out that it's just fat do I get a cookie?

Maybe it IS just fat. I ruled out constipation by increasing my intake of Miralax all last week.  It could be just scar tissue too. Or maybe it's my ovaries trying to come  back to life.  The possibilities are endless! I'll let you know when I know. I'll let you know if Lisa gets that cookie.
Happy Thursday/Monday-ish day!
I wrote over at Hey Look at Me today if you get a chance to check it out.
Oh, I ran into an old friend at the imaging center: Hi Scott! You're the greatest friend ever for always taking Mr. T to his appointments.