I've been looking everywhere for a wooden paper towel holder that I could use to hold up the dowel that all my ribbon is organized on but I haven't been able to find one! I got fed up today and just hung the dowel below one of my shelves using string…and I'm really happy with the way it turned out! I feel much more organized tonight…..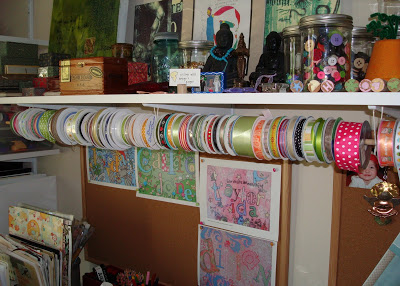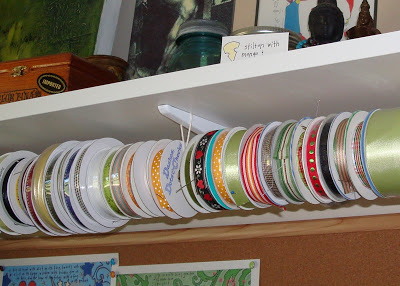 My parents have been visiting which means I have had free time galore this week! I put up more shelves in my studio and it motivated me to clean up a bit. I am very thankful that my husband has dedicated an entire room as my studio. He puts up with a lot. Many times I have projects going on simultaneously in the dining room, outside on the patio, in the garage, on the driveway ….anywhere I can find space. I took photos of my newly organized studio and share them below!
My sewing side of my studio…..
The "everything else" side of my studio…..
My desk is just a 3 foot wide door I bought at Home Depot one day and placed across 2 small bookshelves. I built shelves above and around my workspace using a track system. All you need is a stud-finder and a drill and a skill-saw.
I use old cigar boxes that I pick up at cigar stores to hold stamp sets, carving sets and other things I want to keep together in one place.
Spools of thread……
Pens, pencils, crayons, markers…..
Little jars of little things…..
Paint brushes worn to the nub…..
A stash of old journals…..
Favorite journaling and crafting books just within reach…..
Jars of buttons and stamps…..
A shelf of trinkets and random finds…..
A random stash of stuff in a drawer…no idea where I got the roll of "Jesus" tape…..
Orphaned photos I picked up in antique stores…..
Here is Sienna getting into my ribbon (and…yes…she is still wearing Santa/Frosty pjs in April…it is a battle I lost). I can't imagine any space more tempting for a 2-year-old than an art studio. Last night we were having a dinner party and I found her in my studio trying to thread the sewing machine…and amazingly she was getting pretty close to having it threaded!
Have a great Friday!