I went to bed early last night, and woke up at 8am….I missed bringing in the New Year but I needed the sleep.  This morning I have this overwhelming feeling of emotion that 2012 is going to be a most amazing year. It's the first day of the rest of our lives.
I look back with a little bit of shock that so many life changing events could be wrapped up into 365 days:
My father passed away.
I had a miscarriage.
I was diagnosed with cancer.
A 6-inch tumor invaded straight through my uterus.
I came close to death on an operating table.
My cousin-in-law Cole was in a car wreck and is learning to walk and talk again.
I started more aggressive chemotherapy.
I hear all the time: how much more can your family take? I don't view it that way. I know I've said it many times, but I can choose how to let these things affect my life…..and I choose joy. My dad is in heaven waiting for us, I'm strong and healthy and ready to battle this cancer, the rest of my family is healthy, loving and supportive, we have a roof over our heads and food on the table…..what else could we possibly ask for?! My heart aches for those who are in abusive situations, homeless, hungry etc in this new year…..and I pray for them fervently.
The blog took a big personal turn this year…..and I'm so thankful that you've kept following. So much has happened here at Lil Blue Boo and I never could have imagined I'd be so close to so many people I've never met in person.  You are so supportive and encouraging and thankful…..you provide the positive energy that gets me up in the morning to create, blog and give back.
2011 started out with some of my favorite projects and photo shoots to date….all associated with the Project Run and Play competition. I never turn down a good challenge….so I was completely on board to come up with a new outfit each week:

Early last year, Lisa had just started working full time for Lil Blue Boo. I don't know what I would have done without her. She's the glue that has kept Lil Blue Boo running so smoothly: making sure my tutorials are posted right, helping to keep up with email, doing ALL customer service and managing the clothing line. I love her like a sister…..although sometimes she acts like she's my mother haha. Gicela joined the team to help produce the clothing line.  I'm so proud of everything the team has done!  Along with countless limited editions, we launched the following lines…..all produced in-house…100% handmade this past year:
What the Folk (2011 Spring)
LBB Nautical (2011 Summer)
Boom Town I (2011 Fall)
Boom Town II (2011 Fall)




No idea how, but I managed to publish six new patterns this year:
The Pieced Tunic
The Maliboo Romper
The Perfect Short
The Casbah Carryall
The Reversible Bubble Hoodie
The Sweet Aline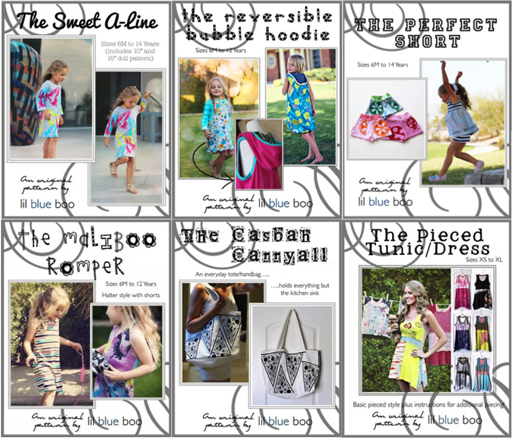 I started writing daily for Babble.com's The New Home Ec…..it's been a huge workload….but one that I've enjoyed because it's forced me to leave my comfort zone of writing!
I started a few new personal series: Photo of the Day, Boo Style, My Li'l List

And a few ongoing series were started:
I put together ONE HUNDRED AND FOUR tutorials and downloads for the blog in the last 365 days…..that's an average of 1 tutorial every 3.5 days (you know I love statistics):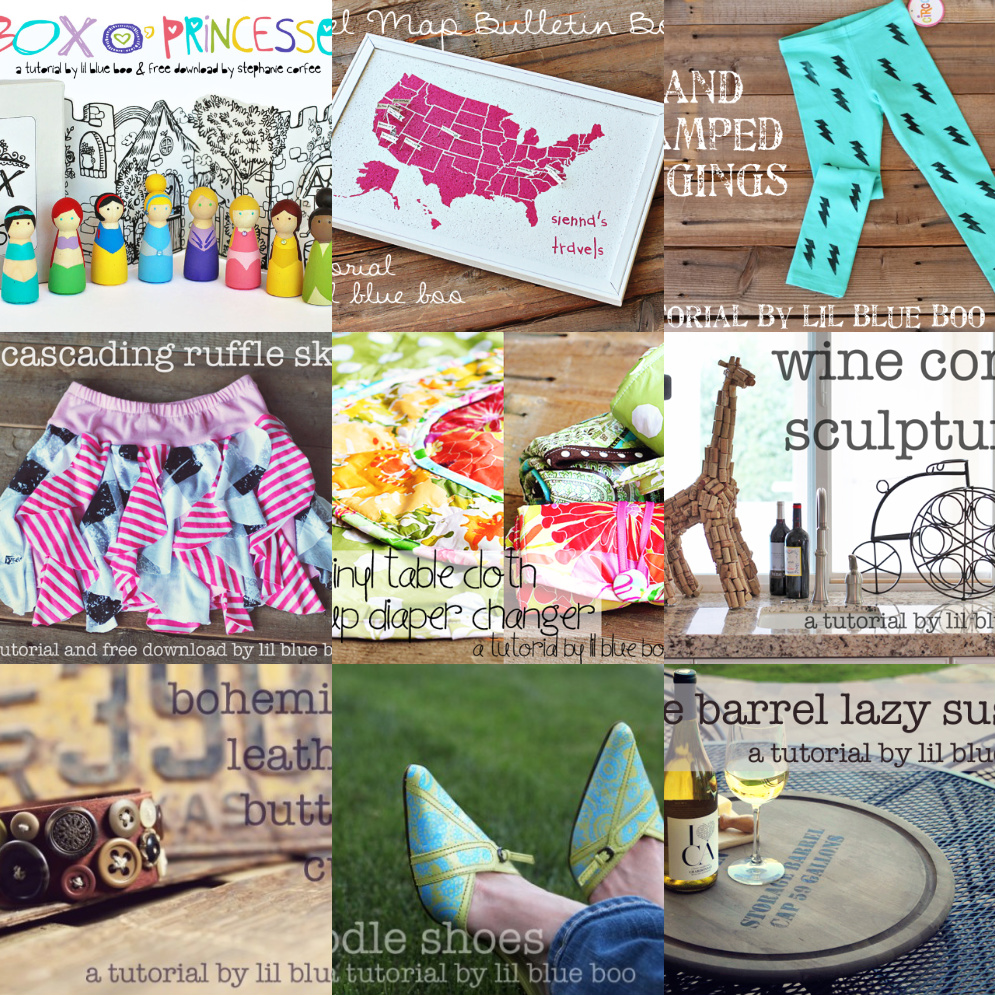 A few of my very favorite tutorials from 2011 include:
Ombre Dyed Streamer Garland
Box o' Princesses and Boyville
Hand Stamped Leggings
The Knit Headband Pattern
The Cascading Ruffle Skirt
The Travel Map Bulletin Board
A Wine Cork Sculpture
Vinyl Tablecloth Rollup Diaper Changer
Folk Art Spin-spiration
A Wine Barrel Lazy Susan
Bohemian Leather Button Cuff
Doodle Shoes
With your help Lil Blue Boo was able to give back this year too!
Your support of Lil Blue Boo allowed us to mail out clothing care packages to over 20 families for Christmas this year.
Your votes helped me raise $5,000 for Shelter for the Storm by winning the Babble.com Mominations.
We collected over 300 pairs of handmade bobby socks and 100 bows for the children at Three Angel's Haiti.
You bought $1,365 worth of patterns to help the efforts in Japan.
You donated yards and yards of fabrics, notions and patterns for the children at Three Angel's Haiti to use in their sewing classes.
You helped me raise $200 for the Liz Logelin Foundation by purchasing Valentine's dresses.

Amazing. Thank you.
So how will I approach this next year? The same as I did last year: day by day. I never try to plan too far ahead…..I make "bucket lists" of things I want to do and accomplish but I don't put a timeline out there. The best I can do is try to get through today….and enjoy every minute of it whether I'm sitting in an infusion center getting chemotherapy or spending the day with the family finishing a fun project. I know I freak a lot of people out by walking into my doctor's office excited to be there…..but I am. I'm happy to just be here on earth for a short while or a long while…..I'd prefer the long while but you never know so I try to live like it's a short while. I don't know what God has in store for me and for you this year but I know he has a great plan. Bring it!
Oh….and most importantly: